It ended as it began for David Moyes at Goodison Park a little over 11 years ago; stood alone in the centre circle as the drizzle fell, arms aloft and basking in Everton acclaim. Few managers can walk out of the front door with their heads held high and it demonstrated the impact Moyes has made on Everton that a guard of honour was waiting when he emerged from the tunnel for one final time as manager. He leaves without a trophy but he leaves a different club to the one immersed in yet another relegation struggle on that opening day against Fulham in March 2002.
Now, as then, a London team were beaten with two goals. And that is where the similarity ceases. Victory over West Ham ensured Everton finish the season in the ascendancy on Merseyside and with only one home defeat – their best Goodison performance since winning the title in 1987. In every respect this was the send-off the 50-year-old deserved and only his destination of Manchester United received a chorus of disapproval.
Moyes achieved Champions League qualification with two points fewer in 2005 – Everton can record their highest tally of the Premier League era with a win at Stamford Bridge next Sunday – and if there is any regret at the manner of his departure it is the remarkably consistent form produced by Chelsea, Arsenal and Tottenham that has kept Europe out of Everton's reach. The regret felt by his club runs much deeper.
The Scot was last to appear from the tunnel before kick-off and, unusually, walked to the edge of the pitch rather than the dugout. Any doubt he may have had over the reception in store was dispelled as Goodison rose in applause and the match began with his name reverberating around what he called "the old lady". Moyes waved sheepishly to all four sides of the ground and his team opened with an intensity and focus that did them credit following a turbulent week. If there was a wry smile when Goodison followed the manager's tribute with a rousing rendition of "Who the fuck are Man United?", Moyes kept it well hidden.
The Everton manager felt guilty for distracting attention from his players' faint hope of European qualification. He kept talk of his impending departure off the training ground in the days after the news broke and requested only one thing of his players; two wins from the final two games of the season. The first should have been wrapped up inside 25 minutes as Everton swarmed over West Ham and fashioned several chances to have made life comfortable. That would not have been in keeping with the Moyes era, however.
"More than anything I want to sign off with a victory," he wrote at the start of his final programme notes as Everton manager, before thanking his chairman and confidant of 11 years, Bill Kenwright, the board, "the great men" he has worked with and his patient secretary, Sue.
"All my family have travelled to all the Everton games to watch us and they would like me to say thanks to the board and the supporters for always making them welcome," he said. "Particularly those of you who regularly bump into my dad in some of the local hostelries." There were, by all accounts, emotional scenes when the Moyes family arrived at Goodison and all the match-day staff stood in line to applaud.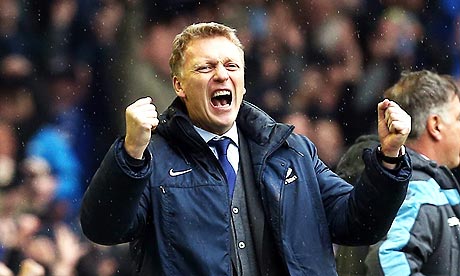 Everton were intent on satisfying their manager's wishes. Kevin Mirallas was prominent from the start and Sylvain Distin had already prodded a good chance wide following the Belgian's corner when he finished a fine team move in the sixth minute. Leighton Baines, a possible target for his current manager at his next club this summer, made a characteristic run down the left before cutting inside and finding Marouane Fellaini. He squared to Steven Pienaar, who rolled the ball onwards to Mirallas and the midfielder placed an emphatic finish into the bottom corner from 18 yards. Moyes punched his approval in the technical area.
West Ham were compliant in the perfect opening for Moyes, looking on as Darron Gibson went close from 25 yards and Victor Anichebe somehow found Jussi Jaaskelainen's crown jewels from six yards instead of the goal. The visitors finally woke after the half-hour and it took a fine save from Tim Howard to prevent Kevin Nolan punishing Everton for their wastefulness.
"You're going down next season", sang the West Ham fans, a little too optimistically given their next chance arrived in the 87th minute when Andy Carroll headed Matt Jarvis's cross against a post. Their hopes of a point had ended when Mirallas collected Gibson's pass on the hour, cut inside two West Ham defenders and saw his 20-yard shot deflect off James Collins and into the top corner.
It was interesting, amid the appreciation for the manager and a hugely professional performance from his players, to note Moyes's praise of Phil Neville in his programme notes. Neville was denied a farewell contribution by injury and, though he is leaving Everton after eight years to continue his playing career, would perform a U-turn if the offer of manager arose. Moyes said: "I've no doubt Phil will be back here many more times whether with another club in the future or back at Everton."
Neville was joined by Tim Cahill, another player synonymous with Moyes' Everton and who had flown over from New York, as Everton's players lined up to welcome their manager back on to the pitch after the game. Moyes composed himself in the tunnel before walking out to hear his name sung once more. He seemed reluctant to leave the pitch after one final lap. Maybe that was Goodison refusing to let him go.
Man of the match Kevin Mirallas (Everton)