Woking, which not even Woking would consider a flashpoint, could have a bloody Sunday. How so? Unusually for a British town, it has large colonies of both Dutch and Spanish people. And it's Woking, Surrey. Who knew?
I stand outside the International School of London in Old Woking Road, looking for Dutch fans packing heat. These fathers are IT consultants and oil men at Royal Dutch Shell. "The whole community is dressed in orange," says Marco Damhuis, the headmaster. "We will watch the game in the conference room at the Talbot Inn in Ripley. We will turn Ripley orange." Another man says he is going to the pub in Egham, so Egham might be orange too. "2-0!" shouts a grandfather from his car. "No, I make a mistake. 3-0!"
"I am nervous already," says a tall, thin man. "During the 1978 Holland v Argentina World Cup final I remember crying my eyes out and my mum trying to console me and my dad saying: 'I feel like crying too.'"
The score was Argentina 3 Holland 1.
Did I know, asks his friend, that the Dutch national anthem contains the lines "To the king of Spain I've granted/ A lifelong loyalty," because the Netherlands used to belong to Spain? "We might have to reconsider that," he says.
The odd thing is that the Dutch, in Woking at least, do not seem to hate the Spanish. They hate the Germans, in a downbeat way. "It is a disappointment that we are not going to play Germany," says another. "We were looking forward to having revenge." For losing the 1974 World Cup final, he explains: West Germany 2 Holland 1. "It has been a long time since there was something this exciting," he says. "There was a Dutch player at Wimbledon and we got very excited but that was a long time ago." When pressed for the tennis player's name he can't remember.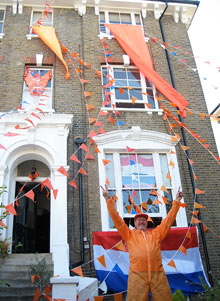 So where do I find the enemy the Dutch don't seem to mind? I head for Barcelona, the tapas bar in Goldsworth Road. Any Spaniards? "No," says the bartender, glancing at her colleague. "I'm English, he's French and the kitchen's Hungarian. We are only going to be a tapas bar for another two months anyway. Then we are going fusion."
It's the same in the Mediterranean Food Emporium opposite: "I'm Greek and she's Italian. Next door [in the Cafe Continental] they are all Portuguese." So I go to the newsagents. Spaniards? "I don't know of any," say the Englishman. "We had a hairdresser here who is Spanish but he shut the shop and went missing."
Over in the Time Cabin they stock every national flag except the Spanish. "The Spanish don't buy," says the owner, "So I don't stock them. They always ask but when you ask for a deposit to order one in they don't pay. The Dutch pay."
The Phonix phone shop says it just had two Spanish fans in, but they have gone, possibly to Vodafone. I am beginning to believe the enormous Spanish community in Woking is a suburban myth. But then I find Griddles, the cafe van in the Broadway, and find something better. On Sunday, you see, it will be a paradigm of World Cup final fan relations.
How so? Petnit Elezay, the proprietor, is Dutch while his assistant Keith Ryall is half Spanish. "It will be Spain of course," says Keith. "Spain 100%. I think," he whispers, "there will be something on Sunday." Something bad? In Woking? Here?
"There will be many Dutch fans and many Spanish fans watching in the Big Apple [bar]," he says. "There will be alcohol and a 7.30 kick-off. Something will happen."
I turn to Petnit, who is a peculiar kind of Dutch fan: a fatalist who thinks his team will lose. "I think Spain will win, darling," he says, buttering a roll. "My Dad will kill me if he listen, darling. You don't know him, darling. Spain have got used to winning now, yes darling." He turns to Keith and says: "I hate him today. No, I love him. He's English anyway." Keith mumbles back: "English and Spanish."
In O'Neills pub in Crown Square, I accost John. He is dark and square and he looks as if he speaks the language of fans, that he can read their needs. Will the streets of Woking run red with the blood of IT consultants and sandwich makers? John screws up his eyes. "Not a chance," he says. "England aren't playing."
So Woking may see riots on Sunday night. Or then again, maybe not.