Volcano films – ranked!
Missing the heatwave? With the release of Sara Dosa's hotly tipped new documentary Fire of Love, we round up the most epic, exploding-mountain movies ever made
Anne Billson
21, Jul, 2022 @11:00 AM
Kapow! Our writers pick their favorite Batman movie
To celebrate the release of The Batman, Guardian writers have written about their all-time favorite Caped Crusader films from Adam West to Ben Affleck
Peter Bradshaw, Andrew Pulver, Radheyan Simonpillai, Janelle Zara, Lisa Wong Macabasco, Charles Bramesco, Simon Abrams, Luke Holland, Benjamin Lee, Toby Moses, Nicholas Barber and Ben Child
04, Mar, 2022 @7:22 AM
Ad Astra review – Brad Pitt on a thrilling Freudian space odyssey | Peter Bradshaw's film of the week
With echoes of Apocalypse Now and 2001, James Gray's spectacular epic dispatches Pitt on an interplanetary mission to find his missing father
Peter Bradshaw
18, Sep, 2019 @12:00 PM
Venice film festival 2019 roundup: shocks, horrors and dark jokers
Social media controversies may have overshadowed the actual buzz, but this year's programme still held many surprises
Jonathan Romney
07, Sep, 2019 @3:00 PM
Ad Astra review: Brad Pitt reaches the stars in superb space-opera with serious daddy issues
The actor blasts off in search of long-lost pops Tommy Lee Jones in James Gray's intergalactically po-faced take on Apocalypse Now
Xan Brooks
29, Aug, 2019 @8:00 PM
Robert Pattinson, Dustin Diamond – and other unlikely Hollywood housemates
Winona Ryder and Gwyneth Paltrow, Al Gore and Tommy Lee Jones – a surprising number of roommates have shared the laundry and the limelight
Simon Usborne
01, Sep, 2017 @6:29 PM
Mechanic: Resurrection review – Jason Statham undersold as cut-price Bond
This humdrum sequel fails to match the precision of its predecessor, while denying Jason Statham the comic wings of his revelatory turn in last year's Spy
Mike McCahill
29, Aug, 2016 @11:13 AM
Jason Bourne review – triumphant return of the strong, silent type
Matt Damon reunites with Paul Greengrass for a head-spinning, post-Snowden cyber-thriller
Mark Kermode, Observer film critic
31, Jul, 2016 @8:00 AM
Viral video: Game of Thrones, Captain America: Civil War and Prince
Arya Stark plays a prank on fans, Robert Downey Jr gives spectators an Eiffel, commemorating Victoria Wood and Prince, and the Queen turns 90
Janette Owen
22, Apr, 2016 @6:17 AM
Tommy Lee Jones: five best moments
The Oscar-winner can be seen this week in a small role in London-set thriller Criminal. But which films count as his greatest?
Benjamin Lee
15, Apr, 2016 @9:33 AM
Criminal review – body-swap sci-fi goes horribly wrong
Ryan Reynolds and Kevin Costner swap bodies in this extremely ridiculous and unpleasantly violent science-fiction thriller
Peter Bradshaw
14, Apr, 2016 @9:30 PM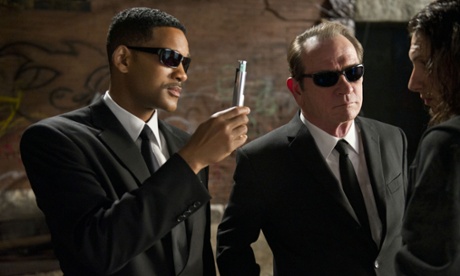 New Men in Black film will feature a 'woman in black'
Producer promises a 'very prominent' female member of the team in the fourth film in the sci-fi comedy franchise
Benjamin Lee
25, Nov, 2015 @10:16 AM