The Texas Chainsaw Massacre
Texas Chainsaw Massacre review – it's Leatherface vs gentrifiers in nasty sequel
An effectively gnarly Netflix follow-up to the 1974 original has Gen Zs trying to turf the bloodthirsty southern killer out of a derelict town
Benjamin Lee
18, Feb, 2022 @8:01 AM
From Texas Chainsaw Massacre 2 to Ken Park: films that failed the censorship test
Australia has a long history of banning films, but many of those blocked in the past are now easily available to watch

Travis Johnson
20, Feb, 2019 @5:00 PM
Why there's no happy ending for Halloween's Laurie Strode and horror's 'final girls'
Jamie Lee Curtis's character is still being hunted by Michael Myers, 40 years later. She may have survived the slasher, but isn't her life still torture?
Steve Rose
08, Oct, 2018 @9:00 AM
From Do the Right Thing to Swimming Pool: culture's hottest heatwaves
Tension simmers, passions rage and things are never the same again. We pick the books, film and music in which heatwaves inspire race riots, sexual abandon – and even a chainsaw massacre
Ryan Gilbey
04, Jul, 2018 @12:36 PM
Tobe Hooper: the director who took a chainsaw to wholesome family life | Peter Bradshaw
With his macabre masterpiece The Texas Chainsaw Massacre, Hooper found dark inspiration in the shadowy, secretive side of the American household
Peter Bradshaw
27, Aug, 2017 @11:57 AM
Tobe Hooper, Texas Chainsaw Massacre director, dies at 74
Best known for the notorious 1974 horror film about a group of cannibal killers, Hooper also directed the 1982 supernatural thriller Poltergeist
Gwilym Mumford
27, Aug, 2017 @9:50 AM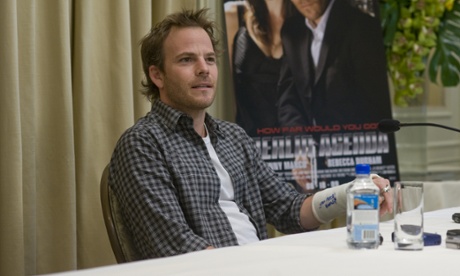 Stephen Dorff to take the lead in Texas Chainsaw Massacre prequel
Star of Somewhere to hunt down iconic villain Leatherface in latest addition to the franchise
Ben Child
01, Apr, 2015 @9:45 AM

The Texas Chainsaw Massacre: No 14 best horror film of all time
Stuart Heritage
22, Oct, 2010 @10:41 AM
In brief: Texas Chainsaw Massacre takes top terror title
Plus: Streep denies real-life model for demonic new role; American Pie star aspires to serious roles.
Staff and agencies
03, Oct, 2005 @10:55 AM
The troubled life of a satirical classic
After a 15-year ban, the Texas Chainsaw Massacre 2 is finally getting a UK release. Nick Hasted on the troubled life of a satirical classic
Nick Hasted
28, Sep, 2001 @3:40 AM
The recent release of long-banned films
The vaults are suddenly giving up their secret hoard of sex and slasher movies - Texas Chainsaw Massacre has its TV premiere tonight. But, asks Steve Rose, were they worth the wait?