Bill Murray's 20 best performances – ranked!
As the actor swigs with Zac Efron and Russell Crowe in new comedy The Greatest Beer Run Ever – and celebrates his 72nd birthday – we rate Murray's finest work
Hadley Freeman
29, Sep, 2022 @11:07 AM
From fake maps to golden tickets: the film props of artist Annie Atkins
When film-makers need a detailed artefact, they go to the in-demand Welsh creator, whose work is celebrated in a new book
John-Michael O'Sullivan
25, Jan, 2020 @11:00 AM
The 100 best films of the 21st century
Gangsters, superheroes, schoolkids, lovers, slaves, peasants, techies, Tenenbaums and freefalling astronauts – they're all here in our countdown of cinema's best movies since 2000
Peter Bradshaw, Cath Clarke, Andrew Pulver and Catherine Shoard
13, Sep, 2019 @5:00 AM
Mary Poppins, The BFG and Spectre: your complete Christmas film guide
The best festive films, from the classic The Grand Budapest Hotel, to modern favourites such as Up and Brooklyn, plus the creepy baby from Twilight and everything in between
Paul Howlett and Phil Harrison
15, Dec, 2018 @10:00 AM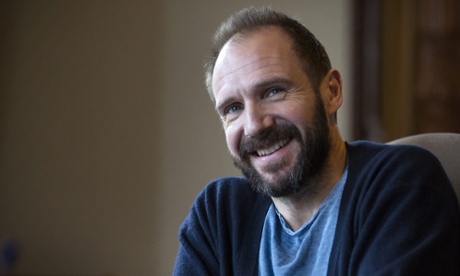 Ralph Fiennes: loosey-goosey? 'I like that!'
Beautiful and brooding, he rose to fame as a serious-minded young actor. But in recent films a new, more laidback Ralph Fiennes has emerged. The Bond star talks Englishness, male fantasies and what it feels like to be pushing 53
Catherine Shoard
26, Oct, 2015 @6:43 PM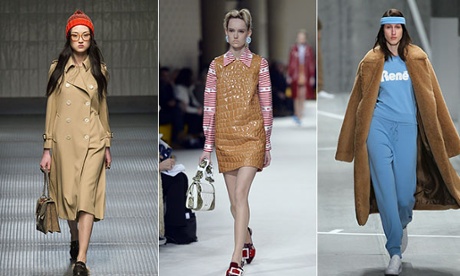 Fantastic Mr Wes Anderson: how Tenenbaum chic took over the catwalks
From Prada to Lacoste to Vogue, fashion's biggest hitters are referencing Anderson's retro influence in their winter collections
Lauren Cochrane
24, Aug, 2015 @3:11 PM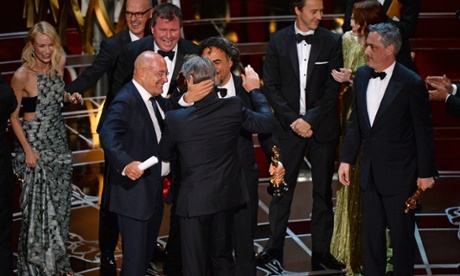 Oscars 2015: Birdman takes flight but Boyhood suffers growing pains | Peter Bradshaw
Peter Bradshaw: Alejandro González Iñárritu's fantasia of mid-life crisis came out on top, but surely it's an injustice that Boyhood failed to win the best picture award
Peter Bradshaw
23, Feb, 2015 @11:51 AM
Birdman wins the big two, but ties with Grand Budapest Hotel in total Oscars tally
• Alejandro González Iñárritu's drama takes best picture and best director
• Boyhood wins just best supporting actress for Patricia Arquette
• Eddie Redmayne wins best actor for The Theory of Everything
• The Grand Budapest Hotel wins four technical awards
Rory Carroll at the Dolby Theatre, Los Angeles
23, Feb, 2015 @9:35 AM
Oscars 2015: The red carpet, ceremony and reaction as it happens
It was the year that Birdman triumphed – but all the best picture nominees left with something. Relive all the best dresses, tuxes, speeches, tweets and memes
Stuart Heritage, Hadley Freeman, Peter Bradshaw, Imogen Fox, Hannah Marriott, Rory Carroll, Ben Beaumont-Thomas, Benjamin Lee , Steven W ThrasherHenry Barnes, Catherine Shoard
23, Feb, 2015 @7:54 AM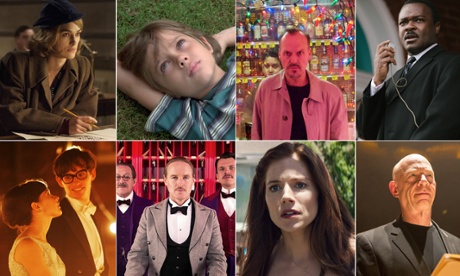 Oscars 2015: our final predictions on who will win the big prizes
The Oscars kick off this evening – and you can follow the action with us from 2pm PT, 5pm ET and 10pm GMT. Here's our final predictions in the key categories
Andrew Pulver
22, Feb, 2015 @9:49 PM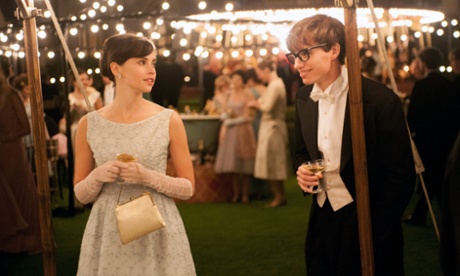 Unsung heroes: the creative businesses behind Oscar success stories
While The Theory of Everything and The Grand Budapest Hotel are in the spotlight for Sunday's academy award nominations; we look behind the scenes at the costumiers and makeup artists who help to bring magic to the movies
Emma Featherstone
20, Feb, 2015 @4:51 PM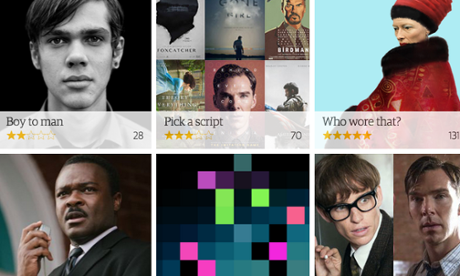 You don't know Oscar: can you beat the ultimate 2015 nominee quiz?
Nine exclusive games. Sixty movies. One mega-quiz. How well do you know this year's films? Test your eyes, ears and cinematic knowledge – before it's too late
Kenan Davis, Rich Harris, Nadja Popovich and Kenton Powell on the Guardian US interactive team
19, Feb, 2015 @1:16 PM