How The Predator remake is ushering in a new golden age of gore
Before family-friendly PG-13 became the norm, action hits relied on blood and guts. Post-Deadpool, we're in the midst of a sea change
Steve Rose
03, Sep, 2018 @9:00 AM
Search and destroy: can James Cameron revive the Terminator by killing its past?
Is the original director's plan to ignore the plots of the last three Terminator movies the way to revive the franchise for the next three films?
Ben Child
13, Mar, 2018 @3:40 PM
Moon Nazis and sex in space: what can we learn from movies set in 2018?
Looking back through Hollywood's sci-fi vaults, films from Rollerball to Terminator: Salvation offer a bleak view of the year ahead
Charles Bramesco
03, Jan, 2018 @4:27 PM
Never go back: why the Terminator reunion may be a recipe for failure
Restoring Linda Hamilton and James Cameron to the man versus the machines saga could be a smart move, but plenty of great directors – from Ridley Scott to George Lucas – have stalled when returning to past glories
Ben Child
26, Sep, 2017 @5:00 AM
Sarah Connor returns: Linda Hamilton to star in Terminator 6 after 25-year absence
Latest instalment of the franchise will see Hamilton reunited with Arnold Schwarzenegger and original creator James Cameron
Gwilym Mumford
20, Sep, 2017 @9:48 AM
From Spider-Man to Alien: why does Hollywood keep spoiling its movies?
Blockbusters keep getting spoiled before anyone has a chance to watch them thanks to plot-filled trailers and loose-lipped directors
Ben Child
04, Apr, 2017 @7:42 AM
After Terminator: franchises that deserve a mercy killing
Die Hard is a dead loss, Pirates of the Caribbean is sunk, and the Alien films are lost in space – why Hollywood should pull the plug on tired sequels
Stuart Heritage
22, Mar, 2017 @7:30 AM
He won't be back: Schwarzenegger's Terminator franchise terminated
Arnold Schwarzenegger's time-travelling cyborg will reportedly not return to cinemas, with sources saying studio has cancelled a planned sequel
Guardian film
21, Mar, 2017 @12:53 PM
Can James Cameron switch Terminator back on?
The sci-fi series has long been foundering, but the return of the original film's director to the fold could offer the chance of a creative hard reset
Ben Child
23, Jan, 2017 @5:38 PM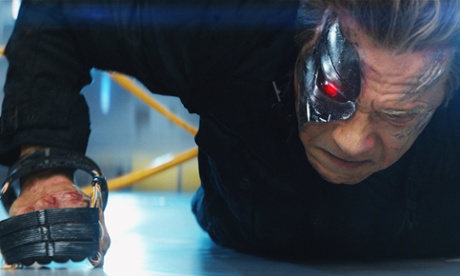 Why Terminator Genisys is a disaster that could be averted
It didn't have to be this way. With all their apparent understanding of time travel, the makers of this absurdly convoluted turkey can still go back and abort it

Joe Queenan
17, Jul, 2015 @3:55 PM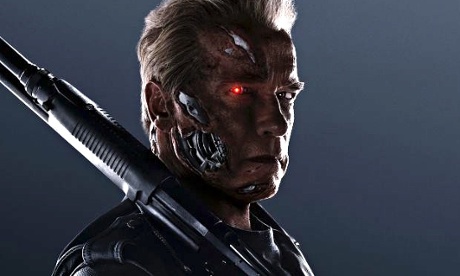 Arnold Schwarzenegger on Terminator Genisys: 'I'll be taking a beating or two'
As Arnie returns to play everyone's favourite robot assassin, John Patterson heads to a sweltering New Orleans set to talk to the star and the team behind the fifth Terminator movie
John Patterson
11, Jun, 2015 @5:40 PM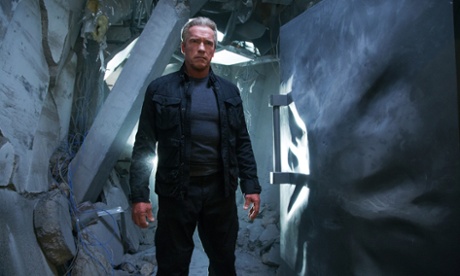 Arnold Schwarzenegger on Terminator: Salvation: 'It sucked'
The actor has spoken about his relief over turning down the 2009 sequel
Benjamin Lee
06, Apr, 2015 @8:48 AM