Sharon Stone: cosmetic surgeon enlarged my breasts without consent
New memoir claims the actor has faced ill-treatment at the hands of doctors, the film industry and her own grandfather
Catherine Shoard
30, Mar, 2021 @10:10 AM
Sharon Stone blames mask refuseniks as sister suffers from coronavirus
Actor blames 'non-mask wearers' for sister Kelly Stone's condition and calls on viewers to support Joe Biden and Kamala Harris in US presidential run
Catherine Shoard
17, Aug, 2020 @10:06 AM
Total Recall at 30: a thrilling reminder of Paul Verhoeven at his best
The 1990 adaptation of a Philip K Dick short story slickly combined biting satire with a deliriously entertaining Arnold Schwarzenegger action thriller
Scott Tobias
01, Jun, 2020 @5:35 AM
Sharon Stone: bumbling dating app is no match for a true star | Rebecca Nicholson
This was no impostor – this really was the star of Basic Instinct
Rebecca Nicholson
04, Jan, 2020 @3:30 PM
Sharon Stone blocked from Bumble dating app
Actor says she was blocked from the app after users reported her account profile was a fake
Ben Beaumont-Thomas
30, Dec, 2019 @12:32 PM
Seen but not heard: why don't women speak in The Irishman?
Scorsese has created provocative roles for women. But with only six words in his latest film, Anna Paquin's moral spectre is a sign of a troubling trend in Hollywood
Beatrice Loayza
07, Nov, 2019 @6:01 AM
Sharon Stone: I was forgotten like Princess Diana after I had a stroke
Actor says it took seven years to recover from illness that first struck in 2001, during which time the actor says she was treated with 'brutal unkindness' by Hollywood
Andrew Pulver
19, Jul, 2019 @5:25 PM
Mosaic review – Steven Soderbergh's mystery gamble almost pays off
Sharon Stone is a doomed author in an ambitious, mostly entertaining show viewers can watch conventionally or explore via an app
Benjamin Lee
19, Jan, 2018 @11:00 AM
Madonna successfully halts auction of breakup letter from Tupac
Singer files request against auction house to stop sale of personal items, including letter in which she calls Whitney Houston and Sharon Stone 'mediocre'
Jake Nevins
19, Jul, 2017 @4:24 PM
Lindsay Lohan's Mean Girls sequel: when stars take franchises into their own hands
The once shining star has talked up a treatment she's written for Mean Girls 2, but what's happened before when actors have tried to take control of sequels?
Guy Lodge
03, Jan, 2017 @6:14 PM
Pay advice for Sharon Stone and Hollywood | Letters
Letters: Actresses are merely perpetuating the notion that feminism is both bourgeois and out of touch
Letters
11, Nov, 2015 @7:44 PM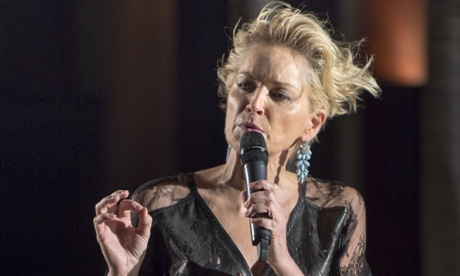 Sharon Stone: 'After Basic Instinct, no one wanted to pay me'
Actor is latest to call for gender pay equality, after recalling frustration at being offered salaries that fell far short of male co-stars, even after breakthrough movie
Catherine Shoard
09, Nov, 2015 @2:12 PM