Harry Potter turns 20: where are stars of the film franchise now?
We find out what happened to the young cast of Harry Potter and the Philosopher's Stone
Nadia Khomami Arts and culture correspondent
14, Nov, 2021 @5:21 PM
Harry Potter and the Philosopher's Stone review – 20 years on, it's a nostalgic spectacular
The first film in the franchise is re-released into a very different world – but it's as entertaining and exhilarating as ever
Peter Bradshaw
28, Oct, 2021 @8:00 AM
The not so cursed child: did Harry Potter mark the end of troubled young actors?
As we reach the 20th anniversary of the magical British blockbusters, the real magic lies in the way its young stars have stayed on the rails – unlike many before them
Ryan Gilbey
22, Oct, 2021 @10:00 AM
Amanda Bynes, back in Hollywood: what a girl wants?
After her public downfall, the former teen actor is back on Twitter and thinking about making films again. Is the celebrity spotlight the right place to return to?
Steve Rose
10, Dec, 2018 @10:00 AM
Rupert Grint: 'The line between Ron Weasley and me got thinner with each film'
The actor, 30, on being an introvert, peaking early and his desire to have kids
Nick McGrath
01, Dec, 2018 @2:00 PM
On my radar: Rupert Grint's cultural highlights
The actor on Jez Butterworth's The Ferryman, David Shrigley's unsettling cartoons, designing T-shirts online and getting his dad into RuPaul's Drag Race
Kathryn Bromwich
29, Oct, 2017 @10:00 AM
Snatch: a cock-er-nee gangster tale that's a right load of old pony
Guy Ritchie's tale of bare-knuckle boxing, diamonds and geezers is transplanted to the small screen. They really shouldn't have gone to the Barney Rubble
Fiona Sturges
28, Oct, 2017 @10:00 AM
Snatch review – Rupert Grint gives Guy Ritchie's comedy an obnoxious TV remake
The overpacked crime film heads to the small screen in a desperate-to-impress new series that proves oddly fascinating
Stuart Heritage
16, Mar, 2017 @12:00 PM
Harry ever after: tracing Daniel Radcliffe's evolution, from Potter to flatulent corpse
With Swiss Army Man, Daniel Radcliffe shakes off the last of his tween era with a funny and moving role as a cheese-cutting cadaver
John Patterson
26, Sep, 2016 @7:59 AM
Rupert Grint sues HMRC for potential £1m tax refund
Harry Potter star, who earned £24m from film franchise, could receive large reimbursement after contesting UK tax bill
Simon Bowers and Henry Barnes
28, Jun, 2016 @11:32 AM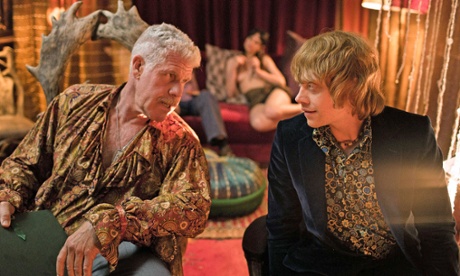 Moonwalkers first look review – Kubrick myth becomes misfiring comedy
Rupert Grint and Ron Pearlman star in tall tale of CIA agent employed to find Stanley Kubrick and pay him to create moon landing footage
Alex Needham in Austin
15, Mar, 2015 @11:04 PM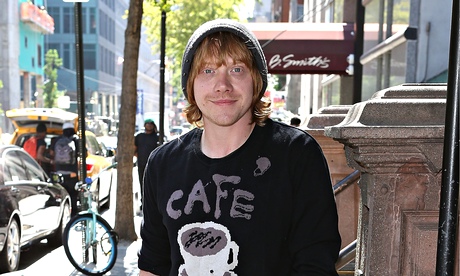 Rupert Grint on Charlie Countryman: 'It's me running around with a strap-on'
Ryan Gilbey: The Harry Potter alumnus on playing a wannabe porn star called Boris Pecker, working with Shia LaBeouf and why he'd like to destroy Goblet of Fire
Ryan Gilbey
23, Oct, 2014 @1:32 PM