Oscar winners 2017: the full list
All the winners from the 89th Academy Awards
Guardian film
28, Feb, 2017 @7:15 AM
UK box office still in love with Oscars darling La La Land
Damien Chazelle's musical paean to Hollywood outshines James McAvoy in Split and Vin Diesel's return as action hero Xander Cage
Charles Gant
24, Jan, 2017 @5:21 PM
Look who's stalking: the new breed of creepy male film leads
Passengers has been sold as a love story, but for the sake of dramatic tension films like it are often guilty of normalizing abuse
Jean Hannah Edelstein
22, Dec, 2016 @4:00 PM
Passengers review – Chris Pratt falls for Jennifer Lawrence in space
Its two twinkling stars are perfectly matched in this appealing sci-fi romance set aboard a vast spaceship as it hurtles through the void
Peter Bradshaw
22, Dec, 2016 @3:30 PM
Rogue One opens well in the UK – but not quite as well as Fantastic Beasts
Star Wars spin-off claims biggest opening of the year as rereleased James Stewart classic It's a Wonderful Life crashes back into the festive chart
Charles Gant
20, Dec, 2016 @5:03 PM
Passengers review – a missed opportunity
Neither the rapport between Jennifer Lawrence and Chris Pratt nor the impressive effects can quite redeem this shallow sci-fi
Wendy Ide
18, Dec, 2016 @8:00 AM
Passengers review – spaceship romcom scuppered by cosmic creep
Chris Pratt and Jennifer Lawrence have plenty of chemistry but his cyber-stalker behaviour is objectionable and unexplained: don't believe the trailers
Andrew Pulver
15, Dec, 2016 @2:00 PM
Jennifer Lawrence offends with story about 'butt-scratching' on sacred rocks
Actor's story about actions while filming Hunger Games movie in Hawaii criticised as 'disrespectful and inconsiderate'
Elle Hunt
09, Dec, 2016 @9:07 AM
Michael Sheen, Passengers and why Hollywood's hottest leads need a quirky Brit
How do you make Tom Cruise seem more heroic? Add Simon Pegg. Need Chris Pratt to be more macho? Add Michael Sheen. Why are Britain's character actors becoming kooky foils to Hollywood smoothies?

Ryan Gilbey
07, Dec, 2016 @6:36 PM
Cosmic emotions: why Arrival and Passengers feel like a new wave of sci-fi
Human relationships are usually an alien concept in sci-fi films. But two new movies show the genre is journeying into the realms of feelings, romance – and even sex
Steve Rose
03, Nov, 2016 @4:55 PM
Could Passengers be the next Avatar, or will it disappear into a black hole?
Starring Jennifer Lawrence and Chris Pratt as star-crossed lovers in space, there's a lot riding on Passengers. Will it ascend to the box-office heavens?
Ben Child
21, Sep, 2016 @9:00 AM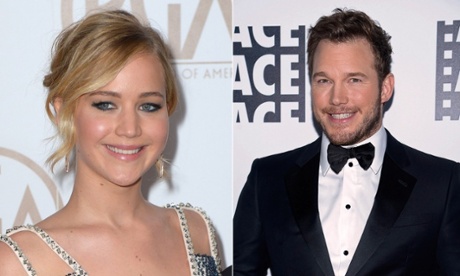 Jennifer Lawrence to be paid $8m more than Chris Pratt for Passengers
Big budget space romance greenlit by Sony in a high-risk push into original film-making thanks to combined $32m wage demands of star duo – with lion's share going to female star
Ben Child
17, Jun, 2015 @10:36 AM