Apocalypse now-ish: what can we learn from films set in 2020?
According to film-makers, the next 12 months is likely to resemble a fiery battleground populated by evil robots, aliens and monsters
Charles Bramesco
06, Jan, 2020 @7:15 AM
Peter Rabbit thumps Pacific Rim: Uprising at the UK box office
The family-friendly adventure hangs on to the top spot for a second week as A Wrinkle in Time clocks in at No 6
Charles Gant
27, Mar, 2018 @3:11 PM
John Boyega: 'I'm very direct. I can't lie'
He shook up Star Wars as its first black stormtrooper and hasn't looked back since. John Boyega on facing down bullies and not being nicey-nice
Simon Hattenstone
10, Mar, 2018 @9:00 AM
The most exciting blockbusters of 2018
Starting our series of the year's most anticipated films, we look forward to Black Panther changing the superhero script, disaster movies that will hit hard and the return of the Incredibles, Deadpool and Mary Poppins
Graeme Virtue
26, Dec, 2017 @6:00 AM
John Boyega cast in Kathryn Bigelow's upcoming film about 1960s Detroit riots
The Star Wars actor is the first named to star in Bigelow's anticipated follow-up to Zero Dark Thirty, a crime drama set against the backdrop of the Detroit riots
Nigel M Smith
21, Jun, 2016 @8:28 PM
Eastern promise: the Hollywood films making their money in China
With Warcraft: The Beginning breaking records in Asia yet failing in its homeland, what does the future hold for American-made blockbusters?
Benjamin Lee
14, Jun, 2016 @5:38 PM
Pacific Rim 2: Star Wars' John Boyega cast as lead in sequel to monster epic
The British star will play the son of Idris Elba's character from the first film in the sequel, which will not see Guillermo del Toro return as writer or director
Nigel M Smith
06, Jun, 2016 @7:10 PM
Guillermo del Toro to bring controversial horror stories for kids to the big screen
Film-maker may direct adaptation of Scary Stories to Tell in the Dark by Alvin Schwartz after his Pacific Rim sequel
Andrew Pulver
15, Jan, 2016 @1:16 PM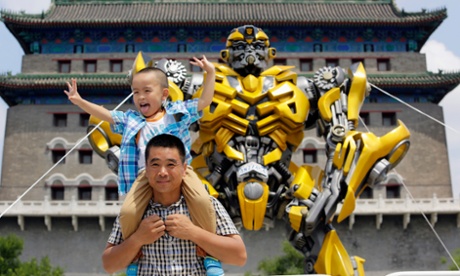 Will China's growing box office dominance change Hollywood for ever?
China will overtake North America within three years to become the world's largest film audience – which is great news for fans of Transformers and endless Terminator sequels
Ben Child
10, Sep, 2015 @5:07 PM
Pacific Rim - video review
Xan Brooks, Peter Bradshaw and Henry Barnes review Pacific Rim
Xan Brooks, Peter Bradshaw, Henry Barnes, Ken Macfarlane and Thibaut Remy
12, Jul, 2013 @3:09 PM
The Guardian Film Show: Monsters University, Pacific Rim, Blancanieves and We Steal Secrets - audio
Xan Brooks, Henry Barnes and Peter Bradshaw review Monsters University, Pacific Rim, Blancanieves and We Steal Secrets: The Story of Wikileaks
Xan Brooks, Peter Bradshaw, Henry Barnes, Ken Macfarlane, and Thibaut Remy
12, Jul, 2013 @10:54 AM
The Guardian Film Show: Monsters University, Pacific Rim, Blancanieves and We Steal Secrets - video review
Peter Bradshaw and Henry Barnes join Xan Brooks for our weekly review of the big cinema releases
Xan Brooks, Peter Bradshaw, Henry Barnes, Ken Macfarlane and Thibaut Remy
12, Jul, 2013 @9:17 AM