TV tonight: superhero caper meets social commentary in Watchmen
Jeremy Irons and Regina King star in a thrilling comic book adaptation. Plus: Panorama examines frivolous fund managers. Here's what to watch this evening
Ammar Kalia, Paul Howlett,Hannah Verdier,Gabby Vautier, Phil Harrison
21, Oct, 2019 @5:19 AM
The 100 best films of the 21st century
Gangsters, superheroes, schoolkids, lovers, slaves, peasants, techies, Tenenbaums and freefalling astronauts – they're all here in our countdown of cinema's best movies since 2000
Peter Bradshaw, Cath Clarke, Andrew Pulver and Catherine Shoard
13, Sep, 2019 @5:00 AM
Ocean's 8 review – starry cast can't steal enough attention in all-female reboot
Sandra Bullock, Cate Blanchett and Rihanna head up a gender-swapped take on Ocean's Eleven that suffers from an absence of tension
Benjamin Lee
06, Jun, 2018 @3:59 AM
Steven Soderbergh: 'Film-making is like sex. If I accidentally give someone else pleasure, that's fine'
The indie kingpin said he was quitting directing for oil painting. But he's making more films than ever. He talks about his new heist caper Logan Lucky, starring Daniel Craig as a redneck – and his plan to topple the studio system

Tom Shone
23, Aug, 2017 @3:42 PM
Rihanna and Anne Hathaway to join 'all-female Ocean's Eleven' cast
The crime caper, titled Ocean's Eight, will also star Sandra Bullock, Cate Blanchett and Helena Bonham Carter
Benjamin Lee
10, Aug, 2016 @4:16 PM
Which other Hollywood 'bro' movies need a Ghostbusters-style gender swap?
Ocean's Eleven is being rebooted with female A-listers instead of Brad and George – and it's now only a matter of time before all our man-childhoods are ruined
Ben Child
10, Jun, 2016 @5:07 PM
There's an all-female Ghostbusters – how about a male Thelma and Louise?
Hollywood is remaking male buddy movies with all-women casts – but the fact the opposite trick wouldn't work shows masculinity is movies' default setting
Noah Berlatsky
13, Nov, 2015 @7:42 PM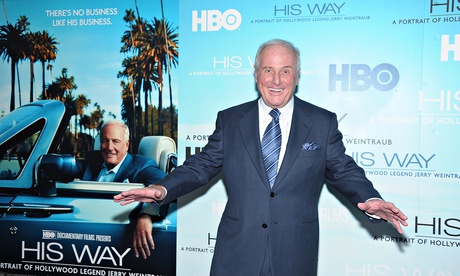 Jerry Weintraub obituary
Exuberant American film producer, talent agent and promoter
Ryan Gilbey
07, Jul, 2015 @5:54 PM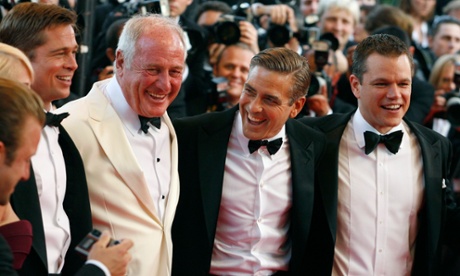 Jerry Weintraub: indefatigable champion of old-school and retro film
Producer Jerry Weintraub, who has just died, was a Hollywood dealmaker of huge renown whose Rat Packish instincts led to huge hits with the Ocean's Eleven series
Andrew Pulver
07, Jul, 2015 @1:07 PM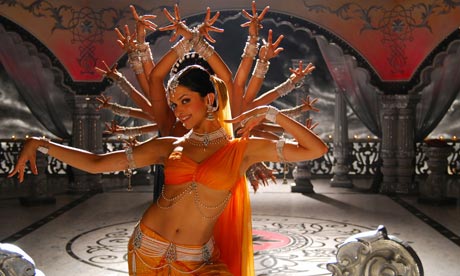 The starriest movie ever could never happen in Hollywood
What's the starriest movie ever made? Murder on the Orient Express? Ocean's Eleven? Hollywood pay cheques could never allow such a stellar cast as in Bollywood's 2007 Om Shanti Om
Nosheen Iqbal
19, Feb, 2010 @11:32 AM
Films beginning with O
From Ocean's Eleven to The Outsiders
Gang reunites for second Ocean's 11 sequel
Steven Soderbergh and George Clooney's efforts to bring a second Ocean's Eleven sequel to the big screen look to be on course with the news that all the main original members of the original's ensemble cast bar Julia Roberts have signed up.
Staff and agencies
27, Mar, 2006 @9:44 AM