From Australia to the Tonys: Moulin Rouge! The Musical poised to make history
Days after finally reopening on Broadway, the adaptation of Baz Luhrmann's film is up for a whopping 14 awards – after a very 'intense' journey
Elissa Blake
25, Sep, 2021 @8:00 PM
Moulin Rouge at 20: the dazzling musical that continues to shine
Baz Luhrmann's glittery spectacle remains as captivating as it was in 2001 thanks to a magnetic star turn from Nicole Kidman and its relentless energy
Guy Lodge
01, Jun, 2021 @6:22 AM
Moulin Rouge review – high-kicking Broadway remix is hard to resist
A glitzy, silly stage version of Baz Luhrmann's 2001 pop musical doesn't have much of a plot but it glides thanks to its infectious energy
Alexis Soloski
26, Jul, 2019 @2:00 AM
The Mummy is buried by Wonder Woman at the UK box office
Tom Cruise's monster fails to put the frighteners on the reigning comic-book queen, while Moulin Rouge! makes an all-singing, all-dancing comeback
Charles Gant
13, Jun, 2017 @2:32 PM
Baz Luhrmann: Prince was supposed to record lead single for The Great Gatsby
Film-maker spoke at Tribeca film festival about collaborating with the late musician on a song that failed to feature, and teased his new Netflix series
Nigel M Smith
24, Apr, 2016 @6:13 PM
Nicole Kidman: can-do spirit in a brilliant career
Focus, collaboration and respect are the other talents of the Australian megastar, finds Photograph 51's director
Emine Saner
18, Sep, 2015 @4:33 PM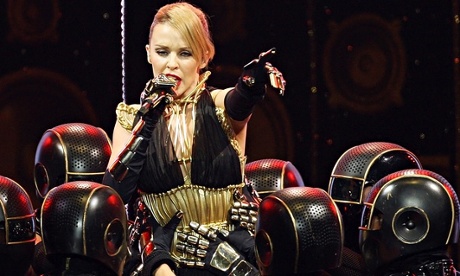 Do the loco-motion: Kylie Minogue joins The Rock's 3D earthquake movie
The singer and sometime actor is to take a supporting role in a disaster film, starring ex-wrestler Dwayne Johnson and shooting in Australia, about an earthquake in San Francisco

Ben Child
12, Jun, 2014 @9:21 AM
Moulin Rouge named best film of 2001
The National Board of Review of Motion Pictures has named Baz Luhrmann's musical spectacular as the best film of the year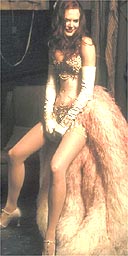 Hooray Henri
As Baz Luhrmann's film Moulin Rouge opens in London, Stuart Jeffries sees what's left of the Montmartre of the Can-Can and Toulouse-Lautrec.
Stuart Jeffries
08, Sep, 2001 @5:15 PM
Film of the week - Moulin Rouge
Nicole Kidman's new musical, set in a computer-generated Paris, is too fast and furious for its own good, says Peter Bradshaw.
Peter Bradshaw
07, Sep, 2001 @12:12 AM
The short tour of Albi
Albi, the town where the 4ft 11in artist grew up, is refusing to cash in on next month's film, Moulin Rouge, writes Jane Knight.
Jane Knight
05, Aug, 2001 @6:46 PM
Cannes kicks off in cancan style
The making of the film was little short of a disaster. The director's father died on the first day of the shoot. The leading lady smashed a knee and broke two ribs. A 60ft tall replica elephant was crushed on the set.
Stuart Jeffries in Cannes
10, May, 2001 @11:29 AM