Traffic at 20: Steven Soderbergh's bold and blistering drugs drama
The Oscar-winner's sprawling ensemble drama was rightfully awarded and praised for its difficult and dour look at an unwinnable war
Scott Tobias
27, Dec, 2020 @8:16 AM
Kirk Douglas obituary
One of the greatest Hollywood film stars, loved for his roles in Spartacus, The Vikings and Lust for Life
David Thomson
06, Feb, 2020 @1:52 PM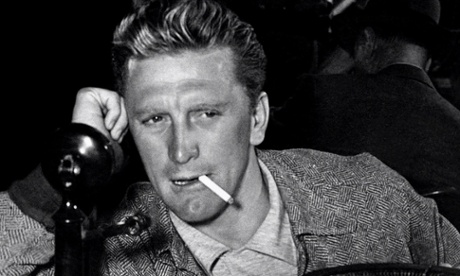 Kirk Douglas: Hollywood's impossibly handsome Colossus of Rhodes | Peter Bradshaw
Peter Bradshaw: He was an actor who blazed with a hyperreal masculinity – and heart-on-sleeve passion
Peter Bradshaw
06, Feb, 2020 @12:11 AM
The War of the Roses at 30: still one of the nastiest comedies of all time
The brutal 1989 hit took a much-loved onscreen pairing, Michael Douglas and Kathleen Turner, and tore them to pieces
Benjamin Lee
05, Dec, 2019 @6:15 AM
Green Eggs and Ham review – I'm a huge fan I am I am!
Woohoo! It's the Dr Seuss crew, full of derring-do, tunnels of goo, with Michael Douglas and Diane Keaton too. Netflix, thank you!
Lucy Mangan
08, Nov, 2019 @6:00 AM
Casablanca to Starship Troopers: the movie breakups that hit our writers hardest
With the release of Noah Baumbach's crushing divorce saga Marriage Story, Guardian writers have reminisced over their most memorable big screen breakups
Gretchen Smail , Peter Bradshaw, Charles Bramesco, André Wheeler , Benjamin Lee, Adrian Horton, Pamela Hutchinson, Andrew Pulver, Guy Lodge, Jordan Hoffman and Catherine Shoard
07, Nov, 2019 @6:00 AM
The Kominsky Method review – Michael Douglas in patchy, poignant portrait of male friendship
Douglas and Alan Arkin are a delight as two old friends– pity the younger or female characters don't get a look-in
Lucy Mangan
23, Nov, 2018 @6:00 AM
Keanu and Winona 4ever: on-screen couples who keep getting back together
The release of romcom Destination Wedding marks the third time that the pair have paired up, the latest in a long line of reunited big-screen couples
Zach Vasquez
29, Aug, 2018 @2:57 PM
Kathleen Turner: 'Decades after Body Heat I am still referred to as a sexual icon'
The actor, 63, tells Ruth Huntman about chemistry with Michael Douglas, keeping her illness secret in Hollywood and looking like Lauren Bacall
Ruth Huntman
14, Apr, 2018 @1:00 PM
Quiz: who said it – Uber's Travis Kalanick or Wall Street's Gordon Gekko?
The former CEO of the ride-hailing company was compared to the film's lead character in court. How similar are they? You be the judge
Olivia Solon
09, Feb, 2018 @12:49 AM
Boasts, rants and bantz: star interviews that got the world talking
From Quincy Jones on Marlon Brando's sex life to Michael Douglas on the possible cause of his cancer, here are some of the most jaw-dropping celebrity interviews ever
Guardian staff
08, Feb, 2018 @2:40 PM
Michael Douglas accuser on alleged sexual harassment: 'I was humiliated'
After the star pre-emptively denied the claim of wrongdoing, journalist and author Susan Braudy has spoken out about alleged misconduct
Guardian film
18, Jan, 2018 @10:05 PM