Fantastic Beasts to Love Actually: best films to watch over Christmas
Adam Driver stars in an action-packed adaptation of Don DeLillo's great American novel, while Frank Capra's smart twist on A Christmas Carol offers a lesson in the season's true spirit
Simon Wardell
24, Dec, 2022 @7:00 AM
Mary Poppins the Musical review – practically perfect and packed with delights
Stefanie Jones is a faultless Poppins in a fresh, wonderfully cast show that will delight families with its comedy and magic – albeit with one misstep
Cassie Tongue
27, May, 2022 @2:03 AM
Tony Walton obituary
Set and costume designer nominated for an Oscar for his work on the hugely successful 1964 Disney film classic Mary Poppins
Anthony Hayward
07, Mar, 2022 @4:56 PM
Practically perfect? How a new kind of nanny novel nails parents' angst and anger
Class, race, politics and power are at the heart of modern nanny novels that explore the complex relationship between working mothers and the women they pay to look after their children
Charlotte Northedge
01, May, 2021 @12:00 PM
Julie Andrews: 'I was certainly aware of tales about the casting couch'
The celebrated actor had a turbulent upbringing before becoming world-famous for playing two perfect nannies. Now she's bonding with a new generation of children through her storytelling podcast
Hadley Freeman
07, May, 2020 @5:00 AM
Comfort films to watch while self-isolating – ranked!
Hunkering down to avoid coronavirus? With romcoms, fantasy yarns and at least one disaster melodrama, here's all you need to make the most of your time in front of the TV
Peter Bradshaw
12, Mar, 2020 @3:14 PM
Mark Kermode chooses 25 of the best films for children
From early animation to foreign-language gems via all-time classics, a range of movies to whet budding cinematic appetites
Mark Kermode
21, Jul, 2019 @7:00 AM
The 30 greatest Disney songs – ranked!
Yes, of course Let It Go is in there somewhere … but where does it rank among Disney's other big-screen belters?
Alexis Petridis
18, Jul, 2019 @3:00 PM
Miles Jupp: my double life as Mr Banks from Mary Poppins
Having been repeatedly told that he looks like David Tomlinson, Miles Jupp now finds himself playing the mildly aristocratic character actor
Miles Jupp
11, Feb, 2019 @10:10 AM
Mary Poppins, The BFG and Spectre: your complete Christmas film guide
The best festive films, from the classic The Grand Budapest Hotel, to modern favourites such as Up and Brooklyn, plus the creepy baby from Twilight and everything in between
Paul Howlett and Phil Harrison
15, Dec, 2018 @10:00 AM
If Disney 'sanitises poverty', then I'm a singing teapot | Gareth McLean
Poor people are too chirpy in Mary Poppins and Snow White and the Seven Dwarfs, apparently. Isn't it just that we like stories with happy endings?
Gareth McLean
23, Feb, 2016 @9:18 AM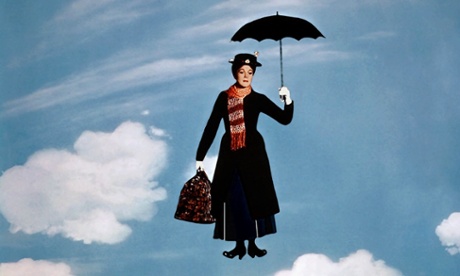 Director of new Mary Poppins movie says it is not a remake
Rob Marshall says new big screen outing for the children's favourite is based on previously unadapted books by PL Travers, who famously hated the 1964 film
Ben Child
21, Oct, 2015 @1:22 PM