Ill-advised car journeys on film – ranked!
Dominic Cummings' drive to Barnard Castle is unlikely to cut it as a road movie, but here are some nightmarish trips that did make it into the cinema
Stuart Heritage
28, May, 2020 @11:00 AM
Tom Hardy's 20 best film performances – ranked!
The actor's latest movie, Capone, further builds upon his beefy and menacing screen presence, but there is another side that shines through in some of Hardy's great roles
Peter Bradshaw
14, May, 2020 @11:00 AM
My streaming gem: why you should watch Locke
Continuing the series where writers recommend underappreciated films available to stream, a call to watch and admire Tom Hardy's single-location masterwork
Simran Hans
30, Mar, 2020 @9:50 AM
Sharks, ravines and volleyballs – the most perilous one-actor movies ever made
New film The Shallows has Blake Lively's surfer circled by a shark for 86 terrifying minutes. Scary. But is it more nerve-racking than Tom Hardy talking about concrete for an hour and a half?
Stuart Heritage
08, Aug, 2016 @4:12 PM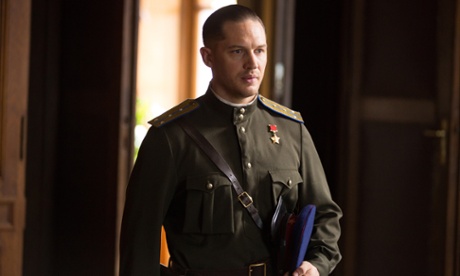 Tom Hardy: five best moments
Standout moments of the chameleon-like actor who stars in this week's Stalinist-era thriller Child 44
Benjamin Lee
17, Apr, 2015 @11:00 AM

DVD and downloads: Locke, Ilo Ilo, Heli, Arthur and Mike and more
Tom Hardy mesmerises behind the wheel of a BMW, while Singaporean director Anthony Chen delicately dissects family life, writes Guy Lodge
Guy Lodge
23, Aug, 2014 @11:05 PM

The Amazing Spider-Man 2 spins second biggest US launch of 2014
After ousting non-comic book alternative The Other Woman from top spot, the superhero sequel is set fair to outdo its predecessor, writes Jeremy Kay
Jeremy Kay
05, May, 2014 @12:32 PM

The Other Woman counter-programmes Captain America off top of US box office
Female comedy starring Cameron Diaz and Leslie Mann triumphs ahead of Spider-Man's return, writes Jeremy Kay
Jeremy Kay
29, Apr, 2014 @7:31 AM
Amazing Spider-Man 2 swings to the top of UK box office
Charles Gant: Superhero sequel posts biggest opening at the UK box office of the year so far, £1m ahead of The Lego Movie's bow
Charles Gant
23, Apr, 2014 @11:07 AM

Locke review – 'bold and evocative'
Tom Hardy proves he can act in a minor key in this compelling portrait of a man in transit and in crisis, writes Jonathan Romney
Jonathan Romney
20, Apr, 2014 @6:30 AM

Locke review – Tom Hardy is mesmerising in an engrossing solo thriller
This supremely gripping one-man drama is a perfect vehicle for Tom Hardy's pent-up brilliance, admits Peter Bradshaw
Peter Bradshaw
17, Apr, 2014 @8:45 PM

Locke – Venice 2013: first look review
Tom Hardy plays a man driving to London with a rich Welsh accent you could listen to all day. After sitting through this bold but exasperating movie, Xan Brooks almost feels he has
Xan Brooks
03, Sep, 2013 @3:03 PM