The Matrix director: I'm glad film recognised as trans metaphor
Lilly Wachowski expresses pleasure that the film's 'original intention' has become commonplace understanding among fans
Catherine Shoard
06, Aug, 2020 @11:54 AM
Why is Elon Musk telling us to 'take the red pill'?
A cryptic tweet from the Tesla billionaire that referenced the first Matrix movie has garnered approval from Ivanka Trump – but not everyone is happy
Lilly Wachowski rounds on Ivanka Trump and Elon Musk over Matrix tweets
The director was infuriated by social media banter in which Musk and Trump tweeted about 'the red pill'
Guardian film
18, May, 2020 @10:33 AM
The Matrix rebooted: do we want to go down the rabbit hole again?
The influential cyberpunk trilogy conjured a terrifying future where humans were enslaved to technology. How might a new film's creative revamp top that?
Ben Child
08, Aug, 2019 @11:47 AM
The Matrix trilogy review – pop-culture juggernaut still lands a thrilling punch
Keanu Reeves' first trip down the rabbit hole is as electrifying as ever – and Carrie Anne-Moss's charisma elevates the sequels
Peter Bradshaw
12, Jul, 2019 @8:00 AM
Sense8: the series finale review – sci-fi love-in is strictly for the fans
After much online outcry, the Wachowskis' cancelled show was given a feature-length reprieve in which to tie up loose ends and wallow in schmaltz

Sam Wollaston
09, Jun, 2018 @5:31 AM
Matrix rebooted: update of dystopian sci-fi franchise in the works
Sources suggest studio is considering Michael B Jordan for lead role in new version of hit franchise, with Alphas creator Zak Penn in talks to write treatment
Gwilym Mumford
15, Mar, 2017 @10:08 AM
'A force of nature': Ruby Rose presented with major Glaad award by Taylor Swift
Australian actor who featured in Orange Is the New Black recognised for her work promoting equality, and as a 'lesbian and gender fluid' role model
Monica Tan
04, Apr, 2016 @3:45 AM
The Guardian profile: Lilly Wachowski
With Lilly joining her film-making sibling Lana in coming out as a transgender woman this week, the Wachowskis' tales of fluid identities and brave leaps into the unknown take on even greater poignancy
Steve Rose
11, Mar, 2016 @4:27 PM
Daily Mail denies trying to force Matrix director to come out as trans woman
Lilly Wachowski said she decided to go public after after journalists 'threatened public outing against my will'
Mark Sweney
09, Mar, 2016 @2:07 PM
Film director Lilly Wachowski comes out as transgender woman
Lilly joins sister Lana, with whom she created the Matrix trilogy, after alleging pressure from Daily Mail forced her hand
Caroline Davies and Mark Sweney
09, Mar, 2016 @5:00 AM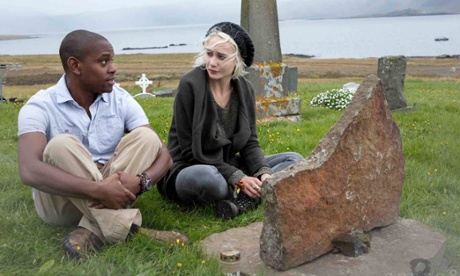 Netflix's Sense8 is the Wachowskis' very own Lost, with a few big flaws
The epic drama about eight mysteriously connected people shows TV could be the directors' perfect medium, if you can get through the deadly dull first hour
Brian Moylan
04, Jun, 2015 @6:24 PM