Shia LaBeouf's new film makes £7 at UK box office, as Beauty and the Beast holds sway
Belle beats Smurfs and The Boss Baby, but Ghost in the Shell and Free Fire lose out, and LaBeouf's Man Down manages a not-so-magnificent £7

Charles Gant
04, Apr, 2017 @2:04 PM
Lost in space – why does watching modern sci-fi hurt my head?
As films such as Life and Arrival groan under the weight of microhydraulics, astral protozoa or the space-time continuum, swaths of the audience are being left behind
Joe Queenan
31, Mar, 2017 @7:00 AM
Life review – exuberantly grisly Alien rip-off
Rebecca Ferguson, Jake Gyllenhaal and Ryan Reynolds play an enjoyably gory game of hide-and-seek with a hungry alien
Wendy Ide
26, Mar, 2017 @7:00 AM
Jake Gyllenhaal to play anarchist joining the fight against Isis
Daniel Espinosa will direct the film, based on the real-life story about a band of American radicals who joined the battle against Islamic State in Syria
Gwilym Mumford
24, Mar, 2017 @10:28 AM
Invade and conquer: film's grisly return to body horror
Get Out, Life and Alien: Covenant are gruesome reminders that being taken over by someone (or something) else is as terrifying as ever. Spoilers ahead
Charles Bramesco
23, Mar, 2017 @11:30 AM
Life review – Jake Gyllenhaal hits the retro rockets for sub-Alien space horror
Gyllenhaal and Ryan Reynolds play members of a scientific team investigating material from Mars that turns out to contain a hostile life-form
Peter Bradshaw
22, Mar, 2017 @12:01 AM
Jake Gyllenhaal: 'I would love to not talk about my personal life'
The workaholic actor is one of the finest of his generation – and his new sci-fi horror Life the latest example of his skilful character-building. But perhaps it's best not to ask him about Taylor Swift ...
Tim Jonze
19, Mar, 2017 @1:59 PM
In space, no one can hear you steal: is new sci-fi film Life just an Alien remake?
Hollywood has caught the sci-fi bug again. But can the forthcoming space thriller improve on Ridley Scott's 1979 horror, or will it be just another Inseminoid?
Ben Child
07, Feb, 2017 @3:56 PM
Cars, bras and bald men: 10 takeaways from the Super Bowl movie trailers
Forget sport, Super Bowl LI was a chance to see tasters of all the movies you'll watch this year. If you like guns, robots, aliens, sci-fi, pirates and budgie-smugglers, that is
Stuart Heritage
06, Feb, 2017 @1:13 PM
The Martian blasts off with biggest UK box-office opening since July
Ridley Scott's space adventure achieves his biggest ever first weekend in the UK – but for The Intern's quest for bums on seats, it's complicated
Charles Gant
06, Oct, 2015 @3:42 PM
Luke Davies on 'mischievous' James Dean and the myth of a broody youth
In researching for new film Life, Australian writer Luke Davies found the perception of Dean as brooding and long-suffering was more fiction than fact
Alexandra Spring
01, Oct, 2015 @8:19 PM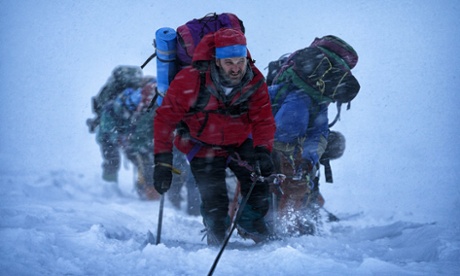 Everest hangs on at UK box-office summit
Real-life mountaineering drama makes one-two at the top of the chart for Working Title, as second-placed Kray twins biopic Legend breaks more records
Charles Gant
29, Sep, 2015 @4:18 PM