The Man Who Shot Liberty Valance at 60: the great American western
John Ford's 1962 masterwork remains a surprisingly downbeat film about the west with never-better performances from James Stewart and John Wayne
Oliver Macnaughton
22, Apr, 2022 @6:08 AM
I've never seen … The Searchers
I've always imagined John Wayne as the epitome of gun-toting American racism. And I didn't expect this white-supremacy parable to change my mind …
Steve Rose
22, May, 2020 @6:00 AM
'He didn't even pretend to let us win'… Growing up with the world's biggest stars, by their children
The sons and daughters of John Wayne, John Lennon, Caitlyn Jenner and others tell us what it was like to grow up with a world-famous dad
Joshua David Stein
29, Mar, 2020 @1:00 PM
Is it time to rename John Wayne airport?
The actor had secured a firm spot in American history until a controversial interview surfaced revealing his troubling views
André Wheeler
30, Sep, 2019 @10:20 PM
True Grit at 50: the throwback western that gave John Wayne his only Oscar
Released in the same year as The Wild Bunch and Butch Cassidy and the Sundance Kid, Henry Hathaway's western was defiantly old-fashioned in comparison
Scott Tobias
11, Jun, 2019 @6:00 AM
Should we be surprised by John Wayne's racist and homophobic views? | Caspar Salmon
The online commentary about a Playboy interview unearthed from 1971 shows a lack of education about the western actor, his times and even American history
Caspar Salmon
20, Feb, 2019 @4:12 PM
John Carpenter: 'Could I succeed if I started today? No. I'd be rejected'
The horror master, releasing a new album of film scores, talks John Wayne, why he never watches his movies, and having his work co-opted by neo-Nazis
Interview by Lanre Bakare
10, Oct, 2017 @9:00 AM
The day I met John Wayne on a rusty old industrial estate in Middlesex
It's July 1974, and the Duke is in town to shoot a film, suffering from lung cancer, effing and blinding and cheerfully laying into everything and everyone. By Quentin Falk
Quentin Falk
07, May, 2017 @5:00 AM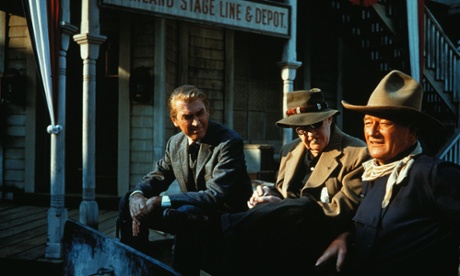 Hollywood to remake The Man Who Shot Liberty Valance as 80s mob thriller
New version will swap the 19th-century frontier setting of John Ford's celebrated western for gangster-plagued, industrially decaying Pennsylvania
Ben Child
01, Oct, 2015 @11:51 AM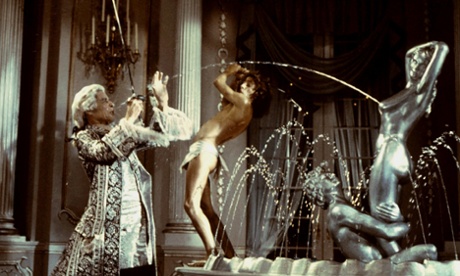 Scrap accuracy – give me Ringo Starr as the pope: the 10 quirkiest historical films
From John Wayne as Genghis Khan to 1776's catchy showtunes about dysentery … here's my favourite examples of movies which have played fast and loose with historical truth
Alex von Tunzelmann
30, Sep, 2015 @12:13 PM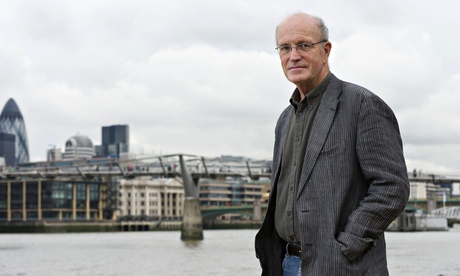 On my radar: Iain Sinclair's cultural highlights
The writer and film-maker on mesmerising Beckett, John Wayne and the curious story of Uwe Johnson
Alex Flood
14, Jun, 2015 @6:59 AM
Hollywood and the downwinders still grapple with nuclear fallout
The US turned swathes of desert radioactive during the cold war and denied it, bequeathing a medical mystery that still haunts Hollywood and rural Mormon communities and raises the question: how much do you trust the government?

Rory Carroll in St George, Utah
06, Jun, 2015 @12:00 PM