Kapow! Our writers pick their favorite Batman movie
To celebrate the release of The Batman, Guardian writers have written about their all-time favorite Caped Crusader films from Adam West to Ben Affleck
Peter Bradshaw, Andrew Pulver, Radheyan Simonpillai, Janelle Zara, Lisa Wong Macabasco, Charles Bramesco, Simon Abrams, Luke Holland, Benjamin Lee, Toby Moses, Nicholas Barber and Ben Child
04, Mar, 2022 @7:22 AM
From Memento to Interstellar: our writers pick their favourite Christopher Nolan films
With the much-anticipated staggered release of Tenet, writers argue why each of Christopher Nolan's 10 previous films should be seen as his best
Beatrice Loayza, Peter Bradshaw, Benjamin Lee, Wendy Ide, Charles Bramesco, Radheyan Simonpillai, Adrian Horton, Noah Gittell, Jordan Hoffman and Steve Rose
27, Aug, 2020 @6:24 AM
Brad Pitt, Matt Damon and Leonardo DiCaprio turned down Brokeback Mountain
Original director Gus Van Sant has revealed that multiple A-listers turned down the chance to star in the gay romance
Catherine Shoard
19, Jul, 2018 @10:29 AM
Cher is Meryl Streep's mum – and five more age-impossible casting choices
There are just three years between the two stars of Mamma Mia 2, yet one apparently gave birth to the other. Cinema has a proud history of credulity-challenging families
Stuart Heritage
01, May, 2018 @11:45 AM
Who is the best Oscar-winning supporting actor of all time?
Christopher Walken? Joe Pesci? Heath Ledger? Our chief film critic names his champion from the nominees – and reveals who you selected as your winner
Peter Bradshaw
08, Feb, 2018 @1:00 PM
From Mick Jagger to Heath Ledger: Australia's bungled quest to make a great Ned Kelly film
With Justin Kurzel's new movie in the works, will Australia's favourite villain finally get the film treatment he deserves?
Luke Buckmaster
14, Nov, 2017 @7:06 PM
I Am Heath Ledger review – uncommonly tender portrait avoids the hard questions
Naomi Watts, Ben Mendelsohn and more pay respects to the great actor, in a film that largely ignores the elephant in the room
Luke Buckmaster
11, May, 2017 @12:35 AM
When big-screen reunions work … and when they don't
The team behind Oscar-nominated crime thriller Hell and High Water have just announced a new project, but what can they learn from other re-teams that have and haven't been successful?
Noah Gittell
01, May, 2017 @11:30 AM
Michelle Williams: 'When something is available, I'll risk any embarrassment to get it'
With three Oscar nominations to her credit, the Manchester by the Sea star chases only the roles she really wants. She talks about her 'unmanageable life' in the wake of Heath Ledger's death - and the self-doubt that keeps her awake at night


Ryan Gilbey
29, Dec, 2016 @5:00 PM
'I never knew how much I'd write crying': Peter Bradshaw on film star deaths
Following the loss of actor Anton Yelchin, our movie critic reflects on how reporting celebrity deaths occupies a greater part of his work in the digital age, and what that tells us of society, grief and stardom
Peter Bradshaw
23, Jun, 2016 @12:26 PM
Christian Bale: I could have been a better Batman
British actor says he regrets never entirely realising his original vision of a 'very, very dark, messed-up character'
Ben Child
04, Mar, 2016 @10:11 AM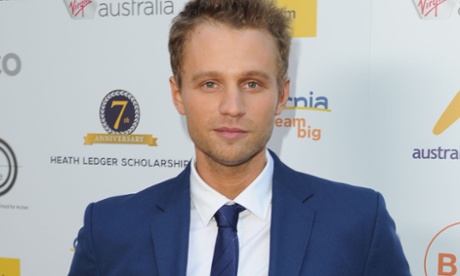 Matt Levett: 'Doubt creeps in and you're always finding ways to push it away'
The Heath Ledger scholarship winner on the actor's legacy, resisting doubt and toasting marshmallows under a sky full of stars
Interview by Alexandra Spring
06, Jun, 2015 @4:31 AM