Harry Potter and the Prisoner of Azkaban
Emma Thompson's best films – ranked!
As the Oscar-winning actor, screenwriter and climate change protester returns to cinemas in Men in Black International and Late Night, we count down her top 10 turns

Andrew Pulver
09, May, 2019 @4:00 PM
Rupert Grint: 'The line between Ron Weasley and me got thinner with each film'
The actor, 30, on being an introvert, peaking early and his desire to have kids
Nick McGrath
01, Dec, 2018 @2:00 PM
Bah humbug! Our alternative non-festive TV guide
It's a perennial problem: what do you watch over Yuletide if you hate Christmas telly? But there are plenty of options … if you're prepared to dig
Stuart Heritage
22, Dec, 2017 @7:00 AM
Harry Potter and the £4.50 chocolate frog | Alice O'Keeffe
I was delighted when my son discovered JK Rowling's books. But the magic is in danger of being sullied by merchandise, says freelance literary critic and journalist Alice O'Keeffe
Alice O'Keeffe
12, Dec, 2017 @6:00 AM
Fantastic riches and where to find them: how to grow a $22bn franchise
Fantastic Beasts is not just a new outpost for the Harry Potter empire. It is a pivotal moment in the creation of The Wizarding World of JK Rowling – and it could give the gold-gobbling niffler a run for its money. We go over the books
Andrew Pulver
21, Nov, 2016 @6:37 PM
The Harry Potter factory: inside JK Rowling's favourite room on Earth
From Quidditch posters to Weasley's Wizard Wheezes, design team MinaLima made the fantastical props for every Potter movie. Roll up muggles – and take a trip inside their magical lair
Hannah Gal
01, Dec, 2015 @4:40 PM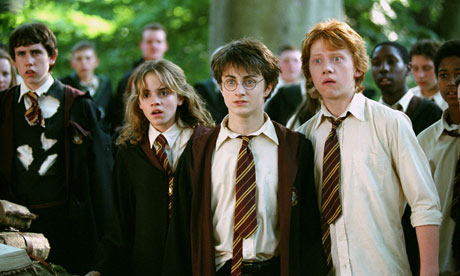 Children vote Harry Potter and the Prisoner of Azkaban best film of decade
Alfonso Cuarón's 2004 fantasy triumphs at First Light awards, voted for by children aged five to 15
Ben Child
17, Mar, 2011 @12:05 PM
The week's highlights: From Aug 27 to Sep 2
Rolf On Art: The Big Event | Ian Fleming: Bondmaker | The Truth About Killer Dinosaurs | The Truth About Female Desire | The Year London Blew Up: 1974 | The All-Star Cup | Harry Potter And The Prisoner of Azkaban | Grey's Anatomy | Like The Rolling Stones
Harry Potter and the Prisoner of Azkaban
Rob Mackie
19, Nov, 2004 @5:30 PM

Harry Potter still working box office magic
Harry Potter and the Prisoner of Azkaban continued to cast its spell at the top of the American box office this weekend
Staff and agencies
14, Jun, 2004 @11:17 AM
Harry Potter and the wizard idea to foil cinema pirates
Military-style night-vision goggles have been sent to every outlet in the country showing the new Harry Potter film, The Prisoner of Azkaban.
Martin Wainwright
31, May, 2004 @12:03 AM
Harry Potter and the Prisoner of Azkaban
Peter Bradshaw: This new Harry Potter picture will cast a spell on its fanbase. But the broomstick's losing altitude
Peter Bradshaw
28, May, 2004 @2:00 AM