Kerry Fox: 'I still see myself as a teen: pot, joyriding and trying to have sex'
The Shallow Grave and Intimacy actor on driving at 15 in New Zealand, her parents' disco dancing and starting an Abba fan club in her shed
As told to Rich Pelley
13, May, 2021 @11:25 AM
It's electrifying! Olivia Newton-John on her big Grease auction
Those headturning trousers, a 'pink ladies' jacket, plus many more items from the actor's 55-year career are going under the hammer. So why-yi-yi-yi now?
Melanie Abrams
24, Jul, 2019 @10:00 AM
Act your age: teens put the sheen on films about growing up
Like Eighth Grade, Boyhood and the new comedy Good Boys, the most authentic coming-of-age movies feature casts still in the throes of adolescence
Jemima Skala
24, Jun, 2019 @12:13 PM
Tell me more, tell me more: Summer Loving Grease prequel in the works
An origins film expanding on Danny and Sandy's fateful holiday fling is in the works at Paramount
Catherine Shoard
10, Apr, 2019 @9:40 AM
It was panned on release – so why are we hopelessly devoted to Grease 40 years later?
An endorsement of rape culture or a rejection of slut-shaming: the debate over the film continues, four decades on. How did it become arguably the most beloved movie musical of all time?

Rebecca Nicholson
20, Apr, 2018 @8:00 AM
Grease review – Travolta and Newton-John's summer lovin' still a blast
Rereleased on its 40th anniversary, the nostalgic rock'n'roll high school musical remains a sugar-rush of a film
Peter Bradshaw
18, Apr, 2018 @2:00 PM
Grease: Live – watch it with us - as it happened
We've got chills, and they're multiplyin' ... probably because the TV musical Grease: Live is on and we're live-blogging it. Please join us on the couch for some hand-jiving, bomber jackets and those famous tunes
Alex Needham and Brian Moylan
01, Feb, 2016 @3:03 AM
Grease Live: all the jive you need before Sunday's Fox performance
The network's first foray into live musicals will be the one that you want with celebrities, surprises and a live studio audience
Brian Moylan
29, Jan, 2016 @4:42 PM
Robert Stigwood obituary
One of the entertainment industry's most powerful tycoons, he produced Saturday Night Fever and turned the Bee Gees into international stars
Garth Cartwright
05, Jan, 2016 @6:28 PM
Robert Stigwood, mentor to the Bee Gees, Eric Clapton and Cream, dies at 81
Australian-born manager was also known for his work as a musical producer and worked on Saturday Night Fever, Grease, Hair and Jesus Christ Superstar
Staff and agencies
05, Jan, 2016 @3:12 AM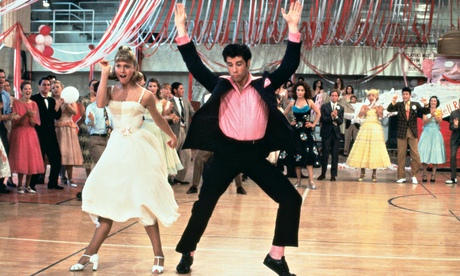 Grease Sing-a-Long review – gaudy, irresistible karaoke treatment
This big-screen sing-along version shows just how much the songs in this post-Night Fever exercise in teensploitation that give the bubblegum its snap
Mike McCahill
12, Feb, 2015 @8:40 PM
Readers suggest the 10 best summer romances in film
Last week we brought you our list of the 10 best summer romances in film. Here, we present your thoughts on the films that should have made the list
Observer readers
07, Aug, 2014 @11:30 AM