The best New Year's Eve scenes – ranked
We trawl acres of celluloid for the best New Year's Eves, from romcoms and musicals to gangster flicks and comedies, from parties-for-two to hellishly elaborate dance sequences
Stuart Heritage
29, Dec, 2022 @12:00 PM
The Poseidon Adventure at 50: Gene Hackman brings dignity to disaster
A rattling yet goofily constructed disaster movie is elevated by the actor taking on a self-confessed 'money job' yet turning it into art
Scott Tobias
12, Dec, 2022 @6:16 AM
Goncharov: why has the internet invented a fake Martin Scorsese film?
Thousands of Tumblr users have been making posters, soundtracks, drawings and fan fiction for a 1973 Scorsese film starring Robert De Niro – but it never existed
Sian Cain explains to Steph Harmon
25, Nov, 2022 @4:49 AM
Sharon Stone! Leonardo DiCaprio! Sam Raimi's The Quick and the Dead deserves your time
This 1995 western has been widely overlooked but it is good camp fun, starring Stone as a mysterious woman who enters a gunslinger contest in an outlaw town
Elizabeth Flux
24, May, 2022 @5:30 PM
The Royal Tenenbaums at 20: Wes Anderson's finest and funniest movie
The precise dysfunctional family film set a template for the writer-director's ouevre and gave Gene Hackman and his on-screen offspring some of their greatest roles
Scott Tobias
14, Dec, 2021 @7:06 AM
The French Connection at 50: one of the greatest New York movies ever
William Friedkin peaked in 1971 with his thrilling crime drama, known for its show-stopping car chase, but elevated by so much more
Scott Tobias
09, Oct, 2021 @6:05 AM
'My favourite forgotten film' – you recommend your best streaming gems
As our writers continue to highlight under-seen films available to stream, you've replied with your favourites, ranging from sci-fi to action to comedy
Guardian readers
06, May, 2020 @6:20 AM
I grew up watching disaster movies. Here's what I've learned | Hadley Freeman
From Armageddon to Outbreak, there's something reassuring about their predictability, now more than ever

Hadley Freeman
21, Mar, 2020 @11:30 AM
Harry Dean Stanton obituary
The long-time David Lynch collaborator left a legacy of quintessentially American roles that spanned decades and won him an army of admirers
Ronald Bergan
16, Sep, 2017 @12:18 AM
My favorite best picture Oscar winner: Unforgiven
Clint Eastwood went back to the genre that made his name and deconstructed its tropes, making it current by incorporating the psychological impact of killing
Lanre Bakare
21, Feb, 2017 @1:28 PM
Absolute Power at 20: what we can learn from a thriller about an evil president
The Clint Eastwood political potboiler is a fascinatingly terrible film built from hair-brained anti-Clinton conspiracy theories, but what role does it play today?
John Paterson
14, Feb, 2017 @12:45 PM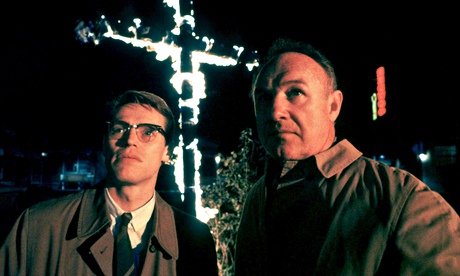 Mississippi Burning review – incandescent civil rights thriller
Alan Parker's finest film, based on the notorious real-life murders of three civil-rights activists by the KKK, remains tragically relevant
Philip French
11, Oct, 2015 @7:00 AM