The 100 best films of the 21st century
Gangsters, superheroes, schoolkids, lovers, slaves, peasants, techies, Tenenbaums and freefalling astronauts – they're all here in our countdown of cinema's best movies since 2000
Peter Bradshaw, Cath Clarke, Andrew Pulver and Catherine Shoard
13, Sep, 2019 @5:00 AM

Michael Moore tells documentary-makers to be more entertaining
The Fahrenheit 9/11 director urges colleagues at the Toronto film festival to accept that they are entertainers because 'people want to go home and have sex after your movie'
Henry Barnes
09, Sep, 2014 @5:05 PM

Michael Moore and Harvey Weinstein settle Fahrenheit 9/11 dispute
Trial cancelled after film-maker and producer settle legal dispute out of court over 2004 documentary film's profits
Xan Brooks
16, Feb, 2012 @6:00 PM

Michael Moore to take Weinsteins to court
With both sides refusing to settle, Moore will take legal route to retrieving $2.7m he claims he is owed for Fahrenheit 9/11
Ben Child
04, Apr, 2011 @10:54 AM

Michael Moore sues Weinstein brothers over Fahrenheit 9/11 profits
The film-maker claims his long-standing financial backers could owe him at least $2.7m from hit documentary
Ben Child
08, Feb, 2011 @12:40 PM

WikiLeaks cables: US intervened in Michael Moore NZ screening
Embassy angered by 'potential fiasco' of cabinet minister hosting a showing of Fahrenheit 9/11
Richard Adams in Washington
22, Dec, 2010 @12:48 PM
US embassy cables: US anger over Fahrenheit 9/11 screening at New Zealand Labour Party fundraiser
Cable sent 30/07/2004
C O N F I D E N T I A L WELLINGTON 000647

Is Hollywood finally over 9/11?
From the angry Fahrenheit 9/11 to the depressing Hamburg Cell, films about September 11 have journeyed through the five stages of grief. Now with weepies Dear John and Remember Me, the movies have come to terms with the defining event of our age
Neil Smith
30, Mar, 2010 @9:02 AM

Best films of the noughties No 10: Fahrenheit 9/11 | Andrew Pulver
Andrew Pulver: It's Michael Moore's most significant film, and one whose effects are still being felt today
Andrew Pulver
21, Dec, 2009 @8:00 AM

Fahrenheit 9/11 documentary-maker Michael Moore calls new film Capitalism: A Love Story
The latest film from the Fahrenheit 9/11 and Bowling for Columbine director tackles the global economic recession in the format of a lush Hollywood romance
Xan Brooks
09, Jul, 2009 @10:55 AM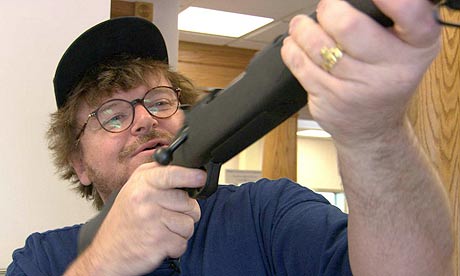 Moore to tackle global financial crisis in next film
Director of Roger and Me, Bowling for Columbine and Fahrenheit 9/11 working on documentary that explores the world economic downturn and America's place in it
Ben Child
13, Nov, 2008 @11:20 AM
Fahrenheit 9/11 Marine recruiter killed in Iraq
The US Marine recruiter pictured in Fahrenheit 9/11 trying to persuade young men from the bleak town of Flint, Michigan, to enlist has been killed by a roadside bomb in Iraq, the Pentagon said.
Suzanne Goldenberg in Washington
30, Jun, 2006 @10:56 PM