Degrees of separation: what connects Seinfeld to Steve Bannon?
From the US sitcom to the far-right rabble rouser, we go down the rabbit hole thanks to the arrival of Jerry's show on Netflix
Larry Ryan
30, Oct, 2021 @12:00 PM
My Psychedelic Love Story: how Errol Morris captured an unusual romance
The Oscar-winning documentarian discusses his latest film about LSD and a subject who Nixon called 'the most dangerous man in America'
David Smith in Washington
30, Nov, 2020 @3:50 PM
Five of the best documentaries, as chosen by Werner Herzog
From The Act of Killing to Vernon, Florida, the famed German director selects his favourite non-fiction films
Kathryn Bromwich
20, Nov, 2020 @9:00 AM
A Wilderness of Error: the year's most troubling true crime series
The grisly case of the MacDonald family is again in the spotlight in an unusual and self-reflexive series from a maker of The Jinx
Adrian Horton
25, Sep, 2020 @5:23 PM
'How to stop an out-of-control president': the Trump films that may swing the midterms
US elections and awards season have led to documentaries about Trump from both sides of the political divide. But how do we separate the lies from the truth?
Steve Rose
18, Oct, 2018 @3:30 PM
The Ashtray by Errol Morris review – revenge against Thomas Kuhn
For the film-maker, Kuhn is 'The Man Who Denied Reality', whose relativism opened the door to fake news. The trouble is, he is totally wrong
Steven Poole
31, May, 2018 @8:00 AM
Errol Morris on Wormwood: 'There's no guarantee you'll find the truth. Sometimes you're just lucky'
The documentary film-maker discusses his Netflix series that takes in the CIA and conspiracy theories, and – he thinks – still has something to say about the era of 'fake news'
Errol Morris
29, Jan, 2018 @6:00 AM
Wormwood review – LSD, the CIA and the mysterious death of an army scientist
Frank Olson plunged from a 10th floor window, but his son was never convinced it was suicide. Here, he and Errol Morris attempt to unravel the truth
Julia Raeside
11, Jan, 2018 @6:48 PM
George Clooney, Jennifer Lawrence and Matt Damon jostle for Oscar advantage in Venice line-up
Damon stars in two of the Lido's big films, Downsizing and Suburbicon, while Lawrence steps into horror movie territory with Darren Aronofsky's Mother!
Gwilym Mumford
27, Jul, 2017 @12:16 PM
From Weiner to Making A Murderer: this is the golden age of documentaries
Documentary films have are more diverse, experimental and popular than ever before. Here we consider why, and survey the genre's game-changers
Charlie Lyne, Rebecca Nicholson, John Patterson, Steve Rose, Laura Snapes, Arwa Haider, Bella Todd, Jack Seale and Graeme Virtue
14, Nov, 2016 @9:00 AM
The B-Side: Elsa Dorfman's Portrait Photography review – Errol Morris takes a charming snapshot
A warm and hugely entertaining documentary about a woman whose work gained fame for utilising the Polaroid 20x24 camera
Benjamin Lee
05, Sep, 2016 @11:53 AM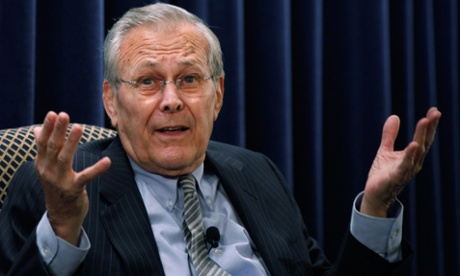 Couples, drugs and Rummy: how an Iraq veteran sees the Unknown Known | Colby Buzzell
Colby Buzzell: Watching the new Errol Morris documentary about my old boss, Donald Rumsfeld, is a little like working for him: you feel nothing
Colby Buzzell
07, Apr, 2014 @4:31 PM