A local's guide to Deauville, France: fine sands, fine dining and a new arts scene
Bookshop owner David Ezvan on market shopping, sea views and nights out on the Normandy coast
Interview by John Brunton
31, Oct, 2022 @11:00 AM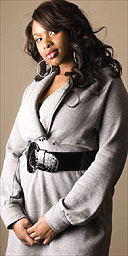 In brief: Hudson signs for Sex and the City
Plus: Bosworth lined up for Paolo Coelho adaptation; thriller The Dead Girl wins top prize at Deauville's American film festival.
Staff and agencies
11, Sep, 2007 @11:05 AM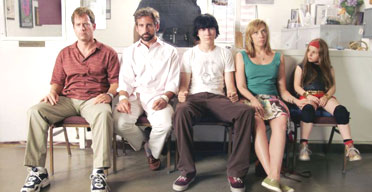 In brief: Sunshine triumphs at Deauville
Plus: Pirates' plunder passes $1bn mark, and Hostel director to go in front of the camera in Tarantino's Death Proof.
Staff and agencies
11, Sep, 2006 @11:04 AM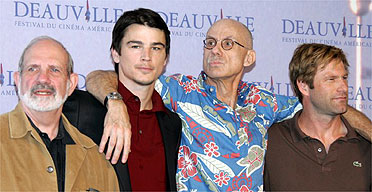 US stars turn out for Deauville festival
Edward Norton, Oliver Stone, and Brian De Palma are among the stars putting in face time at the Deauville American film festival in Normandy.
Staff and agencies
05, Sep, 2006 @9:51 AM

In brief: Crash hits right note at Deauville
Plus: Harry Potter love interest tells of hate mail, and Daniel Craig spotted swotting up for Casino Royale.
Staff and agencies
12, Sep, 2005 @10:55 AM

Deauville gears up for bullish times
The American film festival on the north French coast celebrates its 31st year with The Matador, with Matt Dillon, Val Kilmer, Harold Ramis and Roman Polanski in attendance.
Staff and agencies
06, Sep, 2005 @10:24 AM
In brief: How to Lose a Guy sequel promises to single out Mr Wrong
Plus: Sabrina The Teenage Witch to hit the big screen, The Village finds global success, and Deauville hails Maria Full of Grace
Staff and agencies
13, Sep, 2004 @1:36 PM
In brief: Miramax hits more trouble
Miramax's future is looking bleaker by the day with major delays announced in its 2005 schedule. Dear Frankie, the story of a woman who writes letters to her son posing as his father, was due to be released in two weeks time, but is now delayed until March 4. Meanwhile, An Unfinished Life, a drama starring Robert Redford and Jennifer Lopez, was due for release at Christmas but the date is now undecided. The production company that spearheaded a renaissance in US independent cinema in the 1990s announced last month that 65 of its 485 staff would be fired.
Staff and agencies
03, Sep, 2004 @11:49 AM

In brief: Luhrmann pulls plug on Alexander
Plus: Paramount hopes for passionate reception for Ten Commandments release 3, Basic Instinct 2 finally gets legs uncrossed, and Deauville festival to go back to the 1940s
Staff and agencies
13, Jul, 2004 @11:12 AM

In brief: Rings things on view in London
Plus: Exorcist prequel loses second director, supermodel Gisele to make acting debut in Taxi remake and US prostitute drama wins in Deauville
Staff and agencies
16, Sep, 2003 @11:07 AM
In brief: Russell Crowe puts fatherhood over career
Plus: Polanski to chair Deauville jury, and singer Jewel plans crime and punishment drama
Staff and agencies
20, Aug, 2003 @10:05 AM