Moved to tears by a frontline doctor | Brief letters
Brief letters: The Covid frontline | Ageism | Elton John | Matt Hancock and Contagion | Cricket
Letters
08, Feb, 2021 @5:10 PM
Matt Hancock's vaccine rollout was inspired by Contagion. Here's what he should watch next
It's understandable – if troubling – when politicians are watching disaster movies for tips on dealing with a global catastrophe. Anybody got a number for The Rock?
Stuart Heritage
04, Feb, 2021 @12:12 PM
Hancock's obsession with Matt Damon film inspired UK's vaccine strategy
Contagion has been credited as offering an accurate examination of how a global pandemic might play out
Archie Bland
02, Feb, 2021 @6:18 PM
I feel fine: fans of world-ending films 'coping better with pandemic'
Researchers say apocalyptic movies prepare people for Covid-19 and make them more resilient
Ian Sample Science editor
01, Jul, 2020 @6:05 PM
'They can cost £63k': how the hazmat suit came to represent disease, danger – and hope
On the one hand faceless and frightening, on the other a symbol of heroic resistance to deadly viruses, here's how the hazmat suit became a symbol of our times

Sirin Kale
26, Mar, 2020 @2:00 PM
Exposure therapy: why we're obsessed with watching virus movies
Streaming numbers for Contagion and Outbreak have been huge, suggesting people are choosing exposure over escapism
Charles Bramesco
16, Mar, 2020 @4:38 PM
Publishers report sales boom in novels about fictional epidemics
Camus' The Plague and Dean Koontz's prescient The Eyes of Darkness enter bestsellers lists
Alison Flood
05, Mar, 2020 @7:06 PM
When old films go viral: how coronavirus gave Contagion an unexpected afterlife
Steven Soderbergh's 2011 thriller about the spread of a deadly virus has been back in the iTunes Top 10 – so is this epidemic another thing we can blame on Gwyneth Paltrow?

Ryan Gilbey
30, Jan, 2020 @2:00 PM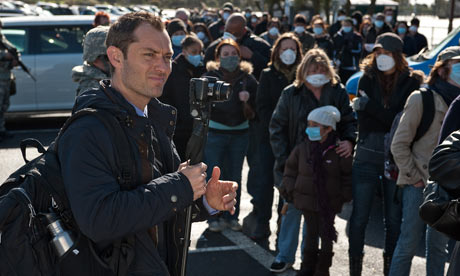 Mark Kermode's DVD round-up
Steven Soderbergh isn't afraid to kill off his big-name stars in the fast-moving Contagion, writes Mark Kermode
Mark Kermode
04, Mar, 2012 @12:06 AM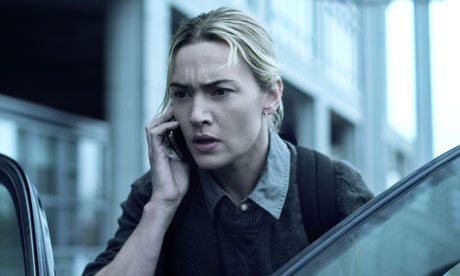 Contagion – review
Steven Soderbergh's star-packed disaster thriller is slick but somewhat familiar, writes Philip French
Philip French
22, Oct, 2011 @11:04 PM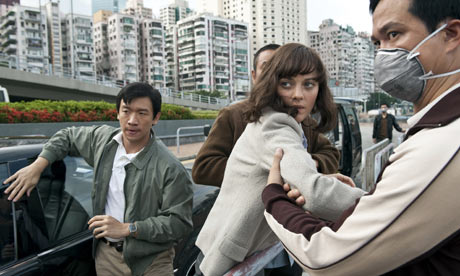 This week's new films
Contagion | We Need To Talk About Kevin | The Black Power Mixtape 1967-1975 | Restless | The Yellow Sea | Blood In The Mobile | Paranormal Activity 3 | Four | Reuniting The Rubins | Monte Carlo | Judy Moody And The Not Bummer Summer
Steve Rose
21, Oct, 2011 @11:05 PM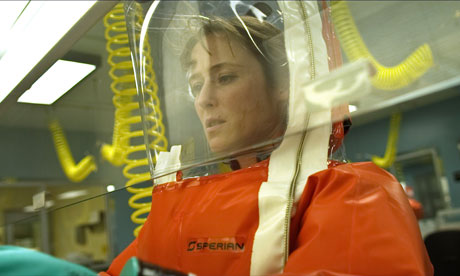 Contagion – review
The 1970s-style all-star disaster flick gets a slick modern update in Steven Soderbergh's global disease thriller, writes Peter Bradshaw
Peter Bradshaw
20, Oct, 2011 @9:10 PM