Kelly Macdonald: 'I'm beyond sex scenes now. I just play detectives'
She shot to fame in Trainspotting, and has starred in Gosford Park, Boardwalk Empire and even as a Disney princess. So why did the Scottish actor panic about her new role in Line Of Duty?
Emma Brockes
06, Mar, 2021 @8:00 AM
Every Pixar film ever made - Ranked!
It's the studio that rewrote the rules of animation, and it hasn't let up since. So which is the best – and worst – of Pixar's 19 movies? We find out in Ranked, our new weekly series
Peter Bradshaw
19, Jan, 2018 @6:00 AM
Finding Dory to Cars 2: Pixar's greatest hits and misses
Pixar redrew the rules of animation with its groundbreaking CGI – and the gorgeous visuals are matched by lovable characters and thrilling storytelling
Ben Child
30, Jun, 2016 @5:12 PM
Disney princesses contribute to 'body esteem' issues among young girls, finds study
Pretty as a Princess, which examines studio's output, discovers 'princess culture' leading to less experimentation and increased self-consciousness
Andrew Pulver
27, Jun, 2016 @2:12 PM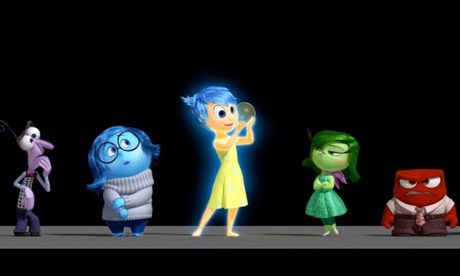 Inside Out trailer: Pixar loots its own back catalogue for 'major emotion picture'
Animation company uses clips from Wall-E, Toy Story and Finding Nemo among its other hits in teaser trailer for latest film, set inside a child's mind
Guardian film
03, Oct, 2014 @11:47 AM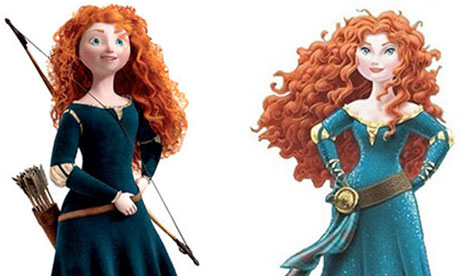 Disney retreats from Princess Merida makeover after widespread criticism
'Glammed-up' version of character from Pixar animation Brave removed from Disney website after creator describes it as 'horrible'
Ben Child
16, May, 2013 @10:51 AM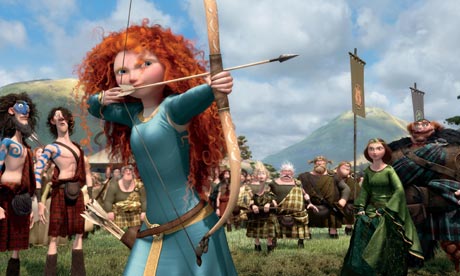 Girls on film, from Twilight to Brave: Hollywood's new young female leads
Ryan Gilbey: Pixar's new film, Brave, finally features a female lead. With the likes of Twilight and The Hunger Games also doing big box office, is Hollywood starting to wake up to what audiences want?
Ryan Gilbey
10, Aug, 2012 @11:05 PM
Brave cast and crew interview: 'Only Pixar could improve Scotland' - video
The stars and crew of Pixar's new Scottish-set adventure tell Paul MacInnes what it was like travelling to the Highlands to research the film
Paul MacInnes and Henry Barnes
10, Aug, 2012 @8:46 AM
Brave - video review
In an excerpt from this week's Guardian Film Show, Xan Brooks, Peter Bradshaw and Catherine Shoard take a trip up to the glens of Pixar's pseudo-Scotland, where a fiery young princess called Merinda is having trouble convincing her mum that she shouldn't be married off to a clan warrior
Xan Brooks, Peter Bradshaw, Catherine Shoard, Elliot Smith, Mary Douglas-Home, Phil Maynard and Henry Barnes
09, Aug, 2012 @9:05 AM
The Guardian Film Show: The Bourne Legacy and Brave - video
Xan Brooks, Peter Bradshaw, Catherine Shoard and Henry Barnes discuss The Bourne Legacy, Brave, 360 and Ai Weiwei: Never Sorry
Xan Brooks, Catherine Shoard, Peter Bradshaw, Elliot Smith, Phil Maynard, Mary Douglas-Home and Henry Barnes
09, Aug, 2012 @8:54 AM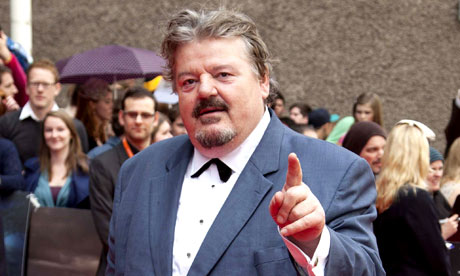 Robbie Coltrane: 'My role in Brave is not exactly glam. Not the sort of thing they would have offered to Brad Pitt'
The actor talks about life after Hagrid, his voice role in Brave and patriotism
Ben Child
02, Aug, 2012 @7:00 PM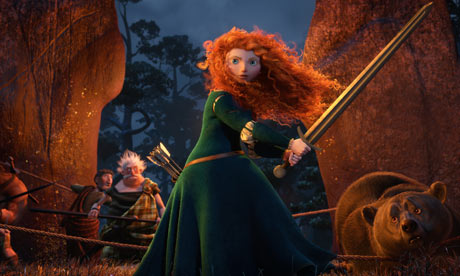 Brave new world dominated by Pixar
Jeremy Kay: Brave has set the second biggest June debut in history behind Toy Story 3, which opened in 2010 on $110.3m
Jeremy Kay
26, Jun, 2012 @10:02 AM