Clare Peploe obituary
Screenwriter and film-maker best known for Couples and Robbers, Besieged and La Luna
Ryan Gilbey
04, Jul, 2021 @3:50 PM
Freedom, revolt and pubic hair: why Antonioni's Blow-Up thrills 50 years on
The flawed but absorbing 60s movie about a photographer who unwittingly captures a murder scene still poses important questions
Anthony Quinn
10, Mar, 2017 @12:00 PM
Blown up – how cinema captured the dark heart of the swinging 60s
It's 50 years since Time declared London 'swinging' and foreign film-makers flocked to the capital to tells its stories. From A Hard Day's Night to Blow-Up, the era-defining movies rolled out. But beneath the glam, paranoia, madness and violence were never far away
Steve Rose
21, Apr, 2016 @5:41 PM
The 10 best fashion films
As Derek Zoolander returns to strut his stuff, we look at cinema's greatest fashionistas
Michael Hogan
05, Feb, 2016 @12:00 PM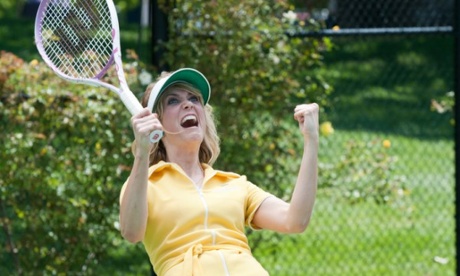 Readers suggest the 10 best tennis moments in culture
Last week we brought you our 10 best tennis moments in culture. Here, we present your thoughts on the moments that should have made the list
Alex Dean
18, Jun, 2015 @2:00 PM

My favourite film: Blow-Up
In our writers' favourite film series, Jon Dennis plays it cool with a chilling Michelangelo Antonioni tale set in swinging 60s London
Jon Dennis
23, Nov, 2011 @1:48 PM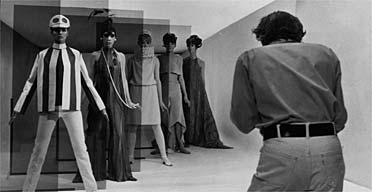 'Trust me. I am not God, but I am Antonioni'
A young, bearded Peter Bowles wasn't prepared for Michelangelo Antonioni's rigorous approach to film-making when he landed a part in Blow-Up. But he soon realised he was in the presence of a great man.
Peter Bowles
24, Jun, 2005 @1:49 PM

Blow-Up restoration heads Cannes classics
A restored print of Michelangelo Antonioni's 1966 thriller Blow-Up is to be the centrepiece of the inaugural Classic Cinema section at this year's Cannes film festival.
Staff and agencies
28, Apr, 2004 @9:13 AM