Liam Charles' recipe for Marvel Avengers-inspired fruit pastilles | The Sweet Spot with Liam Charles
Assemble your own Avengers-themed 'power stones' at home – they won't take an infinity to make
Liam Charles
15, Jun, 2019 @10:00 AM
Avengers: Endgame – who survived Thanos' finger-click? Discuss with spoilers
We've finally learned who made it out alive – and the line we've all been waiting for. But was the final instalment really as satisfying as the critics said?
Jordan Hoffman
25, Apr, 2019 @6:44 PM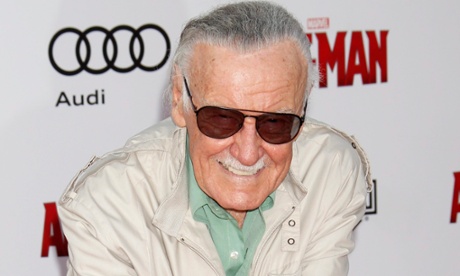 Stan Lee: auteur of the superhero world and perhaps last legend of pop culture
Modern-day movies – and contemporary culture – would be enormously the poorer without the brilliantly sympathetic and inventive main-man of Marvel
Peter Bradshaw
12, Nov, 2018 @7:49 PM
'These men are bad role models': will my son get over his superhero obsession?
Superman, Batman, Iron Man: can a little boy be rescued from their vice-like grip?
Tanya Gold
10, Nov, 2018 @8:00 AM
Avengers: Infinity War – watch the first trailer for Marvel's massive superhero sequel
The latest instalment in the explosive film franchise sees Iron Man, Thor and co join forces with the Guardians of the Galaxy to thwart new foe Thanos
Guardian film
29, Nov, 2017 @1:28 PM
Avengers disassemble: is Marvel's cinematic universe set for a reboot?
Studio president Kevin Feige has suggested the possibility of an end-date for the superhero saga. But behind the scenes, producers seem to be planning a future way beyond 2020
Ben Child
25, Apr, 2017 @6:00 AM
Black Widow, Star Wars or Terminator: what should Joss Whedon do next?
The Avengers director seems keen on a solo outing for Scarlett Johansson's karate-kicking ex-Soviet agent. But other franchises need his originality more
Ben Child
26, Jul, 2016 @4:39 PM
Bam, pow, ker-ching! How Scarlett Johansson became box office queen
She's made several critically adored films and has an unmistakeable voice – but it's action movies, and her role as Black Widow, where the actor rules the roost
Nigel M Smith
29, Jun, 2016 @9:38 PM
Black Widow movie gets firm commitment from Marvel boss
Kevin Feige says Scarlett Johansson's character is favoured for a standalone film in the Marvel cinematic universe
Ben Child
09, May, 2016 @2:53 PM
Jeremy Renner: 'Acting gave me the freedom to feel rage or sadness in a safe way'
The Avengers and Mission: Impossible star is famous not only for blockbusters but also as a great character actor. And then there's the interior design
Ryan Gilbey
28, Apr, 2016 @2:42 PM
Joss Whedon: 'I was beaten down by making The Avengers: Age of Ultron'
Director reveals at Tribeca film festival why he was frustrated with blockbuster sequel – and says he scrapped a Broadway musical draft after seeing Hamilton
Nigel M Smith
19, Apr, 2016 @1:12 PM
Captain America: Civil War tipped for year's biggest US opening so far
New movie also buoyed by strong reviews, while Avengers director Joss Whedon regrets Age of Ultron comments and signals interest in return to Marvel's cinematic universe
Ben Child
19, Apr, 2016 @8:15 AM