Why are Spider-Man: No Way Home's supervillains so strangely unfamiliar?
Are Electro and Sandman ghosts or from another dimension? Why is Doctor Strange acting weird? And who is the sixth member of the Sinister Six? The newly released trailer is tantalisingly full of clues
Ben Child
19, Nov, 2021 @11:49 AM
'My father thought actors were one step above cat burglars!': Alfred Molina meets David Oyelowo
The actors talk about applause, auditions, how they fell in love with the theatre – and the extraordinary high of delivering the perfect line

Chris Wiegand
23, Mar, 2021 @6:00 AM
The Water Man review – David Oyelowo's charming directorial debut
The star's first foray into film-making is a sweet, if flawed, attempt to recapture the spirit of 80s kids adventures buoyed by a charismatic turn from Lonnie Chavis
Benjamin Lee
18, Sep, 2020 @7:14 PM
Jill Gascoine obituary
Stage and screen actor who played DI Maggie Forbes in the pioneering TV police drama The Gentle Touch in the 1980s
Stuart Jeffries
29, Apr, 2020 @3:46 PM
The Gentle Touch star Jill Gascoine dies aged 83
Gascoine died in a care home in Los Angeles having suffered from Alzheimer's, a 'cowardly disease' according to husband Alfred Molina
Toby Moses
29, Apr, 2020 @12:22 PM
The Father review - Alfred Molina is tremendous in Florian Zeller's tragic farce
The actor brings out the dark humour in Zeller's modern classic about a man with dementia, fluctuating from absurdity to despair in a heartbeat

Chris Wiegand
23, Feb, 2020 @3:06 PM
Frozen II review – a charming return but the thaw's setting in
Beloved heroine Elsa has a great new song as she heads into the enchanted forest in this funny, likable but underpowered sequel. Is it time to let her go?
Peter Bradshaw
14, Nov, 2019 @5:03 PM
Prick Up Your Ears review – Stephen Frears' terrific testament to murdered playwright Joe Orton
Rereleased 50 years after Orton's death, this Frears-directed 1987 biopic sees Gary Oldman and Alfred Molina in utterly convincing form
Peter Bradshaw
03, Aug, 2017 @5:00 AM
Alfred Molina: 'My mother and I had a few moments that were like the third act of Aida'
The actor talks about his London schooldays, his tempestuous relationship with his mother and caring for his wife, Jill Gascoine, who has Alzheimer's
Interview by Vicki Power
04, Nov, 2016 @12:59 PM
On my radar: Alfred Molina's cultural highlights
The stage and screen actor on the secret life of Eugene O'Neill, the singer Mayer Hawthorne, All About Eve and his favourite Los Angeles eaterie
Alex Daniel
18, Sep, 2016 @10:00 AM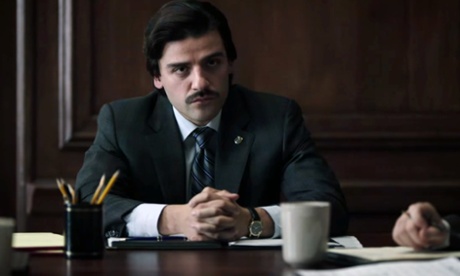 Trailer watch: Oscar Isaac stars in David Simon's HBO drama Show Me a Hero
The six-part miniseries about a New York mayor in the 1970s is from David Simon, creator of The Wire, and is directed by Paul Haggis
Guardian TV
13, Jul, 2015 @4:49 PM
Selma; Love Is Strange; Taken 3; Wild Tales; The Green Prince; Far From the Madding Crowd; Umberto D – review
David Oyelowo produces a career-defining performance as Martin Luther King, while prejudice and ruthlessness collude in Love Is Strange
Guy Lodge
14, Jun, 2015 @7:00 AM