IMDb, the movie site, says nothing about blubbing. No warning to keep the tissues at the ready. In fact, Bill Forsyth's Local Hero (1983) is often described as a comedy. Quirky, wry, gentle. Those are the other words most commonly used. Weepy, no. And the storyline does not hint at the emotional turbulence you might soon be experiencing. So maybe it's just me being a big sissy. Wouldn't be the first time I lost the plot.

Crackpot Texan oil magnate Felix Happer (Burt Lancaster) gets the idea that a small Scottish fishing village would be a marvellous acquisition for his so-rich-it-makes-you-sick company, Knox Oil and Gas, so he sends an executive gopher named MacIntyre (because that sounds Scottish, yeah – played by Peter Riegert) to close the deal and get the pipeline pencilled in.
On his arrival in Scotland, "Mac" is met by some local dork called Oldsen (a young Peter Capaldi), who attempts to steer him through a tartan microculture that includes a lawyer-cum-publican/hotelier (Denis Lawson) who tapdances while standing on a chair shouting "Stella" – the name of his ever-randy wife; there is a super-hard marine biologist played by Jenny Seagrove who, after delivering a short lecture on the North Atlantic drift, ends up helping Oldsen to find that pistol in his pocket; and then there is a scene in which a very whisky-sodden Mac calls Texas from a red phonebox on the harbourside to report to amateur skywatcher Happer the nightly doings of the aurora borealis.
Happer is delighted because it relieves him from the urge to murder his enthusiastic aversion therapist. Plus bits of business involving a salty Russian seafarer and overflying warplanes. You can see how it got the comedy tag, and I haven't even mentioned the thing with the rabbit. And you can see how Mac ends up smitten.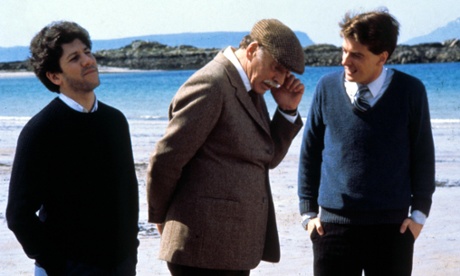 This is all top material from a very talented writer/director, with photography and music (by Mark Knopfler) to match. But on first viewing I found myself asking halfway through, "What is this film actually about?" After not very much thought, I came to the conclusion that it was not a How Things Never Go According to Plan story, but a love poem to Scotland and the Scots. A bit slushy, but never mind. It's only a film.
It was this thought that prompted the lump in my throat at the end of the movie when, having failed in his mission to secure the Knox refinery deal and mutilate one of Planet Earth's most beautiful locations, Mac returns to his frigid steel-and-glass Houston apartment. He stands at his kitchen counter wondering what to do next, the hushed march of oil capitalism buzzing gently outside. He pulls from his coat pocket a handful of pebbles and shells and spreads them out on the work surface. The scene fades to black, then reopens 4,500 miles away, where, on the harbourside of a small Scottish fishing village, we hear ringing from an empty red phonebox.