In 2011, I wrote a piece for the Guardian on feature films and documentaries about autism and people on the autistic spectrum. My interest was prompted by the fact that my son, now seven, had been diagnosed with the condition shortly before. Parenting him has been the deepest and most rewarding education for me, and like many parents of children with an autistic spectrum condition (ASC), I read a lot about the subject, work written by "neurotypical" (a less loaded term for "normal") writers as well as by people on the spectrum themselves. However, the way autism has been addressed cinematically interests me especially, as writing about films is what I do for a living. I thought sharing information on films I discovered might be of interest to others.
It was – judging by amount of web-traffic the piece attracted and the volume of comments it received. Some commentators were supportive and and shared details of films I hadn't seen; others were hostile and critical, deriding my attempt to enhance my understanding of the condition by watching films about it. I acknowledge their point, and would now say that, short of being diagnosed yourself, nothing teaches you about autism or any disability like living with someone with the condition. But that doesn't mean exploring how autism or other disabilities are depicted isn't a meaningful activity.
Indeed, it seems to have become more meaningful as debates rage in the wake of films such as The Theory of Everything about how disability is depicted and, more importantly, by whom. Some feel angry about how able-bodied actors such as Eddie Redmayne are showered with awards for playing people with physical disabilities, especially while actors with disabilities in real life struggle to find work commensurate with their talent. Meanwhile – as with activists who scrutinise depictions of ethnic groups – rights advocates who speak for those with disabilities or who have non-neurotypical minds have become increasingly vociferous in their criticism of anything that smacks of cliche or stereotyping.
Which brings us to X+Y, a film released this week and directed by Morgan Matthews, making his fictional feature debut after a career in documentaries. Inspired by Beautiful Young Minds, a film Matthews made in 2007 about teenagers, several of whom were diagnosed as being on the spectrum, who compete in the International Mathematical Olympiad, X+Y follows the story of Nathan (Asa Butterfield from Hugo), a gifted young man with ASC, who goes through training camp for the olympiad.
Back in January, a contact with a strong interest in filmic depictions of autism who had seen the trailer for X+Y got in touch. She asked if it was as cliched and stereotype-ticking as looked.
The answer is yes and no. I can see why it got my acquaintance's back up, especially given the way the trailer is cut for maximum cute effect. Also, so much of the advance buzz about the film, especially after its UK premiere at the Glasgow film festival, emphasised its similarity to Rain Man and The Curious Incident of the Dog in the Night-Time, both stories about people with autistic traits whose facility with numbers misleads audiences into thinking everyone on the spectrum is some kind of savant. In one interview, Matthews sounds somewhat pre-emptively defensive, noting that while some viewers on the spectrum have felt the film was authentic, he understands why "people think that by representing everyone on the autistic spectrum as gifted geniuses is … misrepresenting the community".
There's a maxim in the autism community that goes: "if you've met one person with autism, you've met one person with autism." It's a truism that underscores how heterogeneous and varied people on the spectrum are, even if traditional diagnosis depended on an individual ticking the right number of boxes for each of the triad of impairments (social, communicative, and relating to flexibility of thought). And while people on the spectrum range vastly in abilities and competencies, with few showing an aptitude for maths, it seems also that a significant proportion of people who are exceptionally good at maths have a higher than average number of autistic traits – a point made by the scholar of autism Simon Baron Cohen in Beautiful Young Minds.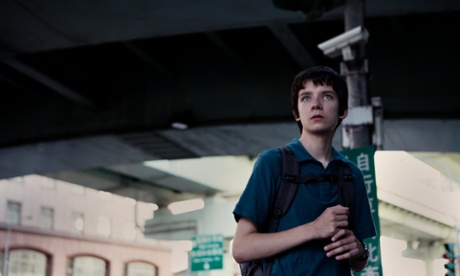 In a way this lets X+Y off the hook: while its depiction of autism and Asperger's syndrome (the two are now largely seen as part of the same spectrum) doesn't encapsulate the teeming variety of people with ASC, it does reflect the experience of one, mega-mathematically minded faction of that whole. Moreover, it does so with much more nuance, empathy and honesty than many previous film versions have done.
It explores (as did Beautiful Young Minds) how individuals who share a diagnosis are not guaranteed any degree of social solidarity between themselves. In the film, one of Nathan's team-mates/rivals is a character named Luke (a terrific performance from Jake Davies) who is modelled on Jos Gibbons in Beautiful Young Minds, from his close-clipped hair to his fast-clipped speech. Luke recites, verbatim, lines of dialogue that echo things Gibbons says in the documentary. (Both describe themselves as "gifted but not arrogant".)
But with his extreme social maladroitness, Luke in X+Y consistently riles his team-mates, prompting one to describe him as having "all the worst bits of autism". Later, in a particularly heartbreaking scene, ostracised and depressed, he's seen self-harming, talking bitterly about how his parents told him when he was diagnosed that "it made him unique", and rueing that if he's not gifted, that "just leaves you weird". It's a pretty desolate moment that couldn't be further from the uplifting affirmation promised by the pre-publicity.
X+Y is bracingly frank about the challenges involved in raising a child on the spectrum, as Sally Hawkins, as Nathan's mother, Julie, captures well. Left alone to raise Nathan after his father (Martin McCann) is killed in a car crash, Julie is does the best she can for a child who doesn't like to be touched, who finds it difficult to express love, and who carelessly tells her that she can't help him with his maths work because "she's not smart enough". There's a spot-on scene where she nearly loses her rag when Nathan complains about the jumbled-togetherness of his prawn-ball meal after she's just spent minutes negotiating at the takeaway for him to get seven, not nine prawn balls, because seven is a prime number. And I speak as one who has lived with a child who would only accept pancakes if they were cut up into a neat grid of squares for every serving.
Perhaps the most audacious thing about X+Y is that Nathan, with his frosty reticence, inarticulate shyness and lack of humour, is not an easy protagonist to love – less so even than his sweetly sincere documentary predecessor Daniel Lightwing in Beautiful Young Minds, whose story ends on a much more triumphant note. (Their personalities are sufficiently different, as with Jos and Luke, to make X+Y a standalone work of fiction.) Nathan is no saintly figure, but neither is he a monster. He's just an adolescent with an unusual gift but a typical monosyllabic awkwardness, confusion about how to handle girls, and fear of the unknown.
Perhaps the need to stress the character's ordinariness puts its own kind of strain on the film, which possibly goes a little too out of its way to make peripheral characters charming and likeable (especially Hawkins and Rafe Spall as Nathan's sweary, wise-cracking teacher). But I think the way X+Y tries to square the circle, as it were, and explore the challenges of being on the spectrum in a neurotypical world as well as how much people with ASC are just like everyone else, is a tricky feat it pretty much pulls off.
I recently made friends with a young woman diagnosed with ASC. She has a lively, critical mind, wants to study film and felt frustrated by the paucity of credible cinematic portraits of people on the spectrum. I look forward to finding out what she thinks of X+Y, whether she finds it stereotyped or authentic and empowering, and I hope that, in the future, we'll hear more voices like hers in this debate.
• X+Y is released in the UK on 13 March