For years, cats have been the unfair villains of Hollywood or if you're a dog person, cats have been playing cats in films for a while now. In discriminatory indoctrination such as Cats and Dogs (megalomaniac), Pet Sematary (zombie), Meet the Parents (shit-stirrer), every Bond film with Blofeld (terrorist accomplice), Grumpy Cat's Worst Christmas Ever (just really grumpy) and most recently The Voices (sociopathic enabler), it's been nothing but inflammatory hate-mongering for movie cats.
Meanwhile, dogs have been joyously changing lives, helping solve crimes and making people cry when they die. Anyone who endured Marley & Me in a public space can attest to the insufferable awwws whenever the selfish and destructive dog enthusiastically ruined Jennifer Aniston's family life. After all of the reckless cushion-destroying, I was silently cheering during the weepy finale. I'm not a monster. I'm just a cat person.
While owning a dog is often used to show that a character is responsible and settled, a cat usually signifies crippling loneliness and a predilection for cry-drinking gallons of wine before dying alone. Goldie Hawn's cat-collecting, Meryl Streep-obsessing, ice cream-necking low in Death Becomes Her is your proof.
But given that every other link you're emailed involves a cat (usually pushing something off a cabinet, attacking a mirror or being utterly disdainful of your life choices), it makes sense that they would finally be heading for a resurgence on the big screen. But it's less logical that this renewed interest would exist within the somewhat dated body swap subgenre.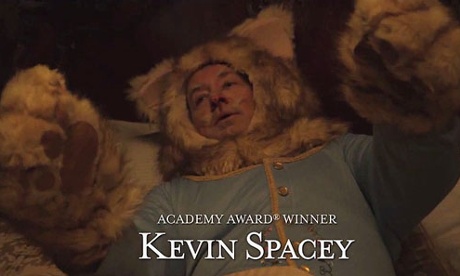 Earlier this year we were gifted the wonderful news that Kevin Spacey would be playing the role of a businessman who finds himself trapped in the body of a cat in a film called Nine Lives. The plot and title sound like something Tracy Jordan would headline (its not too far off the plot of Fat Bitch) but with a supporting cast that includes Christopher Walken and Jennifer Garner and the director's chair filled by Barry Sonnenfeld, an actual real director who did Men in Black, it feels like maybe it isn't a joke.
While some had suggested, and desperately prayed, that Spacey would be playing the role of the cat himself, the actor took to Twitter to dispel any rumours: "I've enjoyed the headlines but I do NOT play a cat in Nine Lives. The cat will be a cat. No posters of me in a cat suit, sorry to disappoint". Whether or not the soul of a cat will be living in Spacey's human body is yet to be confirmed but one can dream. Just imagine what will happen at the important meeting he has to give!
Even stranger, it's not the only film of its kind on the way. Yesterday saw news that ousted Top Gear host Jeremy Clarkson has been offered the role of "a foreigner" in Russian comedy Kot v Sapogakh, aka Puss in Boots. The film follows a young man who is turned into, yes, a cat. In other words, if you're really into the idea of seeing a man become a cat then boy, what a time to be alive.
If there was a Wikipedia page for films about people turning into cats then it would be an underwhelming and speedy read. It would pretty much just be the plot of Hocus Pocus, which kicks off with a pilgrim boy being transformed into a black cat by Bette Midler.
Unsurprisingly, the canine equivalent would be a far lengthier read. There's 50s Disney comedy The Shaggy Dog and the Tim Allen remake, hilariously titled kids film Dogmatic, Fluke, which sees Matthew Modine dying and coming back as a dog, Oh Heavenly Dog, which sees Chevy Chase dying and coming back as Jane Seymour's dog, something called Dog Trouble and a disturbing Chinese film called Yuen mei ching yan where a dog with a human soul falls in love with a woman.
Okay we get it re: dogs.
But as well as the catswap lols that are heading our way, we're also getting an actual real film where a cat will be allowed to just be, without a man stuck in it. An adaptation of James Bowen's bestselling book A Street Cat Named Bob is heading our way and will be getting the Marley & Me treatment but without the death stuff because nine lives ftw. But never to be outdone, this summer sees the release of Max, a film about a dog who returns from service in Afghanistan. Because dogs.
While Spacey and Clarkson's adventures in cats are both clearly exciting prospects, I'm worried they might try to humanise the sharper feline qualities. Who can forget the shamefully pet-racist Be More Dog campaign that suggested that to succeed in life, cats must emulate their more passive yet less discerning rivals. When will Hollywood just let cats be cats, without actors being in them and without their devious plans monopolising their screentime?
Just let them murder small animals, attack young children, give shade and refuse to let anyone touch them. And stop calling them evil, yeah?
This article was amended on Wednesday 29 April 2015. We mistakenly put Michael Modine instead of Matthew Modine as the star of Fluke. This has been corrected.