"It belongs in a museum!"
So growled Indiana Jones, a character co-created by George Lucas, Steven Spielberg and, let's be fair, countless half-remembered stars from Hollywood's early era of one-reel serials. And those films in turn were inspired by luridly illustrated pulp magazines whose simple-but-irresistible tales can be traced back, no doubt, to the first narratives humans ever shared around a campfire – "I almost caught a mastodon THIS BIG before it got away".
It makes sense, therefore, that George Lucas is financing a new museum dedicated to "narrative art". Plans were unveiled this week for the newest addition to Chicago's already remarkable skyline, and the sketches are as exhilarating as anything from Lucas's galaxy far, far away.
The proposed museum's round design playfully shares some similarities with Bespin's Cloud City crossed with Jabba the Hutt's palace. For those worried that visiting the domicile of that corpulent crimelord would be inappropriate for a family outing, fear not: the Star Wars Expanded Universe teaches us how the castle in Tatooine's Northern Dune Sea was originally established as a monastery for B'omarr monks seven full centuries before the Battle of Yavin.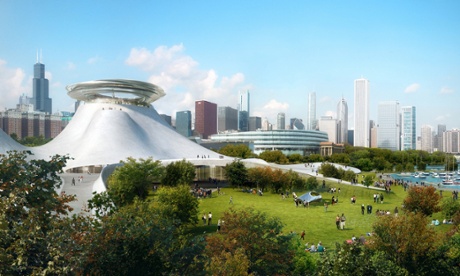 But forget those particulars. After the sale of Lucasfilm to Disney, the new creative puppetmasters declared that the "extended universe" (EU to fans) spin-offs – books, comics, toys and games – were no longer proper Star Wars canon. More importantly, Lucas's influx of cash from the sale (and semi-retirement) kicked off a wave of philanthropy, culminating in this new cultural powerhouse. The museum is eyeing a 2018 opening.
Like Microsoft co-founder Paul Allen's Experience Music Project, the Lucas Museum of Narrative Art will fill a hole in pop culture enrichment we never realized we needed – one that speaks to its chief benefactor's obsessions. Lucas's personal collection of populist art – a trove of paintings, pin-ups and personal props valued at $600m – will form part of the museum's core. In addition to illustration, artefacts and a history of visual storytelling going back to the Lascaux caves, the main focus will be cinema and digital art.
Judging by the museum's website, curators and programmers are doing their best to demonstrate one thing: that this is not George Lucas's enormous shrine to himself and his fictional universe.
As with New York's Museum of the Moving Image, there will be special screenings, educational events and travelling exhibits. No doubt wine and cheese will be served as everyone from visiting Hollywood notables to hoodie-wearing video game designers have their occasional hullabaloos.
But would a Star Wars museum be so wrong? Star Wars, whether we like it or not, is a sociological force (force!) far stronger than some of the fringe philosophies granted tax-exempt status for their cultural outposts. Since Star Wars' official narrative is currently being written by people other than the original creator (Lucas is supposedly hands-off on the upcoming slate of films) why not let an interactive space help further what drives this ongoing conversation. From whence springs l'essence du Star Wars?
Picture more than just long queues to view a Yoda hand-puppet in a plexiglass cube (and then buy one in a gift shop). Why not create a place for somewhat serious-minded symposia where scholars can come and discuss the push-pull between the Jedi and the Sith; or the epistemological ramifications of hiding your ship in an asteroid's crevice only to emerge from an Exogorth's mouth? Those who think diving so deep into fiction would be a waste of time are the ones who would most benefit from a trip to the Lucas Museum of Narrative Art.