Ever since it was first mentioned – breathily no doubt – back in 2011, Lars von Trier's The Nymphomaniac has attracted near-continual eye-goggling. First it was the suggestion of hardcore content, then the participation of non-shrinking violet Charlotte Gainsbourg, then the Shia LaBoeuf sex tape... what on earth, we all wondered, will this film look like? And now we know, sort of, after the release of the first "official image".
To be honest, as a taster for what has been coming on like the most sleazy, shocking, out-there film ever committed to celluloid, this picture – a muddy-looking image of someone (presumably Gainsbourg) prone in an alleyway – is just a tiny bit disappointing. Yes, we know The Nymphomaniac is about "the erotic life of a woman from infancy to middle age", and this is is apparently from the opening scene, where Gainsbourg's Joe (sic) is found beaten up - but, you know.
You'd hate to call it a gaffe, but it joins a small, recent tradition of underwhelming "first stills" designed to drum up early interest that have not been up to the job. It's a PR tactic inspired, of course, by nerd-friendly blockbuster films with enormous internet fanbases: the slavering over the first images of the likes of The Dark Knight Returns or The Hobbit was frankly indecent. You'd have to have something really special if you were promoting a small British independent film by a much-admired but hardly commercially powerful auteur, but that's exactly what the people behind Joanna Hogg's new film, under the working title of London Project, didn't have, or just weren't prepared to put out. Now, here at the Guardian, we love Joanna Hogg's work, and we have no reason to believe that London Project won't be a third brilliant film in a row, after Unrelated and Archipelago – but a shot of Liam Gillick lying face down in a park and ex-Slits guitarist Viv Albertine glumly looking on is hardly something to set the pulses racing.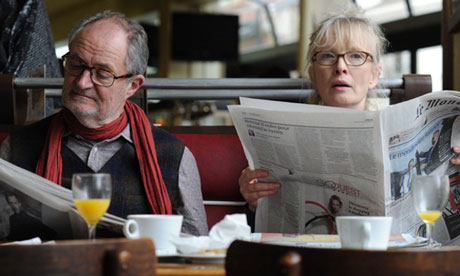 And again, Roger Michell is a director of considerable repute, with films like Hyde Park on Hudson, Enduring Love and The Mother in his back catalogue: but as a saliva-inducer for his new one, Le Weekend, a blah picture of Jim Broadbent and Lindsay Duncan reading newspapers in a cafe will not be ringing too many people's bells. You wouldn't think this was a Hanif Kureishi-scripted story about a married couple exploring "a new vision on life and love", as the plot synopsis has it.
If there's a lesson here, it's that keeping your powder dry is not always the best option, and that literate, intelligent films don't always respond well to the eye-candy environment of the internet free-for-all. Sometimes sternly ignoring the PR treadmill is the classy option.