He may have only just released Jack and Jill (Tagline: "Adam Sandler is Adam Sandler and Adam Sandler is also Adam Sandler's sister, plus something about Al Pacino"), but that doesn't mean that Adam Sandler is resting on his laurels. Far from it. In just a few short months he'll release yet another comedy, entitled That's My Boy.
In That's My Boy, Sandler plays someone's dad. That's probably all you need to know. It's an Adam Sandler film, so it doesn't take a genius to work out what'll happen in it. First he'll be loud and boorish. Then he'll learn to reconnect with his son, probably with the aid of a magical remote control or a breakdancing guinea pig or something. And then at the end he'll cry. This is what will happen in That's My Boy, because this is what happens in pretty much all Adam Sandler films. But, just to rubber-stamp this theory, let's pick through the new trailer for That's My Boy anyway …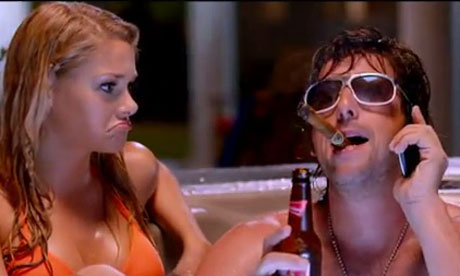 1) So far, so predictable. Here's Sandler being as boorish as possible. He's simultaneously smoking a cigar, wearing sunglasses at night, bellowing into a phone and sitting in a hot tub surrounded by bikini-clad girls. This is how all Adam Sandler films begin, with the possible exception of Spanglish.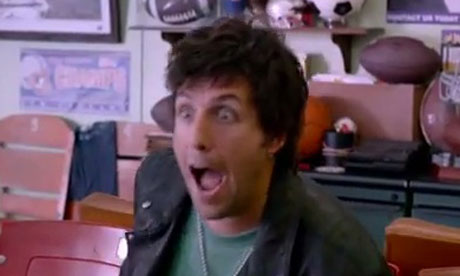 2) However, Sandler's free and easy lifestyle is disrupted when he's told that … oh, it doesn't matter. This is basically the scene in the film where he gets to do his "WHAAAA?" face.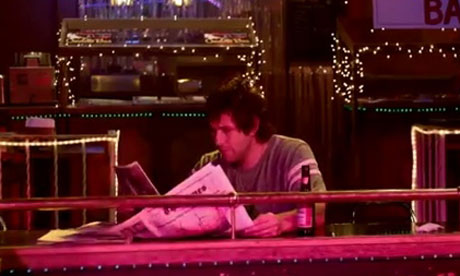 3) Whatever caused him to do his "WHAAAA?" face has prompted Sandler to repair his relationship with his son. He's reading a newspaper, so let's assume that it's a magical newspaper where whatever Sandler writes will come true in real life, or that he'll get to act out all sorts of crazy old-timey news stories or something.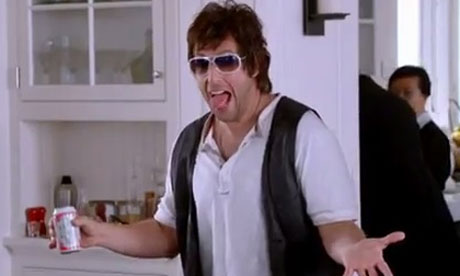 4) Alternatively, Sandler could just walk to his son's house and do a "WAZZZUP!" face at him. But who is Sandler's son? If history is any indication, it's either an adorably precocious young stage-school brat who also happens to be wise beyond his years, or it's Sandler himself dressed up like some kind of horrific toddler.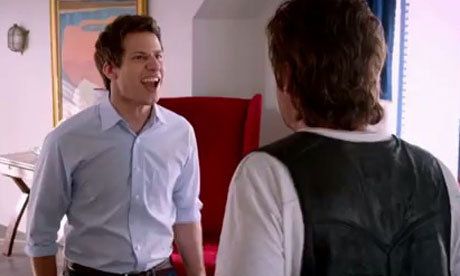 5) Oh, it's Andy Samburg. That's disappointing. But at least now we know who Sandler's son is, we can skip to the bit where Sandler reconnects with him.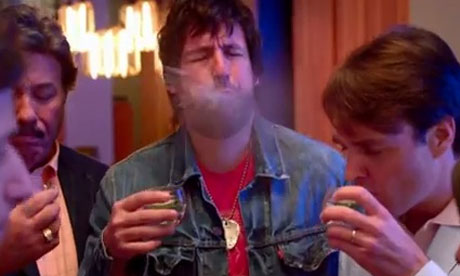 6) Except – oh dear – it's not going as well as could be expected. Look, he's spitting something out of his mouth, and Samburg looks disappointed. This isn't how it's supposed to go.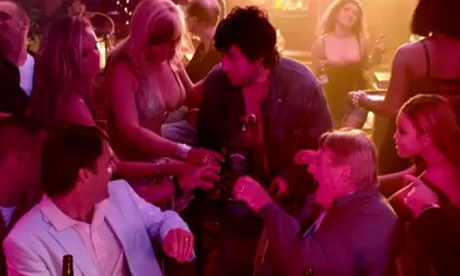 7) And now everyone's a strip club? I'm not sure this is an Adam Sandler film at all, you know. It hasn't got overly sentimental, he's doing a poor job of reconnecting with his son and we haven't seen anything remotely magical yet, let alone a breakdancing guinea pig. This is disappointing.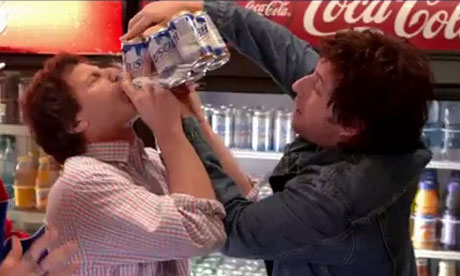 8) Then Sandler forces Samburg to shotgun beer in a supermarket. I don't think I've ever felt so let down. Except, wait. Is that? Could it be?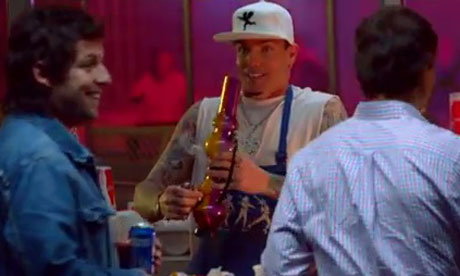 9) It is! It's Vanilla Ice! Thank God, we're back on track. He might have forgotten the family-friendly shenanigans and the magic and the overbaked sincerity, but Sandler has realised that it's not an Adam Sandler film unless there's a cameo from a celebrity who you end up feeling sorry for. There's hope for That's My Boy yet! Now for the emotional denouement where Sandler cries.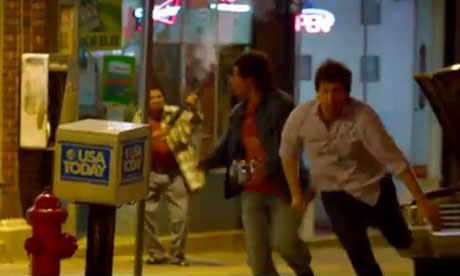 10) Wait. This isn't a graceful denouement at all. Sandler and Samburg are running away from a man with a gun. And I appear to be the one who's crying. Something's gone terribly wrong here.