Who would have thought a movie about an insurance guy could be so bitter, so suspenseful, so heartbreaking? I love Double Indemnity because it's about a couple who are cheap and greedy, but achieve a kind of tragic heroism; because it has one of the great father-son relationships (although they aren't actually father and son); because it's a thoroughly cynical thriller redeemed by just a fading touch of romance. And it also has a trio of superb performances: Fred MacMurray, who tended to play amiable chumps, was here recast as a devious murderer (though still a bit of a chump); Barbara Stanwyck, as the deadliest of femme fatales; and Edward G Robinson, the career-gangster now turned softy with "a heart as big as a house".
Like Billy Wilder's other coldblooded, consummate film noir, Sunset Boulevard, where the hero begins his narration from the swimming pool in which he floats, dead, you know things are unlikely to go well for Walter Neff (MacMurray). He's shot and bleeding; and he's recounting, via an office dictaphone recording to his mentor Barton Keyes (Robinson), his tale of love, murder and betrayal. How he hooked up with the icily beautiful Phyllis Dietrichson (Stanwyck) and conned her rich, unloving husband into signing a life insurance policy (with bonus double indemnity clause) he didn't want, so they could murder him and collect the dosh; how love turned sour and mutual suspicion had fatal consequences.
Screenwriters Wilder and Raymond Chandler did a terrific job on James M Cain's hardboiled novel – with a pairing like that, how could they not? It crackles with sardonic dialogue, as in the couple's first charged meeting, when Neff is so taken by Phyllis and her sexy anklet ("There's a speed limit in this state, Mr Neff – 45 miles per hour." "How fast was I going, officer?" "I'd say around 90"). His world-weary voiceover, likewise, has an eerie, doomed quality: "I couldn't hear my own footsteps. It was the walk of a dead man."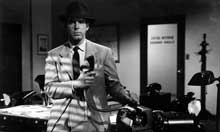 The film was shot by John Seitz like a textbook noir. Outdoors it's nearly always night, while the interiors, at the Dietrichson house and in Neff's apartment, are all brooding shadows; the only sunlight filters weakly through the blinds, catching the dust in the air. It's a setting ripe for hot passion and coldhearted, greedy plotting, which is unpicked only under the glare of the brightly lit insurance office.
It's this office that Keyes inhabits; he's the insurance guy devoted to his job ("an insurance manager is a surgeon, a doctor, a bloodhound; cop, judge, jury and father confessor …"). Keyes is the man who figures out that Dietrichson was murdered, and how; and who provides the film's true emotional heft. Because, despite his forensic intelligence, Keyes doesn't see the truth staring him in the face – that Phyllis's lover and accomplice is Neff, his colleague and friend of 11 years, who always has a light for his cheap cigars, and who even admits: "I love you, too."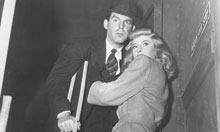 What marks Double Indemnity out from other great film noirs is that sense, among all the crazy, twisted, duplicitous shenanigans, of real, human heartbreak. It isn't in the violent showdown that concludes the Neff/Phyllis passion play: that was a fatal clinch from the start, despite their fluctuating emotions (she, finally, can't quite bring herself to kill him; he, almost on a whim, and already shot, takes time out to rescue her stepdaughter's relationship). No, it's when the dying Neff spells it out to Keyes: "You couldn't figure this one … because the guy you were looking for was too close – right across the desk from you." Keyes quietly, tenderly replies: "Closer than that, Walter."