The Social Network (2010)
Director: David Fincher
Entertainment grade: B–
History grade: C+
Harvard undergraduate Mark Zuckerberg created social networking site Facebook (then called The Facebook) in 2004. By the beginning of 2011 it was reported to have more than 600m active users.
Dialogue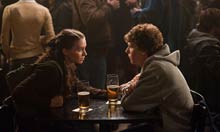 The movie opens with Mark Zuckerberg being dumped by his girlfriend, having too many beers, and deciding to exact revenge on the whole of Harvard's female student body. He does so by setting up Facemash – a rip-off of hotornot.com – comparing their relative attractiveness. "I'm a little intoxicated, not gonna lie," he says. "So what if it's not even 10pm and it's a Tuesday night? The Kirkland [a Harvard hall of residence] facebook is open on my desktop … Billy Olson's sitting here and had the idea of putting some of these faces next to pictures of farm animals and have people vote on who's hotter." It sounds like screenwriter Aaron Sorkin has zapped up Zuckerberg's dialogue, but he has barely touched it. These lines are taken almost verbatim from Zuckerberg's blog on that fateful night. Amazing how, if you get a nerd wasted and make him talk really fast with deadpan delivery, he sounds just like Aaron Sorkin.
Ethics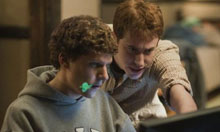 Zuckerberg himself was squeamish about The Social Network, saying: "I just wished that nobody made a movie of me while I was still alive." The film and Zuckerberg's real-life associates agree that his motivation was not financial. The film implies he was powered by the desire to persuade women to have sex with him and to take revenge on his more socially successful friends, while his associates mostly waffle about a genuine mission to connect the world and what-not. In either case, since Facebook has made billions of dollars from repeatedly invading the privacy of its users, turnout for a global cry-in to lament the invasion of Mark Zuckerberg's privacy might be on the low side. Still, apparently Facebook really did persuade women to have sex with him. In one scene, two beautiful women hit on Zuckerberg and his business partner Eduardo Saverin, and they all end up misbehaving in a lavatory. This is taken from Ben Mezrich's The Accidental Billionaires, the somewhat novelised history of Facebook on which this film is based. Whether you believe the lavatory scene actually happened or not depends on how credible you find Mezrich's book. Considering it contains no formal notes and a good deal of admitted invention, a historian's answer would be: "Not very". Then again, they might just be jealous.
People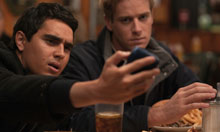 The happiest of the real people represented must be Tyler and Cameron Winklevoss, the Olympic rowing twins who sued Zuckerberg for allegedly stealing their idea. The twins were thrilled at their representation by the film-makers – which included an incredible face-replacement visual effect, allowing actor Armie Hammer to play both of them. "They did so much research," Cameron told the Telegraph. "And it was all true." This is sporting, considering The Social Network depicts him and his brother as mean, bitter WASP chumps staggering under the weight of their enormous sense of entitlement. Though others felt less perfectly represented, perhaps the reason there was little outcry was that it's flattering to have Aaron Sorkin script you, David Fincher direct you, and more handsome versions of yourself play you (except in the case of the Winklevosses's associate, Divya Narendra, in whose role the film-makers rather rudely cast someone of a completely different race).
Glamour
In real life, Napster creator and early Facebook adopter Sean Parker is an ordinary-looking bloke who comes across in interviews as reasonably affable. He was once arrested on suspicion of cocaine possession and apparently likes fancy cars and clothes, but that's not Oscar-winning drama and the film needed a villain. So, on screen, Parker becomes a fast-talking, coke-snorting, lingerie model magnet, as slick and impossibly charming when ordering fusion food as he is when sharking his way around billion-dollar deals. He's a cross between Iago and Casanova, with the brain of Warren Buffett and the body of Justin Timberlake, who plays him. The real Parker admitted that this was "a complete work of fiction" and wistfully added: "I wish my life was that cool." For goodness' sake, Hollywood, stop giving the nerds ideas. As if The Matrix wasn't bad enough.
Verdict
The Social Network makes its subjects 600m times cooler than they are in real life.