Tilda Swinton revealed that the virtually silent character she plays in A Bigger Splash was conceived as a response to "a moment in my life I didn't want to say anything". The actor was speaking to journalists at the Venice film festival as the film – directed by Italian film-maker Luca Guadagnino and shot on the Sicilian island of Pantelleria – received its world premiere.
In A Bigger Splash, Swinton plays a singer unable to speak after an operation on her vocal cords, and said that the idea was one she had after long deliberation with Guadagnino, with whom she has collaborated a number of times before, most notably the 2009 feature I Am Love. "I knew he was preparing this film and I wasn't going to be a part if it – I didn't want to make a film the year he was making it. But as things happened, plans were changed and he came to me quite late in the day. It was a moment in my life I really didn't want to say anything – but I figured if it was possible for me to take part in this scenario, the one thing that came to mind was: I could come if i don't have to speak."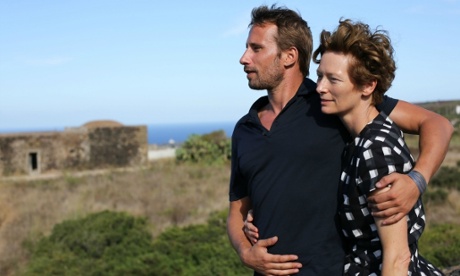 "All the characters in the film are fighting the fact that none of us can communicate with each other, with words or anything else. It's a really tricky business, communication."
A Bigger Splash is a remake of the 1969 film La Piscine, which starred Alain Delon, Romy Schneider, Jane Birkin and Maurice Ronet, a four-way study of sexual jealousy and intrigue. Alongside Swinton, Guadagnino cast Matthias Schoenaerts, Dakota Johnson and Ralph Fiennes – who has a spectacular extended scene dancing wildly to the Rolling Stones' Emotional Rescue. Saying "I had never been asked to do anything like that before", Fiennes revealed he has spent days practising for the scene by dancing on a roof with the song on his iPod.
The film received some boos at its press screening, apparently because some in the audience took offence at the portrayal of a Sicilian police detective as an insensitive, somewhat clownish figure. Guadagnino defended his film by saying "it is not a question of parody" while comparing the film's comic tone to Verdi's "opera bouffe" Falstaff; Guadagnino also praised the "sublime greatness" of the actor who played the role, celebrated political satirist Corrado Guzzanti.
A Bigger Splash, which Guadagnino said was named after the David Hockney painting that "helped me understand art", also touches on the refugee crisis currently gripping Europe, with shots of a just-visible Tunisia on the horizon some 60km away, and the presence on the island of refugees a reminder that Italy has been at the frontline of the crisis for some years. Guadagnino said that Pantelleria was "a sort of border place" and that bringing the refugees into his story was a way of forcing his characters to "confront reality" and "understand who they really are".
To considerable applause, Swinton asked reporters: "Can we get out of the habit calling people in this situation migrants; they are war refugees."
A Bigger Splash is released on 12 February in the UK.
This article was amended on 7 September, to correct the distance between Pantelleria and Tunisia.