Is 2015 a bad vintage for American independent movies? This time last year we had Richard Linklater's transcendentally simple Boyhood to enthuse about, a breakout hit from Sundance. And although Linklater's hopes were not entirely fulfilled on Oscar night, pundits and awards voters always like to feel that among the glitz and bling of prizegiving ceremonies there will always be, metaphorically speaking, some indie underdog stubble among the sleek tuxed throng.
Dope is a case in point: a movie executive produced by Sean Combs and written and directed by Rick Famuyiwa. Really great things were hoped for from Dope. Excitement spiralled for it at Sundance in January and the film sold for headline-grabbing sums. But now that the auction excitement has worn off, and the film is re-examined in a cooler light, you can sense how something like buyer's remorse could be setting in.
It is a sporadically likeable, uncertain tonal mishmash of a movie about three geeky high-school students in Inglewood, California, each with a connoisseur's passion for 90s hip-hop. There is shy virgin Malcolm (Shameik Moore), gay woman Diggy (Kiersey Clemons) and wry Job (Tony Revolori —the lobby boy from The Grand Budapest Hotel). The day after a chaotic evening at a club, where Malcolm was flirting dangerously with a dealer's smart girlfriend Nakia (Zoë Kravitz), he discovers a handgun, phone and drug-stash stuffed into his school backpack, clearly hidden from the police. Somehow our three amigos are going to have to get these dangerous items back to their owner without themselves getting into very serious trouble.
As ever when movies claim "nerd" or "geek" status for their characters, there is something very disingenuous going on. Genuinely nerdy high-school types would be wince-makingly unwatchable on the cinema screen. Malcolm, Diggy and Job are Hollywoodised nerds, attractive cool kids tricked out with designer geekery. They even play in a band, for heaven's sake. Oddly, considering their overwhelming passion for hip-hop, this is a punky guitar band. Maybe there are some deleted scenes in which they bang on about Green Day.
The movie's comedy teeters uneasily between reality and fantasy-farce unreality: occasionally it goes for a ghetto drama, perhaps like Boyz N the Hood, and then veers wackily into comedy, with the three teens cycling around madly, as if one of them had ET in his front basket.Gangbangers pull guns; they storm onto school buses in scenes weirdly reminiscent of the new NWA biopic Straight Outta Compton. There is a casual reference to three unnamed guys getting "smoked" – but certainly no tragic deaths for any named characters we're supposed to care about. Sometimes Dope resembles Doug Liman's Go, the one-crazy-night movie from 1999. It also has a worrying predilection for introducing its characters with a freezeframe-voiceover, a tired storytelling cliche from the 90s I thought had been retired long ago.
It announces itself as inspired by the title's various meanings: "stupid" — "drugs" — "cool": a laidback triple whammy of ambiguous associations. But really only "cool" is important. Nobody is stupid as such, not even the violent ones, and the drugs themselves are a MacGuffin taken unseriously in what is supposed to be a black comedy about aspiration and coming of age. Malcolm wants to get laid and he wants to get into Harvard.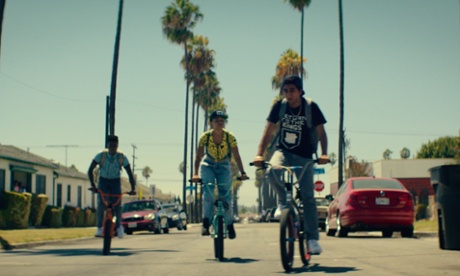 As for the comedy, sometimes it works but more often it doesn't. One tough guy has a funny routine about using Find My iPhone on his iPad to track Malcolm down. There some broad zaniness and mockery as a hot girl desperately needs to pee and is videoed doing so in a public place. One wannabe rapper has a weird shtick in which he replaces the "c" sound in words with a "b". Perhaps Famuyiwa was influenced by a very similar Monty Python routine on these lines.
But Dope is clearly unwilling to distance or ironise anyone in the service of comedy, basically keen to maintain its cool status and also the all-important sympathy quotient. Tellingly, we begin with a quarrel that Malcolm has with his principal about the "personal statement" he intends to submit to Harvard University. He has prepared a scholarly and well-argued dissertation about Ice Cube. It's a smart, funny moment when he defends the originality of this essay and rejects as tired and lame his teacher's suggestion of an autobiographical piece about how tough he's had it in the neighbourhood. But by the end he has a very different and more solemn attitude to this "statement". Dope is a film that you find yourself longing to like, but the strain of disappointment takes its toll.