Straight Outta Compton (2015)
Director: F Gary Gray
Entertainment grade: C+
History grade: C+
NWA were a successful and controversial hip-hop act from Compton in California, active from 1986 to 1991.
Drugs
Straight Outta Compton opens in October 1986 with Eric "Eazy-E" Wright (Jason Mitchell) in a crack house. The police show up in a six-tonne tank with a 14-foot battering ram on the front, and – without any warning – tear the front off the house, scattering crackheads to the four winds. The action might seem far-fetched. It isn't. In 1985, Los Angeles police chief Daryl F Gates purchased just such a tank and sent it out on to the streets, dismaying the American Civil Liberties Union. In April 1989, Gates even invited former First Lady and anti-drug campaigner Nancy Reagan to spend a night in his tank watching him bust up crack houses a mere 15 miles from her Bel Air home.
Music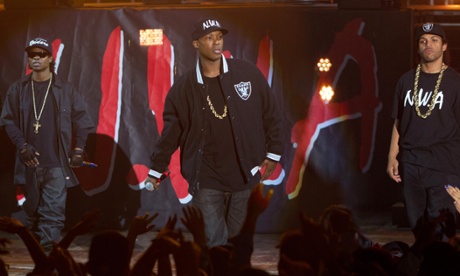 Andre "Dr Dre" Young (Corey Hawkins) is DJing in a nightclub. In real life, he was then a member of a cheesy electro group called the World Class Wreckin' Cru. In the movie, they've thoughtfully made his shiny stage costume look less embarrassing and sparkly than it really was. Dre lets his cool friend O'Shea "Ice Cube" Jackson (played by the real Ice Cube's lookalike son, O'Shea Jackson Jr) MC on stage. The audience goes wild. Dre persuades Eazy to put up the money to record Cube's song Boyz-N-The-Hood. They get into a studio, but the rappers they've booked don't take to Cube's style and leave. To save their investment, Dre coaches the reluctant Eazy to rap, so he can record it himself. This is accurate.
Controversy
Boyz-N-The-Hood becomes a smash hit, and NWA attract the attention of manager Jerry Heller (played by Paul Giamatti in a conspicuously villainous wig). Heller hooks NWA up with Bryan Turner of Priority Records. When he first heard NWA's music, Turner remembered in the documentary NWA: The World's Most Dangerous Group: "I thought it was just purely theatre. I couldn't believe that this, you know, the things they were talking about actually happened. I mean, I'm Canadian." Out of the blue, NWA receive a threatening letter from the FBI telling them to nix their track Fuck Tha Police. The film doesn't fully get into how skilled Eazy-E was at turning all attempts to shut NWA up into ever greater publicity. The FBI letter was their golden ticket to an enormous youth market looking for something to horrify even quite liberal parents who had grown up in the 1960s and 1970s. NWA sold 3m copies of their first album.
Police
When NWA play Detroit in 1989, local police warn them off playing Fuck Tha Police. They do anyway – and are chased off stage by angry cops, thrown to the ground in the parking lot and bundled into a police van. In real life, NWA finished the gig and went back to their hotel without being arrested. The police waited in the lobby, suspecting the rappers would be down at some point to scoop up some of the groupies loitering around. When they did so, they were nicked.
Women
Women in this film are visible mostly in the form of gyrating bottoms, with two potentially interesting characters – Dre's mother, Verna Young (Lisa Renee Pitts), and Eazy's girlfriend (later wife), Tomica Woods (Carra Patterson) – given far too little screen time to develop. The real Dr Dre was a producer on Straight Outta Compton, so it's not surprising his personal history has been tidied up. In the middle of NWA's feud with Ice Cube (covered in some detail in the film), Dre physically attacked Dee Barnes, a TV music host he felt had disrespected NWA by giving Cube's side of the story. He pleaded no contest to her charges of assault and battery. More than one former girlfriend has also accused him of physical violence. Dre recently issued a blanket apology "to the women I've hurt" in the New York Times. NWA's music was replete with violence against women – there can't be many songs more grotesquely misogynist than One Less Bitch, in which Dre fantasises about letting his friends gang-rape a sex worker before he murders her. Is any of this examined in the movie? Nope. History is written by the victors, and the victors in this story weren't women.
People
Historically speaking, it's accurate that the initially close buddies in NWA fell out over money and fame, before they realised what really mattered was friendship. It's just unfortunate that historical accuracy here constitutes a massive cliche. The second half of Straight Outta Compton trudges through a series of grievances, with a procession of lookalike actors playing people like Snoop Dogg and Tupac Shakur for about 30 seconds each. There are fine performances: Mitchell, Hawkins and Jackson are all strong, and R Marcus Taylor makes Suge Knight memorable despite his relatively few lines. But there are so many characters it's difficult to connect with any of them. As for the political fallout from gangsta rap, NWA had already split when the Los Angeles riots happened in 1992: an event their music had effectively predicted. During those riots, many spoke of Los Angeles becoming a "war zone". Arguably, it had already become a war zone some years before when the city authorities decided to deploy those six-tonne tanks against civilians.
Characters
In its last act, Straight Outta Compton becomes The Eazy-E Story – but it hasn't sustained enough of a buildup for the final scenes to be truly moving. Fascinating details are thrown away in seconds, such as the fact Eazy once went to a Republican fundraising dinner at the White House at a time when he was, in conservative American terms, public enemy number one. He had donated money to a children's charity under his real name, Eric Wright, and they invited him by accident. "I'm not no fucking Republican, you know," the man himself said. "If I go down there it's to start some shit … I paid $1,500 for $1 million of press." If only this film had such a sense of mischievous wit.
Verdict
Don't be taken in by all the profanities: as far as history goes, this is definitely the clean version.