Todd Haynes's Carol is an amour fou which plays out with sanity and generosity: it is a superbly realised companion piece to his 50s Sirkian drama Far From Heaven and an overt homage to Lean's Brief Encounter. The film is based on Patricia Highsmith's 1952 novel The Price of Salt, about the love affair between a virginal shopgirl and the beautiful older married woman that she serves in the pre-Christmas rush in a Manhattan department-store: they are played here by Rooney Mara and Cate Blanchett. Just occasionally, along with the classic echoes, Carol has the obsessive frisson of Nic Roeg's Bad Timing and – with the flourishing of a revolver – Haynes conjures a fraught kind of Nabokovian despair and futile melodrama.
It is a creamily sensuous, richly observed piece of work, handsomely detailed and furnished: the clothes, the hair, the automobiles, the train carriages, the record players, the lipstick and the cigarettes are all superbly presented. The combination of all this is intoxicating in itself.
Rooney Mara is Therese, unaffectedly pretty, ambitious but callow: self-deprecating and watchful in ways that make working in a department store congenial. She wants to be a photographer, and is saddled with a platonic fiancé Richard (Jake Lacy), with whom she has made vague plans to travel to Europe. Therese perpetually affects a silly beret with a kind of pompom and has a faintly dysfunctional fringe.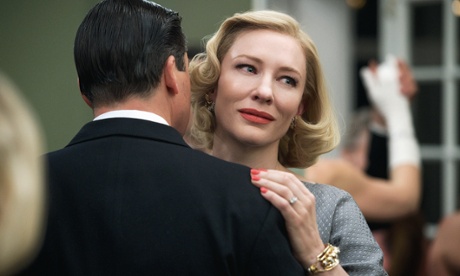 When Cate Blanchett's Carol first appears in the department store she is wearing furs: she is a predator, though a haughtily self-contained one. She has the air of a very dangerous animal that has just been hit with a tranquilliser dart. Accidentally on purpose, Carol leaves her gloves behind at the store, having chatted flirtatiously with Therese and ordered from her a train-set for her daughter, an item so big that it has to be delivered, which gives Carol an excuse to leave her address with Therese. And so their affair begins, in the traditional, bygone way of a long lunch in a restaurant booth with the food being accompanied with martinis.
There is no arch knowingness or camp in the movie, except perhaps in one scene in which Carol has dressed the Christmas tree in the family home from which her husband and child are absent, and now sits with elaborate casualness on the floor, wrapping some extremely tasteful and expensive present, while the yet unseduced Therese picks out a tune on Carol's piano. Soon, of course, they are to go on a trip together, staying demurely in adjoining motel cabins until one day they impulsively take the "presidential suite" and their intimacy advances.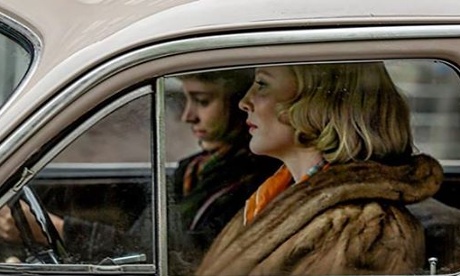 But Haynes shows that the point is that Therese has appeared in Carol's life at a desperately dangerous moment. Her marriage with the possessive Harge (stolidly played by Kyle Chandler) is crumbling: he already resents her closeness to a former lover Abby (Sarah Paulson) – and of course boorishly hates himself for not having punished his errant wife more emphatically for this liaison – and is on the point of taking Carol's infant daughter away from her in a custody battle. So it is not merely that Therese is to be Carol's lover; she is to be a quasi-daughter, too.
This is such an outstandingly intelligent movie, which takes us within the narcotic clouds of depression and self-control with which Carol has managed her life: hers is a prototypical version of Betty Friedan's Feminine Mystique, announced a decade after this. As for Therese, there is less enigma surrounding her, and the film is concerned to show us that there is no Ripley-esque parasitism in her attachment to the older woman. This is an affair of equals, or perhaps it is rather that Therese has a maturity which the showy, nervily insecure Carol does not have. It is a generational love, and a generational conflict between two women, one of whom does not have, or does not realise she has, the option of a professional career.
Haynes's drama shows the corsetry, and the mystery, and the way in which gay people could in fact in the 1950s negotiate their lives with dignity. I confess don't love Carol as much as loved Far From Heaven, and perhaps it does not have that demonic flourish that came partly from pastiche. What the film certainly achieves is to suffuse everything with woozy eroticism and passion and defiance. I went into a trance watching it – and haven't quite surfaced, even now.