The seventh instalment in any franchise is rarely the most anticipated. Police Academy: Mission to Moscow was the final straw. No-one looked forward to Wes Craven's New Nightmare, Freddy's 1994 stagger down Elm Street.
Yet audiences are so revved for the latest in the Fast and Furious saga that box office pundits think previous instalments will be left eating dust and studio bosses are so certain it'll jumpstart the series they've already greenlit three more movies. Its producer and star, Vin Diesel, one-upped them overnight, predicting no less than a best picture Oscar.
Why? Well, in part, it's because there's proven to be remarkable mileage in F&F's combo of fast cars, sucker punches, ethnically-diverse buddies and pedal-pushing babes (incidentally, this latest sets a new benchmark for underbum camerawork). Budgets have been cranked up to match returns, set-pieces have got splashier, and sympathetic stars such as Dwayne Johnson recruited (this instalment's newest hire, Jason Statham, was partly the result of Diesel canvassing fans on Facebook).
Mostly, though, the hype is for sadder reasons: Fast and Furious 7 is the last film of Paul Walker, who died in an off-set car crash a couple of months into the shoot. The film was delayed, then put on hold indefinitely, before the plot was rethought, script rejigged and four body doubles employed (including Walker's brothers).
And, morbid as it is, much of the inevitable pull of the movie is in trying to decipher what its original story might have been, how the film-makers have bent it to fit logistics and in figuring out which bits of footage actually feature Walker and which are the stand-ins with his face digitally superimposed. As you'd expect for the reported $50m bill for such work, it looks pretty flawless, but there are still a handful of scenes in which his character is shot from curious angles, or holds a toddler in front of his head, or fights foes in unusually ill-lit rooms.
More impressive is the film's elegiac tone. Threads are tied with something approaching seamlessness. Not many movies could get away with a memories montage, but there's something about the franchise's earnest investment in its characters that's quite unique. Its longevity is because it functions as much as a soap as an action flick.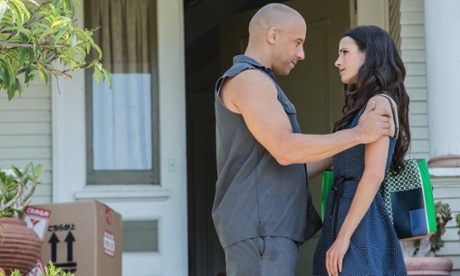 Duly, then, this one picks up where the last left off: with the gang having successfully hospitalised a British baddie played by Luke Evans. In the opening scene, younger brother Statham puts him out of his misery, along with everyone else who happens to be at the hospital, before vowing vengeance on our band of brothers. Also out to end them is Djimon Hounsou as a non-specific megalomaniac in possession of a mass-surveillance gadget called God's Eye.
Yet Houston never sees action. Instead, the points of friction are between the three ripped bald men: Diesel's basso hero, forever frowning in a vest, like a massive cross baby, Statham (described by someone as "a legitimate English badass" – one for the passport) and Johnson's whopping cop. The latter is so beefed up here his walk is more of a shimmy, enormous torso balanced on dinky waist; so tough he removes a plaster cast from his arm simply by clenching.
There's something almost anthropological about these battles. In both their clashes, Statham and Diesel begin with the foreplay of crashing cars head-on, before exiting, cricking the necks then thwacking each other to bits with fists and spanners. It's like a strange mating ritual, soundtracked by more meat-smacking than a schnitzel factory.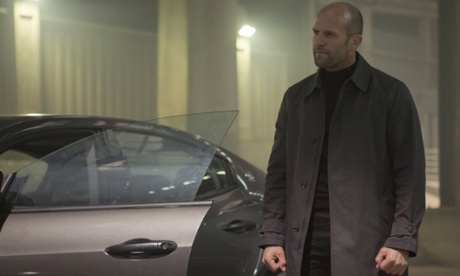 Everything about F&F 7 is supersized, from the actors to the running time to the scope of urban destruction. And with this, some of the finesse of earlier episodes has been lost. What made them distinctive was top-notch motoring. Other than a three-skyscraper situation in Dubai, and a terrific Italian Job-style bit in which Walker is stuck on a lorry, the "vehicular warfare" (as a news anchor calls it) just gets exhausting.
A best picture gong, then, is possibly optimistic. And whether there's really gas enough in the tank to take the franchise to double figures remains to be seen. But Diesel and team should still be congratulated for a ride that still manages to be joyful in the worst of circumstances.