The lesser-known celebrity sibling holds a cruel fascination. Dave Franco, Alex Watson, Luke Hemsworth, the third Olsen. They can't help but resemble knock-off versions of a designer brand: a bottle of Red Labial Johnny Walker whisky, or Hugu Boos perfume bought in a market. Only in rare cases can they hope to be judged on their own merits. So far, Kevin Dillon is being gracious about my interest in his brother, heartthrob Matt Dillon.
"I've been called 'Matt's brother' my whole life," he explains. Both have always worked as actors – but while the older Dillon found fame and critical adulation in 80s classics such as Rumble Fish, The Outsiders and Drugstore Cowboy, Kevin earned his keep playing bruisers and bullies in mostly forgotten films and TV movies.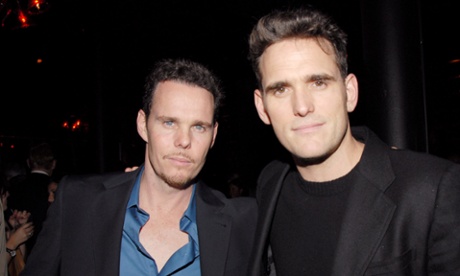 And yet I am interviewing him in a plush suite at the Beverly Hilton so, at some point, something went right. That something was undoubtedly eight seasons spent portraying Johnny "Drama" Chase in the HBO show Entourage, a role he has reprised for the movie version, which is released in the UK on Friday. By the end of its run, in 2011, the show was a joke stretched thinner than an A-lister's septum. But with its mindless fun and glittering Hollywood cameos, Entourage makes more sense for 90 minutes on the big screen than a decade on small.
The series followed the ascent of a hot young movie star (Vincent Chase, played by Adrian Grenier) and his hangers-on, including a less attractive, less successful, delusional wannabe actor brother, played by – well, let's not labour the point. Most actors are flattered when you ask whether a role was written specifically for them, but Dillon's face falls a little. "No, I auditioned," he says. Didn't he worry he would become a laughing stock, that people would just think the character was him? "I figured if it doesn't get picked up, nobody would see it anyway, and if it did, it was a risk, but it's been the greatest part of my career."
Dillon's is the best character in the show, too. Entourage offered unashamed male fantasy: each week, melon-chested honeys straddled Grenier, while his beef-chested, shit-talking agent, played by Jeremy Piven, was a masterclass in business aggression. But great parties, good looks and multimillion-dollar deals are hard to empathise with. In Johnny Drama, the show was brilliantly able to depict the squalid desperation of most real actors' lives.
Drama was described as a "balding, unemployable douchebag" in the first episode and his tortures piled up week by week. Whether losing his temper in auditions, getting an erection in a brother-sister scene with Brooke Shields, shaving his balls or finding success voicing a cartoon gorilla called Johnny Bananas, the ritual humiliations grew laceratingly funny. "I cried myself to sleep when Roger Ebert singled out my performance in Licensed to Drive as the end of the golden age of cinema," Drama laments at one point.
"I didn't overly protect him," says Dillon. "A lot of actors say: 'Oh, my character would never do that,' but the thing is, Johnny Drama would do that." We discuss my favourite storyline, in which his insecure character begs his brother for $10,000 to get calf implants. "They couldn't shoot my legs because I actually do have good calves. They look like implants," Dillon insists, rolling his trouser up to show me a leg that looks like it's been padded out with sweet potatoes.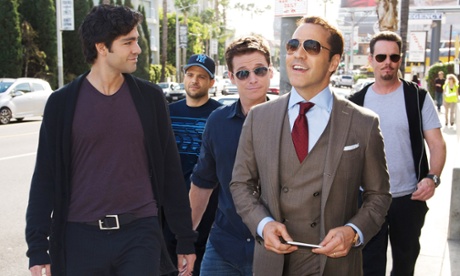 Leg-pride notwithstanding, he can relate to other elements of the show. "The main reason entourages exist is what we call the 'fallout factor,'" he says, alluding to the sexual opportunities enjoyed by anyone connected with a celebrity. "Matt was a teen idol when I was growing up, like Justin Bieber or the Beatles. Girls would figure out where he lived, drive by and ring the doorbell. And that wasn't so bad for the younger brother … or the older ones."
What about the lifestyle depicted in the series, based on producer Mark Wahlberg's early experiences in Tinseltown, every episode of which featured copious weed smoking, a pool party, and famous actors acting like incorrigible assholes? "Well, that's calmed down a lot now because of social media. Everyone's a paparazzo. But when celebrities are afraid to party openly, they go underground where some really weird shit can go down."
Probably not weirder than Drama having sex dressed as a pink rabbit, or meditating in his trailer with the mantra "I am not a pussy" to stave off panic attacks. The confused rage, insecurity and loyalty of being a sibling in the shadow made Dillon's creation one of the more endearing characters of the noughties. He was nominated for three Primetime Emmys and a Golden Globe for his efforts.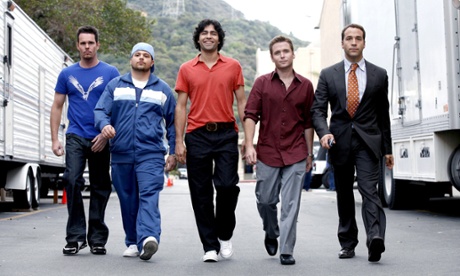 Does he ever think Matt might be jealous now? "Nah. I asked [Matt] to be in it. I could play his stunt double." I haven't seen much of him since Crash, I say. "If you're not in something successful, or you're not around much, people think you've been out driving a bus," he laughs. (I never thought Matt Dillon was driving a bus.) "He's still banging away, he's just picky. I couldn't always afford to be – I had to pay the mortgage."
In person, Dillon is energetic and optimistic, though his round blue eyes suggest a hidden anxiety that makes him perfect for Johnny Drama. He is reminiscent of other people – Matt of course, shades of Kevin Bacon, even a blue-collar Benedict Cumberbatch. He has been mostly restricted to playing goofball knuckleheads, but he can do the harder stuff. He was scarily effective as Private Bunny, the baby-faced sadist in Platoon, one of his first jobs. "I showed Oliver [Stone] how to chew through a can in a bar, and he loved it. He said: 'We're putting that in!' Mind you, in the 70s, cans would have been made of tin, not aluminium, so I would have broken my teeth. But no one ever mentioned it, so I probably shouldn't say anything."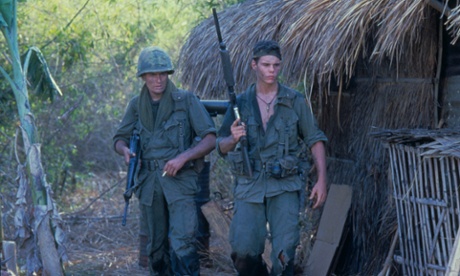 Dillon hoped the job would be his big break. But it's a tough business, and for years he found himself propping up cheerfully trashy, late-night cable fodder such as Remote Control and The Rescue (in which a group of teenagers infiltrate a North Korean prison to rescue their Navy Seal fathers). He was reunited with Stone, to play musician John Densmore in the Doors biopic, after assuring the director that he was a great drummer – "Which I'm not." I'm reminded of Johnny Drama's fictional CV, particularly the special skills section, which lists "krav maga, conversational Hebrew, and skin-diving to 30m depths".
But the parts got better over time, and then Entourage turned everything around in 2004. Given its success, he must surely be in a more powerful career position now. "I still have to audition! It never ends. That's why I love all of those audition scenes I had to shoot, because I've been there, walking down the tight hallway, everyone up against the wall, shooting you that look – 'Ugh, another guy.'"
Mindful that the interview has taken a turn for the bummer, I ask what he has got coming up. "That's a little stagnant, too." Oh. "Before this movie, I kinda felt like I was starting to fight my way out of being Johnny Drama, and then they pulled me back in. But I'm happy."
A sequel is rumoured to already be in the works. It's gratifying that, although he now lives in Malibu, with a beautiful family and a few classic cars, there is a corner of Kevin Dillon that is forever Johnny Drama – dissatisfied, optimistic, praying he can land the next part. "Oh yeah. I'm still walking down that tight corridor. The difference is now they recognise me on the way in, so I get worse looks. It's 'Oh, I'm up against this guy. UGH.'"