Rufus Norris's film is an utterly gripping, macabre but finally very moving cine-opera in a reportage verbatim style, dealing with the 2006 Ipswich serial murders and their complex psychological effect on the inhabitants of London Road. This is the residential street that had become the city's red-light district, where the killer lived and where one of his victims was found. The film begins like a downbeat drama, with plenty of grimly daylit front-room interiors with depressing sofas reflected in dull, switched-off TVs. But when the newsreaders start to sing, something queasily dreamlike happens. It is an addictive forensic thriller set to music, and Olivia Colman's presence makes it look like Broadchurch crossed with Les Mis. But there's more subtlety and intricacy than you could expect from either.
The film is based on the 2011 stage production Norris directed for the Cottesloe stage at London's National Theatre, with music by Adam Cork and remarkable dialogue and lyrics by the verbatim-theatre pioneer Alecky Blythe, based on her own interviews with the local community, with media reporters and with the women who worked as prostitutes on London Road. Perhaps it's truer to say that London Road is a film oratorio, a cinema piece that does not hide its stage origins, but flaunts an artificiality and theatricality as part of its sheer audacious effect.
Blythe picks out key chilling phrases – "In the wake of what's been happening recently …", "You automatically think it could be him …", "We're all frightened to go out, but we were anyway …" – and loops, samples and remixes them like a DJ, finding their own stuttering, clamouring poetry. The cast includes Colman as a forceful woman who effectively becomes the local spokesperson, and Tom Hardy as a minicab driver who is an amateur expert on serial murders: "I've studied serial killers; it doesn't mean I am one," he sings, and in repeating this phrase he puts in a disquieting pause before "… I am one." They are like a classical chorus who have been allowed the stage to themselves; the murderer, the police and the victims do not get singing roles, although the arias from the women who were randomly saved by fate from death is a way of putting the victims in the drama.
What emerges is the locals' ambivalent attitude. They are bewildered, scared and angry. They are genuinely horrified by what has happened and have a sympathy with the working girls that was inconceivable before. But the deeply unsayable and incorrect thing is – and perhaps the exotically contrived form of this film is the only way of saying it – they were secretly grateful for the murders, if not the murderer, because the prostitution in their street had been a nightmare; and also because the whole horror eventually had a cathartic effect, revitalising police action, community cohesion and even help and support for sex workers. And there is something even more incorrect, even more unsayable than this. The situation is exciting. However afraid and disgusted, the community felt an electricity passing through it. This is exemplified by the two teenage girls who catch the eyes of men in a greasy-spoon caff and run off, gigglingly fantasising about who the killer is.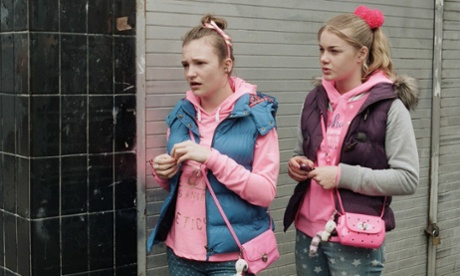 It is a tribute to the intelligence of Norris and Blythe that these ideas can be aired without judgment and without stereotyping and tabloidisation – in fact, one of the most apparently vindictive statements is put in the mouth of Olivia Colman, who can't help but be thoroughly sympathetic.
For me, London Road's most extraordinary sequence is the local street party instituted to judge the first "in bloom" garden competition, which will decide who has the nicest display of hanging baskets. Nothing important seems to happen in the scene – except for the fact that a prostitute, or former prostitute, shows up, drifting past. And yet there is no confrontation, no eruption. The action stays with the mysterious, intense atmosphere of the street party, celebrating its survival. The mood cannot be entirely pinned down, but the residents fiercely and almost angrily seize upon the euphoria of prize-giving as a way of transforming all their rage and fear. It's something you would never get in a straight thriller: Patricia Cornwell or Kathy Reichs couldn't do it in print, and I'm not sure it could happen in Borgen or The Bridge. London Road was a mighty success on stage. Now it is a unique triumph on the movie screen.