It tells you a lot about Tilda Swinton that the transformation which has rendered her unrecognisable is the one in which she appears most conventional.
In the forthcoming comedy Trainwreck, Swinton plays a monstrous magazine editor, Dianna, and pictures released this week show her looking far from the Swinton – all shorn hair, pale scrubbed face and architectural clothing – we have come to expect. Dianna has blow-dried, highlighted hair, nice makeup and a tan, which has prompted some to note that Swinton, who has played men, robots and an octogenarian, has "never been more disguised".
The shapeshifting Swinton seems impossible to get a handle on. "The thing that keeps me being a performer is my interest in society's obsession with identity," she has said, "because I'm not sure that I really believe identity exists."
Swinton is from that long tradition of delightfully bonkers British aristocrats, but she is also someone who seems otherworldly – the most avant garde of arthouse stars who is moving into blockbusters , and an Oscar-winner who never courted Hollywood. She looks severe, but friends talk about her playfulness and sense of humour.
She is wildly unconventional, but her early life is rooted in the establishment. Her mother, Judith, was Australian, while her father is Major General Sir John Swinton. She was sent to boarding schools from the age of 10, then went to Cambridge University. She once said she was expected to marry a duke.
While at university, Swinton briefly joined the Communist party, drawn to its ethos of collective effort, and it is this collaborative streak which appears key to everything she does.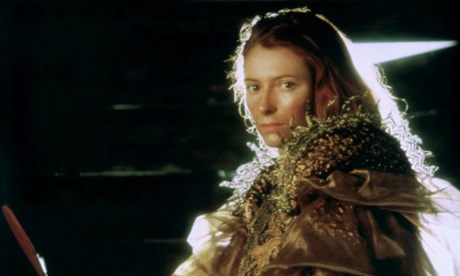 After university she would form one of the most significant collaborative relationships of her career, when she met the radical and subversive film-maker Derek Jarman. He cast Swinton in his 1986 film Caravaggio, and they would go on to make another six films together until his death in 1994 (there was no money in them, and Swinton lived off the spoils of gambling on the horses).
"I remember Derek meeting her and saying 'I've found her'," says Sarah Radclyffe, who produced Caravaggio. "Derek, when he first met people, always used to film them on Super 8 or video, and I remember us all looking at these images and thinking, 'Oh my God, yes.' She very obviously has screen presence."
Radclyffe describes Swinton and Jarman as "kindred spirits ... They just really clicked. They trusted each other, loved [each other's] intellect."
Jarman's films, though hugely influential on a generation of film-makers, did not have a big audience and it wasn't until the 1992 film Orlando, directed by Sally Potter, that she came to wider attention. Potter had seen Swinton in Jarman's work and in the film Friendship's Death, directed by Peter Wollen, in which she played a robot, and had been struck by her presence.
"We met and I knew precisely that she was the person I wanted to play Orlando," says Potter. "[She had a] radiant intelligence at the core, and a certain kind of androgyny – it was as if she wasn't tied in to either a gender or a time. She had openness and humour, but above all this luminosity of presence."
Potter needed an actor who could carry the character through 400 years of history, changing sex halfway through, and she knew she had found that in Swinton, someone who could radiate "the inner life of any human being, male or female".
Swinton is, says Potter, "collaborative by instinct". Orlando was several years in development, "but she was extremely loyal and committed to the idea through that period".
Endless drafts of the script would be sent to Swinton, says Potter. "She has a very good critical intelligence and she was a good reader, commentator and giver of energy."
Lynn Hershman Leeson, an artist and filmmaker, who has also worked closely with Swinton, saw her in Orlando and approached her with the idea of making Conceiving Ada, Leeson's 1997 film in which Swinton plays the 19th-century computer programmer Ada Lovelace. They made two further films together and their friendship has spanned 20 years.
"She's intelligent and brings so much to whatever you're doing," says Leeson. "It makes my job easier to have somebody like her there because she's smarter than I am and gives me great ideas.
"Some things were improvised," says Leeson. "The way I shoot is very fast, we don't rehearse a lot. She always had great insight and creativity and the uncanny ability to bring a different dimension, almost chameleon-like, to what she does. It lifts everything to a completely different level."
Most of Swinton's projects, from Jarman's films onwards, have come about as a result of long-term friendships and working relationships with film-makers such as Lynne Ramsey, who cast her in We Need to Talk About Kevin, and Luca Guadagnino, with whom she has worked on four films.
"Usually, with me, the project is always the second thing," Swinton has said. "The film-maker comes first. Films grow out of the relationship."
For their part, the film-makers seem as committed to Swinton. Potter describes their relationship as "a very deep form of work-love".
After Orlando, Swinton continued to work largely on small budget, arthouse films, and also on other projects, such as her 1995 performance piece The Maybe, in which she slept in a glass box for a week in the Serpentine Gallery.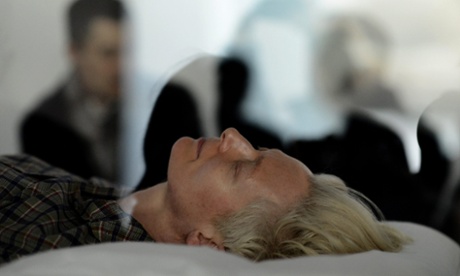 When Swinton started to take roles in more commercial films, these projects were still with directors at the indie end of the spectrum. She began to receive more mainstream attention after appearing in Danny Boyle's 2001 film The Beach, in which she played Sal, a charismatic commune leader. Later, she would work with others including Wes Anderson, Terry Gilliam, the Coen brothers and Jim Jarmusch.
Mike Mills directed Swinton in the 2005 film Thumbsucker, in which she plays the mother of an angst-ridden teenager. "She did the very unusual thing of meeting me before she had even read the script," says Mills. "She was big-hearted and inviting and gung ho and willing."It is so hard to get independent films made and she is a real advocate," says Mills. "She did much more than be an actor in a movie – she helped get financing, helped get other actors and, for me personally, she was a real ally and supporter."
Meanwhile as an actor, says Mills, despite "being as intelligent and cerebral as she is, when she acts she is very physical and intuitive".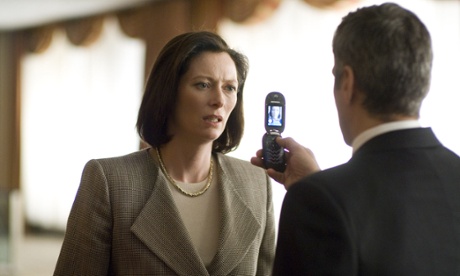 Mills is not surprised that Swinton has gone on to more mainstream films, such as Michael Clayton, for which she won an Oscar for best supporting actress as a desperately unravelling attorney for a corrupt company, opposite George Clooney.
"She's a cultural advocate who uses acting as a way to push culture forward," says Mills, who thinks she enjoys being "part of the mainstream cultural conversation – not for an ego thing but to play [a part in] the narrative in the way we shape our identities.
"I think that is a big part of why she likes to act and be in movies – to use her privileges to make a broader world, broaden our judgment, especially of women."
You wonder what Hollywood must make of her. In a town where allegedly everyone is desperate to be a movie star, you still get the sense Swinton could take it or leave it. What drives Swinton? "She is an artist," says Leeson. "She works in many mediums and I think it's very exciting to her to push the edges of things, as most good artists do. They don't like to repeat themselves, they don't like to be known for any one thing, [but] push to learn more about what they're doing."
Conventional movies are only a small part of Swinton's creative output – there are frequent collaborations with artists and her image seems carefully crafted to say something about gender, identity and reflect the artistic process of the fashion designers she chooses.
"We were adamant about collaborating on a level that put fashion on the same plane as the other arts," says Jerry Stafford, a creative director and stylist who has worked with Swinton for years.
"I emphasise it is a collaboration. It was never about lining up a bunch of frocks on a rail, or kowtowing to fashion. We're looking for something that goes beyond fashion, trying to take it further than the normal aesthetics of beauty. It's all about storytelling."
In interviews, Swinton always seems to sound surprised that she is considered an actor. "I find myself apologising for not being a proper actor," she said last year. "I never intended to be involved in the film industry and still do feel that, with the exception of a couple of brief skirmishes with the film industry."
She has said she feels "like a tourist" in Hollywood and has made her home in a beautiful part of north Scotland, where she lives with her partner, the German artist Sandro Kopp, and her teenage twins from her previous relationship with the writer and artist John Byrne. (In the tabloids, much was made of the time when Swinton, Byrne and Kopp all lived together, but Swinton shrugged it off, saying they were all friends and it worked for them – even child-rearing has been a collective effort.)
It sounds idyllic, with land and dogs and chickens, and cakes baking in the Aga, and Swinton appears to be an active – if eccentric – figure in the community. She has founded a school, which her children attend, and a local film festival. In 2009, Swinton and her friend, the writer Mark Cousins, manually hauled a mobile 37-tonne cinema screen across the Scottish Highlands, showing films as they went.
Swinton has been surprising audiences during her 30-year career, but what is perhaps most surprising is how this arthouse actor has embraced the commercial film industry, yet still managed to retain her cult quality. She will soon start shooting a Marvel blockbuster, Doctor Strange, but there is a Swinton-esque twist – she doesn't yet know if she will play the part as a man or a woman.
Potted profile
Born: 5 November 1960, London
Career: A long collaboration with Derek Jarman over seven films was followed by her breakthrough role in Orlando. Swinton's Hollywood career took off after The Beach, and includes roles in Vanilla Sky, The Chronicles of Narnia and Michael Clayton. She continues to work on low-budget indies, including Lynn Hershman Leeson's trilogy. Other notable films include We Need to Talk About Kevin, and Julia.
High point: Her best supporting actress Oscar in 2008 for Michael Clayton, though Swinton might say her formative years working with Jarman, which she describes as an "apprenticeship".
Low point: While many of her films aren't to everyone's tastes, there have been few missteps in her career and she seems unperturbed by judgments about her unconventional life.
She says: "I don't have a career, I have a life. I don't have an exterior judgment on what would be good or bad for me."
They say: "She can scare the shit out of you and break your heart and give you a boner all at the same time." – Amy Schumer