There hasn't always been a great deal of buzz around the idea of reviving Indiana Jones on the big screen, largely due to lingering fears that Shia LaBeouf might somehow be allowed to graduate from Kingdom of the Crystal Skull's charmless sidekick to the lead role in some nightmarish, CGI gopher-ridden future instalment. But a side product of the deal that released Star Wars from the clutches of George Lucas in 2012 also brought Indy to Disney, and a new report on Deadline suggests the studio is now looking to install Guardians of the Galaxy's Chris Pratt in the lead role.
What a strange time it must be for Harrison Ford. The 72-year-old actor who gave us two of the 20th century's most iconic big screen heroes, Han Solo and Indiana Jones, is due to return as the former in JJ Abrams's Star Wars: The Force Awakens. But he also faces the imminent prospect of seeing both roles recast, with a movie detailing the early adventures of Solo also rumoured to be in the offing as part of a series of Star Wars "origins story" spin-offs.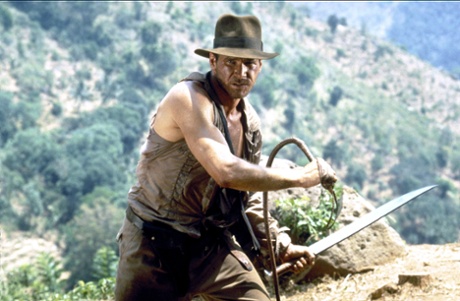 While the prospect of being replaced by younger versions of himself might stick in Ford's craw, Pratt promises to deliver an Indiana Jones that might put a grudging grin on the face of his occasionally curmudgeonly predecessor. The former Parks and Recreation star proved with Guardians that he has added brawn and charisma to his previously identified comic gifts.
His Star-Lord is more Han Solo than Jones, but there is a little of the latter about him too. Steven Spielberg regularly used comedy to lighten the mood in the early Indiana Jones movies: think the Raiders of the Lost Ark scene in which the adventurer calmly shoots the showboating Arab swordsman, or the ubiquity of inconveniently positioned protuberances which just happen to trigger horrifying mechanical death traps (or giant boulders) when depressed. So it makes sense to appoint a comic actor to the role than try to coax laughs out of a more traditional action star.
Pratt would be able to handle the slapstick elements of the role with ease: the hapless hero angle is one he's already nailed with Guardians. But would he be believable as an academic and intellectual? Serious roles in dramatic fare like Zero Dark Thirty and Moneyball prove he's capable of a lot more than just clowning around.
Potential rivals for the role might include fellow Chrises – Evans, Hemsworth and Pine – as well as Charlie Hunnam and the previously mooted Bradley Cooper. But Pratt's star is ascending, and his appointment would likely be greeted with howls of approval.
Disney appears to be doing a great job of restoring Star Wars to former glories, so why shouldn't we expect the same of a Mouse House-curated Indy movie? With Pratt perhaps on board, Lucas now firmly removed from the equation and LaBeouf long-since departed into his own strange universe of meta-method acting and apologetic art stunts, it might just be safe for everyone's favourite treasure hunter to head out once again in search of adventure.