I am writing this week's column from the rosé-marinated streets of Cannes, where the film festival draws to a bleary eyed close today. It scarcely feels like 12 months since last year's Grand Prix winner, Joel and Ethan Coen's Inside Llewyn Davis (Studio Canal, 15), was unveiled on an uncharacteristically sodden day on the Croisette – among the many marvels of this beautiful, blizzard-whipped character study is that it seems to bring its own heavy weather with it.
A catalogue of the indignities visited upon a deadbeat folk musician (played by the wonderful Oscar Isaac) in early 60s New York, the film appears at first pristinely minor, until the chill of thwarted dreams and stony solitude, achingly etched into Isaac's hangdog face, sinks into your bones. Few films from last year's Cannes crop have gained as much on repeat visits.
The music's wonderful too, as you surely already know, though the simultaneous DVD release of the complementary concert film Another Day, Another Time: Celebrating the Music of Inside Llewyn Davis (Studio Canal, 12) is a welcome reminder, infectiously documenting last year's star-studded performance of the film's soundtrack at New York's Town Hall. There's a similarly rewarding buffet, meanwhile, for more chart-oriented music fans in Made in America (Signature, 15), a backstage doc that finds film-maker Ron Howard chronicling the eponymous festival curated by Jay Z. It's a unlikely match of artist and subject, but Howard's eye and ear are generous: the result is a rousing round-up of vital musical talent, running the gamut from Pearl Jam to best-in-show Janelle Monáe.
Travelling swiftly to DVD following last week's cinema release is Pantani: The Accidental Death of a Cyclist (Channel 4, 15), a meat-and-potatoes study of fallen Italian cycling ace Marco Pantani that has enough emotional force to carry its familiar construction. Still, there's little contest for the week's most entertaining documentary: Penn and Teller's playful but-is-it-art? investigation Tim's Vermeer (Sony, 12), in which head-spinning science is applied to determine – and replicate – the technique behind the uncannily lit paintings of Johannes Vermeer. Its more provocative claims against Vermeer's reputation don't add up, but the trickery delights.
One might similarly call August: Osage County (Ev, 15) a triumph of showmanship above all else. A rather drastic reduction of Tracy Letts's ripe, reckless stage portrait of middle American family ruin, this adaptation (by Letts himself) shears the text's roiling domestic fury down to bristly comic stubble, its streamlined melodrama directed with a televisual banality by John Wells that stresses soap operatic ironies over ugly specifics. What remains are the play's gargantuan roles, seized upon with relish by at least two-thirds of the ensemble. Meryl Streep is rotely cast as pill-popping, cancer-tongued midwest matriarch Violet Weston, but gleefully pitches her to the rafters; better still, and only marginally more subtle, is Julia Roberts as aptly nicknamed prodigal daughter Barb, that million-dollar mouth of hers tensely clenched until it opens in a bilious torrent.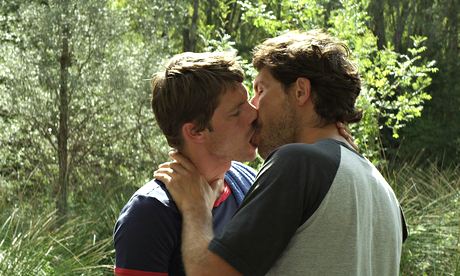 Returning to the Cannes 2013 memory bank, Alain Guiraudie's Stranger by the Lake (Peccadillo, 18) is one of the more improbable arthouse sensations of recent years, given its fusion of sinuous, Hitchcock-laced pulp and balls-to-the-wall gay erotica. It's a niche marriage, but a happy one, with an elegantly lean premise: a serial killer is preying on regular visitors to an idyllic lakeside cruising ground in rural France, unnerving but hardly deterring our handsome young hero, Franck (Pierre Deladonchamps). Read any amount of thorny sexual politics you like into his death wish pursuit, or simply enjoy the view: it's hot stuff either way.
Finally, we remain on the Croisette for this week's streaming pick, courtesy of the reliably selective curators at online film library Mubi.com. For the duration of this year's festival, they have offered a daily selection of Cannes-approved short films from years past – early flashes of invention from directors including Anthony Chen (whose excellent debut feature Ilo Ilo recently hit UK cinemas), dark-hearted American animator Bill Plympton and this year's festival jury president, Jane Campion, whose dysfunctional family snapshot Peel remains as crisp and sourly sensual as anything she's made since. It's all a bit of a lucky dip: one that may give you fresh insight into film-makers you thought you knew or introduce you to someone new altogether.