Most major releases lie low for at least a couple of months before resurfacing on DVD, but not Frozen (Disney, U) arguably the first – and certainly the best – Disney animation since The Lion King to attain the status of pop-cultural phenomenon. (There'll be a 10-year-old somewhere in your vicinity belting out its Oscar-winning empowerment ballad, Let It Go.) After trying to beat Pixar at its own game with Wreck-It Ralph, Disney has opted for the traditionalist formula that saw The Little Mermaid revive its fortunes 25 years ago: updating a Hans Christian Andersen fairytale (The Snow Queen, in this case) with girlish pluck and kicky showtunes.
The results are mostly smashing, and not as backward-looking as you might expect. There's a dash of feminist self-sufficiency to the this story of a Nordic princess attempting to rescue her land from an eternal winter unwittingly unleashed by her older sister, whose own arc of man-free liberation carries a faintly disguised gay subtext ("conceal, don't feel… well, now they know") that has gratifyingly annoyed the American far right. That's not the only reason to treasure a film that will be a fixture in many family households until Christmas and beyond.
More direct LGBT concerns surface in David France's extraordinary, Oscar-nominated documentary How to Survive a Plague (Network). An infinitely resourceful collation of archive footage illuminating the struggle of HIV-positive Americans to receive fair treatment (medical, legal and otherwise) in the 80s and 90s, it tacitly points out the extensive social blinkers that still cover the issue to this day. This is angry, essential filmmaking. Less imposing as documentary, but still worthwhile, is Matt Wolf's Teenage (Soda, E), a vigorous study of early 20th-century adolescence (based on Jon Savage's insightful book) that corrects the commonly held notion that rock'n' roll minted the teenager.
The week's other releases are a rum bunch. The most entertainingly trashy is Homefront (Lionsgate, 15). It sounds like a daytime-telly makeover show but is actually a daft thriller with Jason Statham on the rampage against Deep South meth-cookers – one of whom is named (wait for it) Gator Bodine and played by a gleefully leering James Franco. Similarly silly, but more smug, is Dom Hemingway (Lionsgate, 15), a Brit gangster caper that opens with Jude Law (on spirited form, at least) admiring his manhood, and doesn't get much more lovable from there.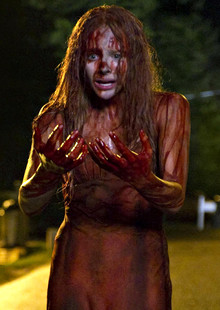 Kimberly Peirce's inquisitive but over-cautious remake of Carrie (Fox, 15) is hamstrung by the miscasting of penny-bright Chloë Grace Moretz as Stephen King's outcast heroine; like The Machine (Anchor Bay, 15), a well-designed but conceptually wobbly British sci-fi effort, it's one to file under Interesting Attempts. Only the least discriminating of star-gazers, meanwhile, need check out Robert De Niro and Michelle Pfeiffer in Luc Besson's wretched Mob comedy The Family (Entertainment One, 15), or Zac Efron, Billy Bob Thornton and far too many others in the ghoulish JFK-assassination drama Parkland (Koch Media, 15), which dwells on such critical details as how to manoeuvre a president's coffin into a plane.
The best news on Netflix is the addition of cult French TV drama The Returned . It was a hit on C4 last year (and the Guardian's favourite series of 2013), but you may have caught the word-of-mouth too late to invest in its tangled, tortured fantasy narrative, in which the dead resume their lives in a remote Alpine town with unsettling consequences. The filet mignon of zombie drama, it's a fine weekend-filler.