Most film stars want their work to be loved. But Nick Banks, the drummer in Pulp, said he was hoping for a more modest reaction from the audience in Sheffield watching Pulp: A Film About Life, Death and Supermarkets. The film follows Jarvis Cocker and his group as they returned to the band's birthplace at the end of 2012 for a homecoming gig. "If they say 'it's all right' then I'll be happy with that," he insisted on Saturday. "We're a bit suspicious of people who use too many superlatives," added guitarist Mark Webber.
The film was showing at Sheffield's Doc/Fest, which, even Webber would have to admit, has been a launchpad for some of the world's very best documentaries in its 21-year history. One recent hit was Searching for Sugar Man, an unusual investigation into the singer Sixto Rodriguez, which went on to win an Oscar after raising its money in Sheffield and then premiering there in 2011.
The festival is more proof Sheffield subtly punches above its weight, mused Cocker. He was talking on a small section of pink carpet rolled out for the band outside City Hall, serenaded by the Sheffield Harmony Choir singing a gutsy version of Common People.
"Sheffield isn't a show-offy kind of place. Doc/Fest has been going for 21 years now, it's taken time to establish itself and I think in a way that's the way Sheffield works," he said, not mentioning the fact his own band had been going a good 16 years before hitting the big time.
"It does have a lot of talent, loads of things going on. But people don't tend to be super mouthy and super show-offy, because that's really frowned upon in Sheffield – you do that in the pub, they'll chuck you out and say 'go away, you nightmare'. We don't like people like that. It's a more subtle kind of thing, but as everyone knows, deep down we are supreme."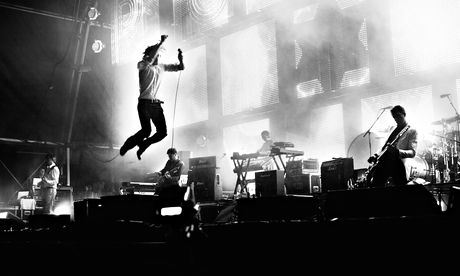 Yet even in down-to-earth Sheffield, people can get a little starstruck. "I can't believe I'm speaking to Martin Scorsese," said a woman in the audience of The 50 Year Argument, the director's new documentary about the New York Review of Books, which premiered on Saturday. The auteur readjusted his thick-framed specs and gave a cheerful little shrug, before talking about the importance of human rights in his celebration of serious, long form journalism.
It's testament to the increasing global importance of Sheffield's documentary festival that it can now command not just world premieres from the likes of Scorsese but the director will take time out to do a q & a afterwards. Admittedly he'd not flown in from JFK to Robin Hood airport – he was beamed live on the big screen from the US via Skype as a surprise. But the fact he wanted to be there, even virtually, shows how seriously the event is now taken. Last year Walter Murch, the acclaimed editor of all three Godfathers and Apocalypse Now, gave a masterclass, and Josh Oppenheimer – whose Act of Killing was nominated for an Oscar, – turned up too.
Talk to the delegates who travel 20-hours or more to attend the festival from 65 countries and they'll tell you the appeal of Sheffield is that it grows but remains accessible. Chewing the fat with Oppenheimer in Los Angeles around the Oscars would have been impossible for a fledging film-maker or film fan, but last year anyone brave enough to make the approach could sit and have a pint of local ale with him.
Sheffield's MeetMarket has become famous for match-matching the best new directors with deep-pocketed backers: £10m of deals will be struck this week, predicts Heather Croall, Doc/Fest's Blackpool-born but Australian-raised director, who took over in 2006. Under her leadership, the festival has ballooned in size and ambition and now shows 150 films across 25 venues.
"For the first 13 years of the festival, there were maybe 300-500 delegates. Now we have 3,500," she said. "When we first started selling public tickets 2,000 people would come. Now we sell 20,000."
Though the film world has appreciated the Doc/Fest for some time, "getting Sheffield people to realise this was a festival for them as well was quite a challenge," said Croall. "Maybe because it just looked a little bit like it was an industry thing, I don't know. About three years ago we broke down that barrier." The key, she said, was showing lots of free films – we all know Yorkshire folk love a bargain – and increasing the number of films with live music.
On Thursday Saint Etienne will be playing the live soundtrack to their latest film, How We Used to Live, for the very first time. Directed by Paul Kelly, the documentary is celebration of postwar London using rare colour footage from the BFI National Archive. On Wednesday Kim Longinotto's Love Is All will premiere at Chatsworth House in Derbyshire. An exploration of love and courtship on screen throughout the 20th century, the film is soundtracked by solo artist Richard Hawley, formerly of Pulp. "Richard only finished the music today," said Croall, who seemed deeply relieved that he'd made the deadline on Saturday.
To celebrate the Tour de France coming to Sheffield next month, Croall and her team have thrown a few bike-themed pieces into the mix. Stop at Nothing, the latest demolition of seven-time Tour winner Lance Armstrong, is showing, as is Slaying the Badger, which follows the rivalry between French Bernard Hinault the American Greg LeMond, two cycling champions who found themselves battling for supremacy on the same team.
But it's the Yorkshire quirks which mark Doc/Fest out from its rivals. On Sunday night Werner Herzog's 2010 masterpiece Cave of Forgotten Dreams is showing in Peak Cavern in Castleton in the Hope Valley, better known to everyone in the area as Devil's Arse. You wouldn't get that at Toronto or Tribeca.